Little Caesars Just Announced A Partnership With A Super Bowl-Winning Quarterback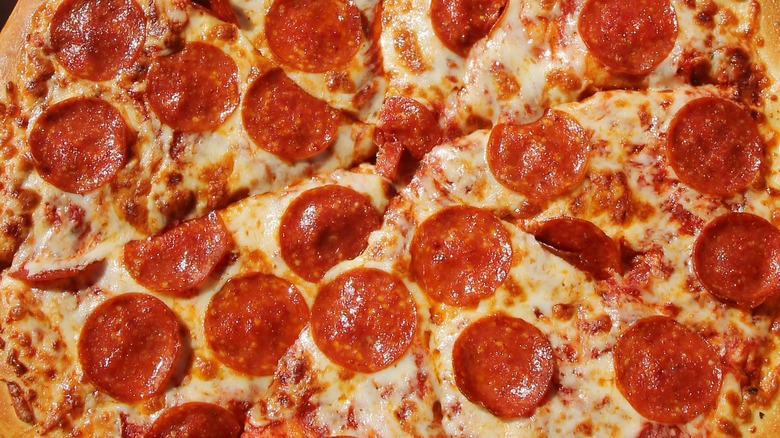 mikeledray/Shutterstock
If you're a Detroit native, then you've probably heard the surname "Ilitch" before. After all, it was Mike and Marian Ilitch who opened the first Little Caesars location back in 1959, putting the wheels in motion to grow the business into the Motor City-based pizza empire it is today (per Little Caesars' website). But, a global pizza chain isn't the only interesting part of the Ilitch portfolio.
According to the Little Caesers website, Mike and Marian bought the Detroit Red Wings in 1982, and Mike picked up the Detroit Tigers in 1992. Add in the recent news that Little Caesars is now an official pizza sponsor of the NFL (via the NFL), and it just makes sense that the chain would team up with an impressive NFL player to make crave-inducing commercials to be aired on game days. The home of Hot-N-Ready pizzas has partnered with a Superbowl-winning quarterback, but he might not play for the football team you would expect.
Little Caesars is partnering with Matthew Stafford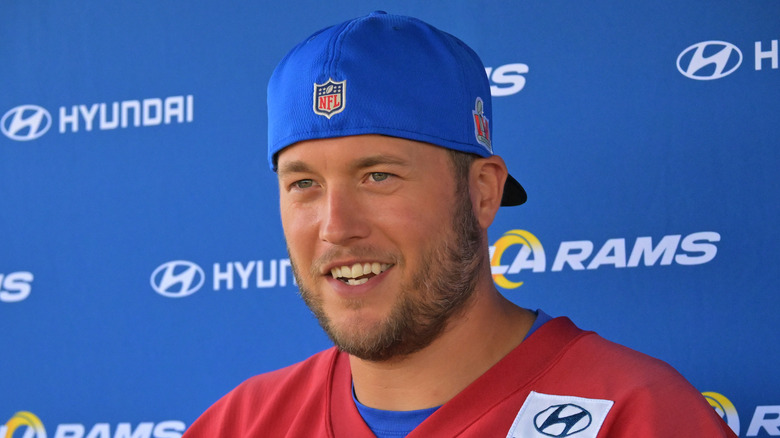 Jayne Kamin-oncea/Getty Images
Not only has Matthew Stafford won the most recent Super Bowl, but he's also scored a deal with Little Caesars. According to a press release published by PR Newswire, the Los Angeles Rams' quarterback will be working with the "third-largest pizza chain in the world" on pregame promotions and helping "underserved communities." If it seems odd that Detroit's hometown pizza chain would partner with a Los Angeles Rams player — as any Lions fan would happily explain — please bear in mind that Stafford played nine seasons with Detroit (via NFL).
In addition to airing new commercials like the "Training Camp" ad featuring the Rams QB, the chain also announced its restaurant on wheels, The Little Caesars Love Kitchen, will be serving up pizzas this season to communities in need in select NFL cities and making donations along with the league, according to the press release. Originally launched in 1985 under the "Pizza for People" campaign, the Love Kitchen has served 4 million people, per Little Caesars' website.
For fans who want to get in on the Little Caesars football fun, the chain will be offering a promotion called the Pizza! Pizza! September 8. As part of the promo, anyone who makes a Little Caesars order before an NFL game will be entered to win a list of prizes, including (oh-so-coveted!) Super Bowl tickets. That leaves a little over a week left to research before ordering a Hot-N-Ready just in time for the season opener.