The Inventive Way Busch Is Working To Prevent Forest Fires In Colorado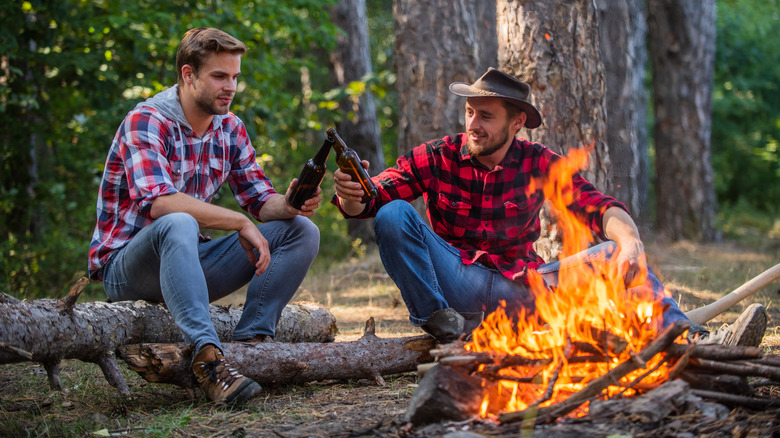 Just dance/Shutterstock
Fires in the kitchen are no joke. While too much heat can cause issues like burnt brats and other foods, fires have the capability to cause a lot more damage. Grease or cooking fires can pop up with even the most skilled chefs are at the helm, like Tricia Wang, who infamously set the kitchen on fire multiple times during her time on "Next Level Chef." But the problem is not just contained in the kitchen. 
Fire safety, especially as it relates to climate change, is more important now than ever. As of the end of August 2022, six new fires had popped up in California, Montana, Oregon, Washington, and Idaho, according to the National Interagency Fire Center. Unfortunately, the EPA reported that they are only growing stronger. While there may not be much campers can do to squelch already fanning flames, Anheuser-Busch wants to help make it so they are not contributing to a new flame of their own.
Can't start a fire without a spark
While they're more often known for their familiar brand of beers, Anheuser-Busch has taken on a commitment to preserving the environment as well. After all, you can't have outdoor BBQs with beer if there's no outdoors left. In an article, Estes Park Trail-Gazette covered the company's push for a safer system for those sleeping under the stars, by creating a way for them to cook their meals without having to light a fire. 
In conjunction with former "Top Chef" contestant Carrie Baird, Busch is offering a product called Light Solar Cookers to campers in Colorado. The cookers "harness the sun without an open flame" allowing campers in the notoriously dry area to gather around a hot meal, without the threat of contributing to an already fire-heavy season in Colorado's mountains. And this is not the only nature-preserving gesture Busch is endorsing this season. 
In addition to their cookers, they also teamed up with non-profit organization One Tree Planted for a promo they called, "Save a Tree, Pee in a Busch." They offered a funnel kit to help those camping "dispose of waste properly," thereby saving the plants that would otherwise perish. Those in Colorado looking to find a Light Solar Cooker can visit Busch to find a pick-up station near them.