What Happened To Wicked Good Cupcakes After Shark Tank?
In 2013, mother-daughter duo Tracey Noonan and Danielle Desroches had a fast-growing, Massachusetts-based cupcake business called Wicked Good Cupcakes that was becoming too much for them to handle. They turned to "Shark Tank," known for publicizing some of the best foods, for help.
Tracey and Danielle appeared on the show seeking $75,000 for a 20% stake in their brand, which they had started in 2011. The twist on their brand, though, is that they ship their cupcakes in jars rather than boxes in order to ensure maximum freshness.
Initially, the sharks were not convinced by the product or the numbers. Since it's simply a cupcake in a jar, it wasn't something the women could patent, which could cause competition. Plus, Kevin O'Leary felt they didn't have wide enough margins. The only one who made a deal was O'Leary, who offered $75,000 for a $1 royalty until he made his money back; then, it dropped to 50 cents for every jar sold beyond that (per Shark Tank Blog). Ultimately, they settled on $75,000 for a $1 royalty, then a 45 cents royalty for every jar sold after the money is paid back.
In 2016, Wicked Good Cupcakes celebrated their one millionth cupcake sold
After appearing on "Shark Tank," it's clear that wicked good things were happening to the Wicked Good Cupcakes brand. ABC posted an update in 2016, where Tracey Noonan announced that she and her daughter Danielle Desroches had opened a new location in Quincy Market, a popular Boston shopping spot, and were about to sell their one millionth cupcake. Shark Kevin O'Leary joined the mother and daughter to celebrate the milestone. Tracey said that the business had gone from $150,000 in sales before 2013 to more than $10 million in sales since appearing on the show (per ABC).
The two have been able to take their brand into partnership territory, most notably creating a salted caramel cupcake in partnership with Cinnabon. During that same update, Tracey said the two hoped to eventually franchise cupcake food trucks, which would make their cupcakes available to people around the country without having to be shipped.
Tracey and Danielle have seen personal growth, too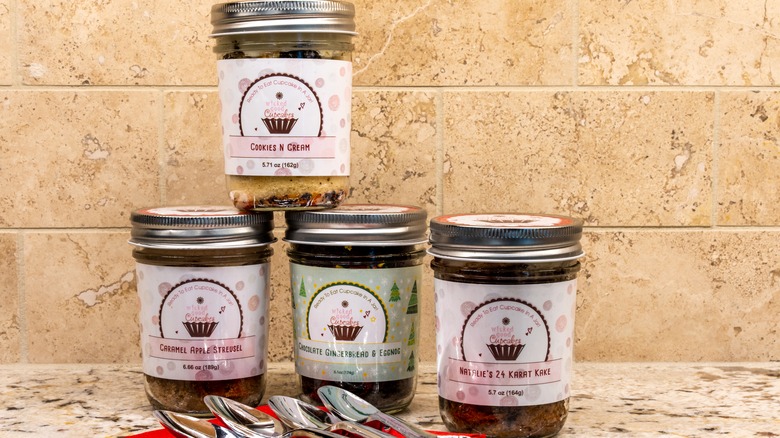 Rosemarie Mosteller/Shutterstock
Though it's great that Wicked Good Cupcakes is now a booming business, Tracey Noonan said that she's been able to watch her daughter, Danielle Desroches, grow throughout the pair's success story. "I've watched Dani grow from a young person trying to find herself to a woman who runs 30+ employees, and it's made me so proud and so grateful," Tracey said in 2016 (via YouTube).
Fast forward to 2022, and Wicked Good Cupcakes is still up and running. According to the brand's website, it now offers cupcakes for corporate gifts, weddings, and other events. Plus, the company has partnered with multiple wine brands to launch wine and cupcake gift sets.
Based on the website, it doesn't appear that the cupcake brand has franchised any trucks; there isn't any information about it on the website. The brand's Instagram account has nearly 20,000 followers, and they've even posted photos of astrology-specific cupcake jars — so people can purchase a cupcake based on their sign. In a funny turn of events, the cupcakes once made headlines for not being allowed to pass through airport security.