Guy Fieri's Potato Game Result Wasn't What He Expected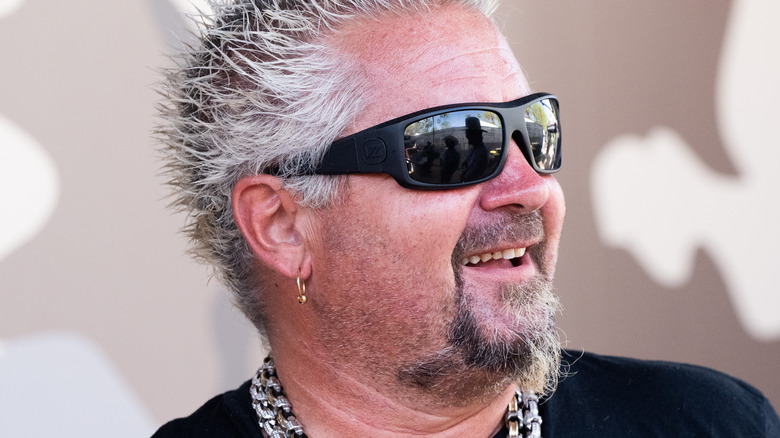 Scott Dudelson/Getty Images
Celebrity chef Guy Fieri is well known for his playful personality, which no doubt will be reflected in his latest Food Network venture, a "cooking game show" called "Guy's Ultimate Game Night," according to a tweet from Variety.
The new series showcases Guy plus celebrities like Penn and Teller and Alyssa Milano as they compete in games like charades and hot potato, all for a good cause, Variety reports. Naturally, each game has a food-relevant angle, such as the challenge where they decorate a cake blindfolded. Other games include creating a house using only breakfast foods, puzzles, and even one called "Cloche Encounters," says Food Network. Any winnings will then be donated to a charity of choice, selected by the triumphant celeb. The show will also be co-hosted by "Top Chef" alum Antonia Lofaso, and the fun-filled series will be available to view on both discovery+ and Food Network (beginning at 9 p.m. on August 31).
Variety and Fieri caught up in advance of the show's drop date to celebrate the impending airtime and the celebrity chef had a little fun.
How potato filter managed to completely stun Guy Fieri
Guy Fieri is no stranger to good-natured fun, so he was up to the task when Variety suggested he engage in a game of "Which potato are you" using a filter that cycles through a bunch of potato types until it lands on the exact spud that suits a person best. Some of the options include actual kinds of potatoes, like a baked potato, french fried potato, and potato chips. However, there are also more playful options.
The Twitter video shows Fieri's reaction as he awaits his potato-related fate, saying "This is ridiculous," then exclaiming, "I'm Mr. Potato Head," once his result is finalized. He goes on to say it's "cause of the glasses," since he was indeed wearing sunglasses during the oh-so-scientific process.
At any rate, being compared to Mr. Potato Head isn't so bad. The beloved children's toy has serious longevity, having been a childhood sensation since 1949 (via Idaho Potato Museum). If nothing else, it sure beats being a worn-out-looking couch potato, at least.