Sweet And Spicy Pepper Jelly Recipe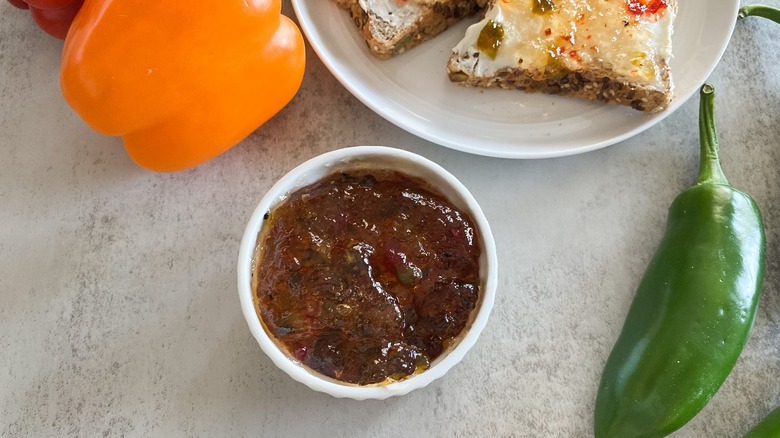 Kristen Carli/Mashed
Did you know that jelly can be made not just from fruits, but from veggies as well? Many veggies when combined with sugar are actually rather sweet, such as bell peppers. Recipe developer and registered dietitian nutritionist, Kristen Carli, MS, RD, brings us this recipe for sweet and spicy pepper jelly. She combines bell peppers with jalapeño peppers to create a sweet jelly with a strong, spicy kick.
You can serve this in all the traditional ways you would enjoy jelly, such as on toast or a bagel. It's particularly delicious smeared on toast and paired with cream cheese. However, you can also serve this in more creative ways such as a marinade for chicken wings, a condiment for burgers, or even mixed into a stir fry sauce. It's time to broaden your horizons when it comes to jelly, and this simple recipe is the perfect gateway into a whole new world. Both your brain and taste buds will be enlightened!
Gather your ingredients for sweet and spicy pepper jelly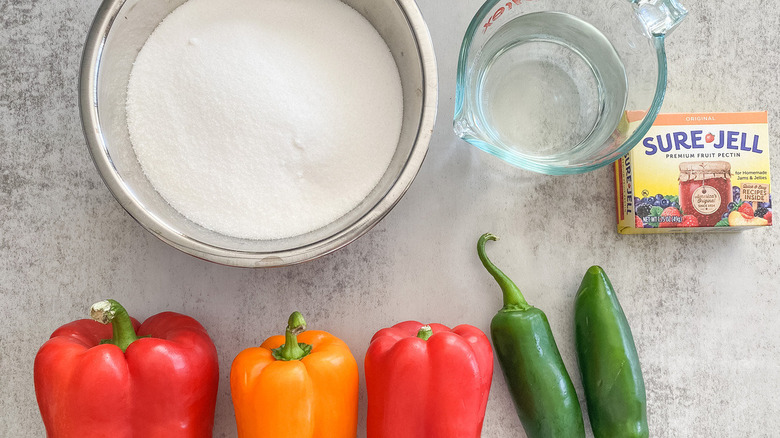 Kristen Carli/Mashed
To make this sweet and spicy pepper jelly, you can start by gathering your ingredients. For this recipe, you will need red bell peppers, an orange bell pepper, jalapeños, white vinegar, sugar, and one package of pectin.
Add all ingredients to a saucepan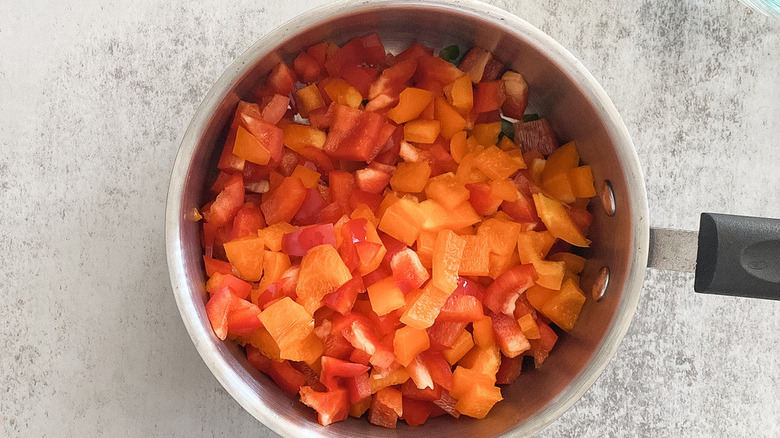 Kristen Carli/Mashed
Once the peppers are diced, add these, the vinegar, pectin, and sugar to a small saucepan. Don't worry if the ingredients are dangerously close to overflowing. Once the ingredients begin to boil, the mixture cooks down a bit.
Stir and bring to a boil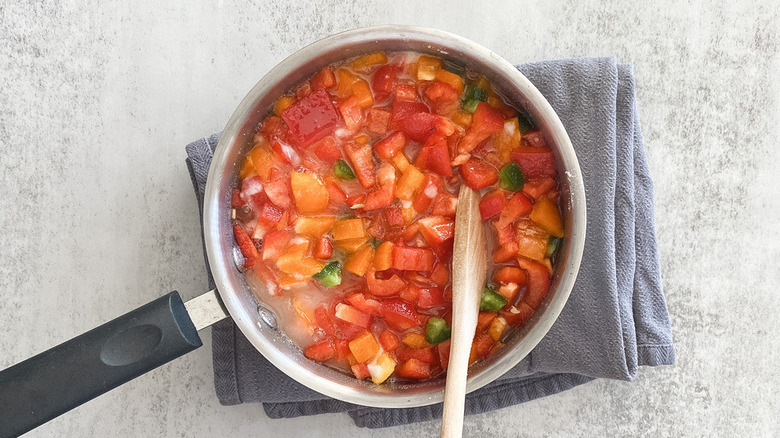 Kristen Carli/Mashed
Place the pan on the stove top over high heat. Gently stir the ingredients to incorporate them fully together. Bring this mixture to a boil, but only for about 1 minute — after that, remove the pan from the heat.
Pour into a jar and chill before serving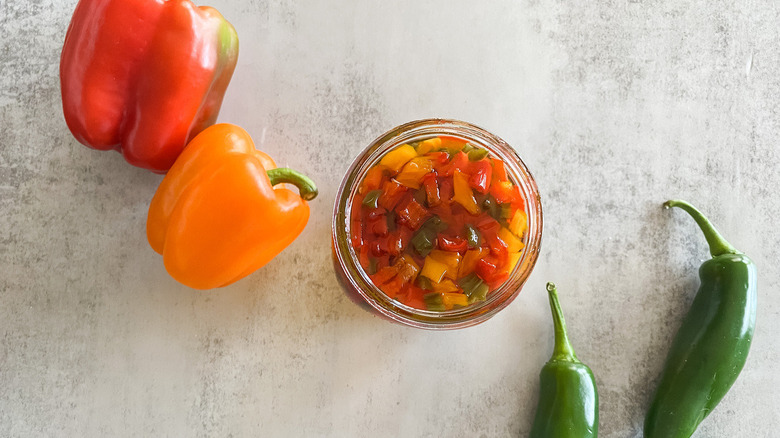 Kristen Carli/Mashed
Pour the boiling mixture into a large mason jar, as carefully as possible. Be sure not to accidentally spill on your hands when pouring. If it is easier, we recommend placing the mason jar in a large sink before pouring so as to avoid having to hold the jar with your hands. Then, allow it to cool to room temperature for at least 1 hour. Lastly, cover the jar with a lid and place in the fridge to chill for at least 12 hours. This will allow the jelly to firm up, making it the perfect consistency to spread on toast, bagels, or to use in a different, creative way!
Sweet And Spicy Pepper Jelly Recipe
Add some spice to your jelly with these sweet and spicy pepper jelly recipe.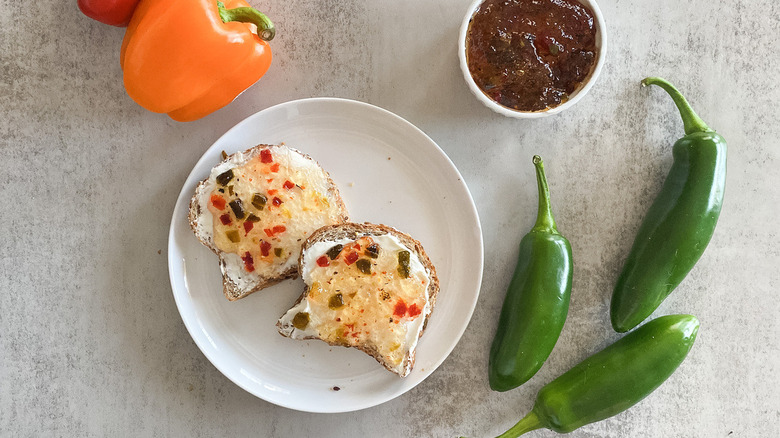 Ingredients
2 red bell peppers, diced
1 orange bell pepper, diced
2 jalapeños, seeds and ribs removed, diced
1 cup white vinegar
4 cups sugar
1 package pectin
Directions
In a small saucepan, add the bell peppers, jalapeños, vinegar, sugar, and pectin.
Place over high heat and stir. Bring to a boil. Allow to boil for 1 minute and remove from heat.
Pour into a large jar and set aside. Allow to cool at room temperature for at least 1 hour. Then, cover with a lid and place in fridge to chill and firm up for at least 12 hours.