The Secret Ingredient In Gordon Ramsay's All-Time Favorite Comfort Food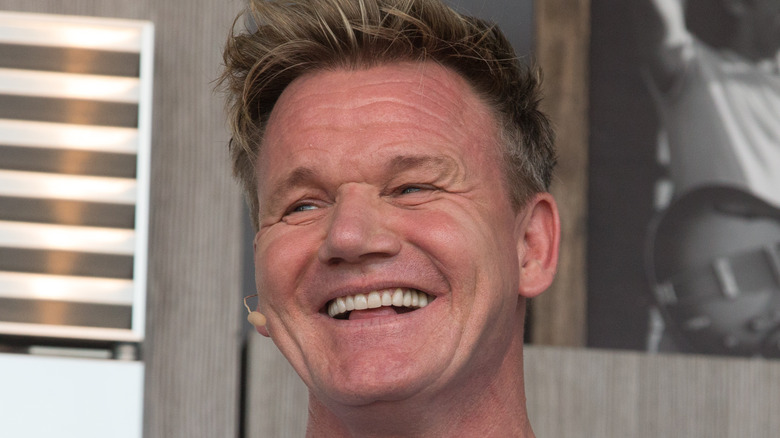 Sterling Munksgard/Shutterstock
It's no surprise that British TV host, restauranteur, and food extraordinaire Gordon Ramsay's ultimate comfort meal is also one of the most well-known dishes in the United Kingdom: fish and chips. Heck, Ramsay loves it so much that he even owns the restaurant chain Gordon Ramsay Fish & Chips. Plus, his other gastropub restaurants also feature fish and chips on the menu, so needless to say, he's an expert on the topic.
"Fish & Chips is a really important dish to me, not only is it quintessentially British but it was part of my upbringing. I've found a way to elevate that classic dish, dress it up and really modernize the experience," Ramsay writes on his website for Gordon Ramsay Fish & Chips, which serves a classic beer battered crispy cod with natural salt chips. 
He's also shared several recipes and variations of the classic over the years — like classic beer battered fish and mushy peas and Fish & Chips in 10 Minutes. But in Ramsay's recent video series, "Classic Family Recipes With A Twist," he diverges from tradition and adds his own personal touch on dishes like fish fingers with a chip butty, boiled eggs with anchovy soldiers, and, you guessed it: battered fish.
Instead of the beer-battered fish served at his restaurants, when Ramsay wants a taste of the pub at home, he puts his own spin on it with a surprising ingredient — ginger beer.
Light, crunchy fish with a spicy Ramsay twist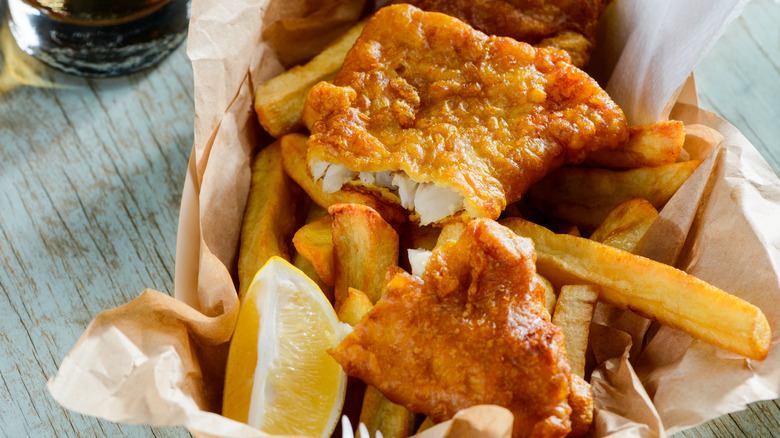 Yuriy Golub/Shutterstock
As Scientific American explains, beer batters are so popular because they add three important qualities: carbon dioxide, foaming agents, and alcohol. As soon as the batter hits the oil, CO2 bubbles escape, resulting in a light and crispy coating. Additionally, the carbonation makes the batter more acidic which prohibits gluten formation — too much gluten would make the breading chewy, like bread. 
Gordon Ramsay's ginger beer-battered fish recipe puts a zingy, non-alcoholic twist on this classic method. Ginger beer still delivers the essential fizz and foam while adding a subtle sweet and spicy flavor. In his YouTube video, the "Hell's Kitchen" star also offers some expert tips to make sure your homemade fish tastes just as light and crispy as it does in his restaurants.
The first tip is to season your cod — Ramsay's preferred fish choice — with salt and pepper and let it sit in the fridge for 10 minutes before you batter and fry. The salt will remove some of the excess moisture, ensuring the coating stays light and crisp. Ramsay also recommends sifting the batter's dry ingredients for even distribution. He notes the finished batter should be the consistency of double or heavy cream — if it's too thin the batter will run off in the fryer, too thick and it'll prevent the fish from cooking. 
Ramsay's final tip involves frying. Gently lay the battered fish in the oil away from yourself to avoid splatter, then "twist" the pan a few times to prevent any sticking. Serve this ginger beer-battered fish with Ramsay's suggested side, chili-minted mushy peas, and enjoy.