What Happened To Safe Catch After Shark Tank?
For over a decade, ABC's reality hit "Shark Tank" has brought media attention and one golden opportunity to hundreds and hundreds of hopeful entrepreneurs. Those entrepreneurs are given the chance to present their idea to a room full of "sharks." Those sharks rotate over time, but tend to include business titans Lori Greiner, Barbara Corcoran, Daymond John, Mark Cuban, Kevin O'Leary, and Robert Herjavec (via All Shark Tank Products). The budding entrepreneurs who enter the tank all hope that one of these big fish will make them an offer to invest heavily in their company in exchange for an ownership stake. But it doesn't always work out that way. Some small fish have to swim away empty-handed.
But don't feel too bad for those rejects. Protein-packed breakfast food company Kodiak Cakes, for example, was rejected on the show but is now ranked one of the best frozen waffles (via Insider). Regardless of investment status, whether the contestants sink or swim out on the open ocean is largely up to them. Let's find out what became of Season 8's Safe Catch.
Filling a canned need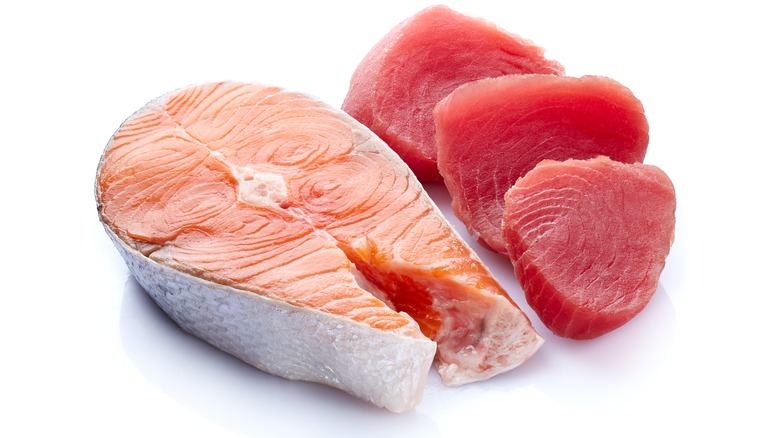 Dionisvera/Shutterstock
Safe Catch appeared on Season 8 Episode 7 of "Shark Tank" back in November 2016 (via All Shark Tank Products). About a decade before their "Shark Tank" debut, founders Bryan Boches and Sean Wittenberg set out to fill a need in the market: the very real need for safe tuna. What you should know before taking another bite of canned tuna is that most tuna contains well above-average levels of mercury. When Consumer Reports performed independent third-party tests in 2011 on common brands of canned tuna, both white and light varieties, they found that every single can of tuna sampled contained "measurable" levels of the neurotoxin, some in as high a dose as 0.774 parts per million. For reference, the FDA has the authority to remove products containing 1.0 parts per million from the market for safety.
What's now Safe Catch originally started out as a tech company, as Boches and Wittenberg sought to create a mercury screening tool that could be implemented industry-wide to create safe tuna for all. But 10 years and more than $14 million later, the boys have given up on that dream. They still want to create safe tuna, but they now know the industry will not adopt their technology, even though it costs "pennies on the dollar" to test a fish (as per Shark Tank accessed via Hulu). Instead, they turned to creating what they claim is "the healthiest tuna on the planet."
Filling grocery stores nationwide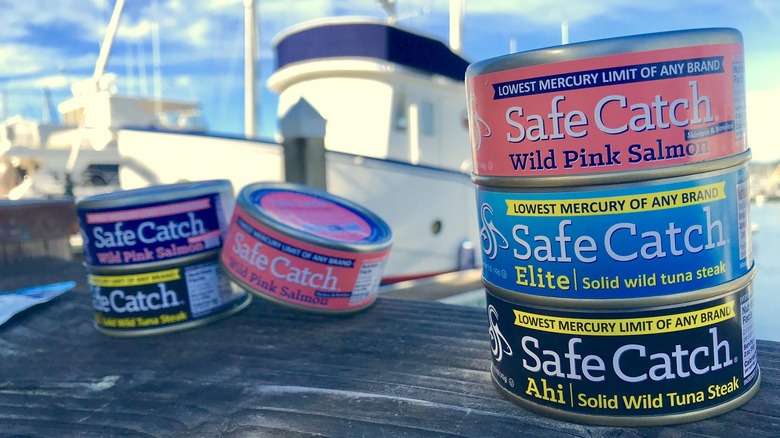 Needless to say, after Safe Catch had already sunk $14 million in their quest to bring mercury-safe tuna to the market, the sharks weren't biting (via Shark Tank accessed via Hulu). The final product that founders Sean Wittenberg and Bryan Boches present is a canned tuna that only contains fish that have been tested for mercury levels and meet their rigorous standards. This kind of quality control has never before been possible with tuna, they explain, as pre-existing mercury tests were slow and expensive.
But that's not the only way this product is different, they also start with a better cut of fish (only sushi quality tuna steaks) and cook it in the sealed can to retain nutrients that would otherwise be cooked off. So when you sub Safe Catch in your tuna salad recipe, you're getting a more nutritious meal.
At the time of their "Shark Tank" episode, Shark Tank Blog notes that the brand was retailing online and in Wegmans, as well as in small health food grocers. While the team may not have gotten a deal out of "Shark Tank," they've certainly gotten a lot of press, including being named as one of Nick Jonas's 10 things he can't live without in a 2019 interview with GQ. Today, the brand retails in over 12,000 stores nationwide and, despite the nearly $1 million in debt the company had at the time of the show, today it has an estimated annual revenue of over $5 million. Wonder if any sharks are wishing they hadn't let this one swim away.