This Creamy Casserole Is A Swedish Staple At Christmastime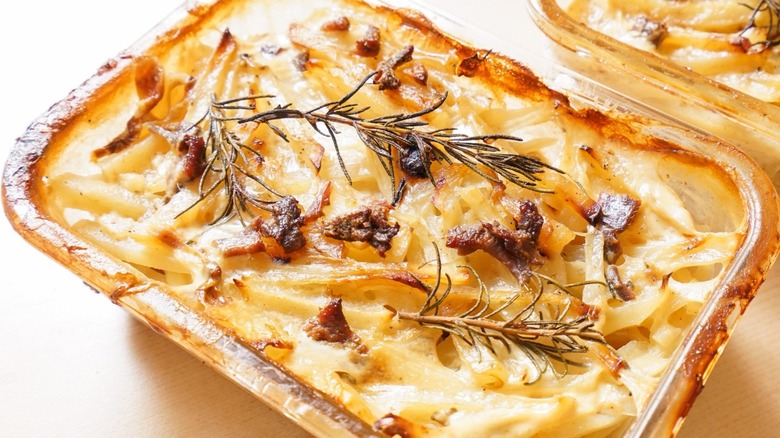 maroke/Shutterstock
Christmas in Sweden must be magical. Visit Sweden reports that during the festive Christmas season, people can enjoy walking down the Christmas markets in large cities such as Gothenburg, Stockholm, and Malmö. The markets are brimming with cheerful decorations and offer traditional Swedish foods and ingredients. On the other hand, the Swedish Christmas buffet known as 'julbord' is on display at most restaurants in the country from late November until Christmas. 
The Culture Trip revealed that Swedish Christmas dishes mostly rely on filling foods such as meats and sweet desserts. Julbord usually contains foods such as julskinka, a traditional Christmas ham; prinskorv sausages that are paired with mustard; the famous Swedish meatballs known as köttbullar; risgrynsgröt rice pudding; and lussekatter saffron buns that are traditionally paired with a glass of mulled wine on the side. But there's another Swedish dish that's a staple at Christmastime — a creamy casserole that is as tempting as it is delicious.
Jansson's Temptation is a festive casserole made with potatoes, onions, sprats, and cream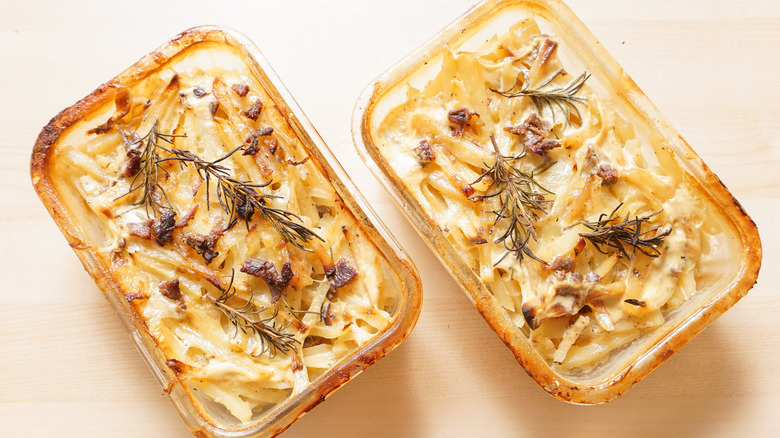 maroke/Shutterstock
Sweden reports that this traditional Swedish casserole is called Janssons frestelse or Jansson's temptation, and it was named after Pelle Janzon, "a Swedish opera singer of the early 1900s." The recipe for this creamy casserole was first published in 1940, and Swedish Food reveals that the casserole consists of julienned floury potatoes, onions, milk, cream, breadcrumbs, butter, and 'ansjovis.' 
It could be easy to mistake ansjovis for anchovies, but ansjovis are, in fact, cured sprat fillets, which are milder and sweeter in flavor than Mediterranean anchovies. Once it's out of the oven, Jansson's temptation is most commonly served on the julbord Christmas buffet, but the casserole can also be served as a side dish or a main course on other festive occasions. 
And for those who don't like sprats, there are two variations on this classic dish: Hansson's temptation, made without sprats and suitable for vegetarians, and Karlsson's temptation, which uses ground beef instead of sprats (per TasteAtlas). There's something for everyone here, so if you find yourself in Sweden during Christmastime, don't forget to visit the nearest julbord buffet and feast on traditional Swedish dishes.