The TikTok Recipe The Pasta Queen Wants To Call The Pasta Police On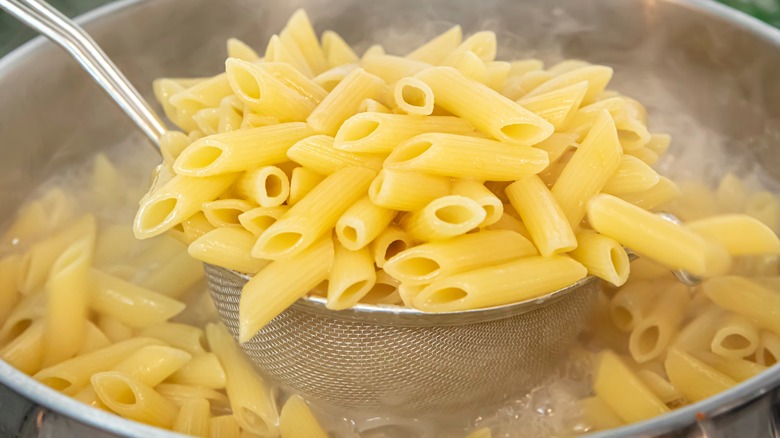 Mehmet Cetin/Shutterstock
TikTok's The Pasta Queen clearly demonstrates her love and knowledge of pasta. On her website, she describes being born into a "pasta dynasty," a family nicknamed Macaroni that first started producing pasta in southern Italy in the 1800s. On that basis, it's fair to say that her pasta knowledge should instinctively be far better than the average home cook's.
We should probably be listening to her when trying to develop our own pasta dishes, then. On her TikTok account that boasts 2.4 million followers, The Pasta Queen regularly uploads recipes designed to be simple and intriguing, such as an easy lemon-ricotta pasta the internet couldn't get enough of. In another recent video, though, she showcased her obvious disdain toward a rather unsophisticated meal devised by a budding cook.
The reaction video showed The Pasta Queen visibly horrified as the other chef mixed cooked pasta, raw eggs, diced tomatoes, and Alfredo sauce into an unappetizing pot of sticky sludge. Evidently distressed, The Pasta Queen exclaimed, "oh my god," holding her head while shouting, "no!" Lots of TikTokers were equally disturbed by the creation, with many not holding back on their criticisms.
TikTokers think this pasta is an insult to Italy
The TikTok clip — captioned by The Pasta Queen as "pure chaos and a pasta violation" — has received much derision from viewers, including one proclaiming it to be a "fever dream." "This is literally made from a horror story," said commenter Steph Makhs, with another user joking: "My toilet is crying." "It literally kept getting worse," despaired a further viewer as they described the sight of each new ingredient going into a strainer of cooked pasta, then dripping down into the pot below. The resulting sauce appeared to contain chunks of curdled eggs. In response to a viewer demanding an investigation by the "pasta police," The Pasta Queen tagged @lionfield — self-proclaimed "pasta protectors" — to "help bring justice."
The Pasta Queen seemed to call out TikTokers @janelleandkate as being responsible for the controversial recipe, and one of them is featured in the video. The pair have uploaded other inciting recipes, such as a peanut butter steak that had Gordon Ramsay laughing. Regardless of the humor that may have been intended with @janelleandkate's original video, several viewers found the pasta concoction to be insulting to Italians. "The pasta gods are crying," warned TikToker @SpeedDemon, while another confessed: "Not Italian, but I cry." And as user Andrew Booth concluded, "That should violate some kind of community food guideline."