The Cookbook That's Made For Sweet Magnolias Fans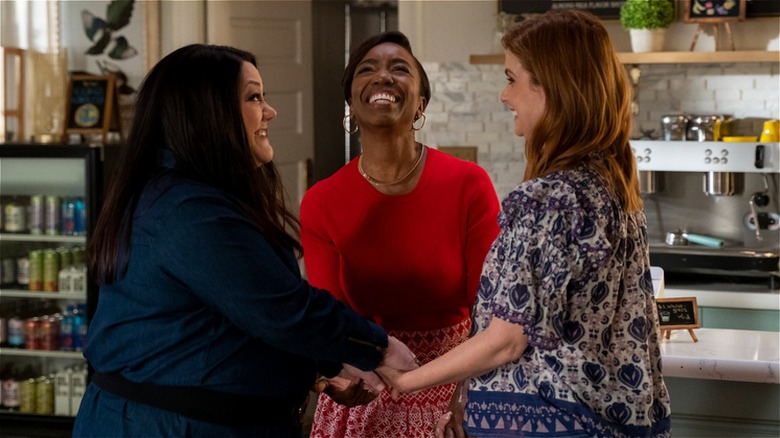 We may receive a commission on purchases made from links.
Renewed for a third season in May 2022, there's no news yet on when that season of Netflix's Sweet Magnolias will come (as per What's on Netflix). Since the second season only made it to Netflix in the spring of 2022, fans may be waiting a while for their next helping of Southern hospitality. Fortunately, there's no shortage of other Sweet Magnolias media to consume when you've got a craving for these Serenity soul sisters. In addition to the novels themselves, author Sherryl Woods also published a Serenity-inspired cookbook in 2012, which has been republished to feature tidbits and glossy photos from the popular Netflix series. It's  perfect for any fan or just anyone looking to explore the Southern comfort foods you need to try before you die (per She Knows & The Sweet Magnolias Cookbook, via Amazon).
Co-author Teddi Wohlford was actually a fan of the books. She reached out to author Sherryl Woods to express how much she had enjoyed them and how much she identified with Dana Sue, a fellow Southern cook. Woods just so happened to receive that email around the time her publisher reached out about adapting a Sweet Magnolias cookbook, since food plays such a significant role in the stories. How could it not when one-third of the titular group is a chef? Luckily for Woods and Sweet Magnolias fans alike, Chef Wohlford was eager to help bring some of Serenity, South Carolina's signature dishes into the real world.
More than 150 Southern Recipes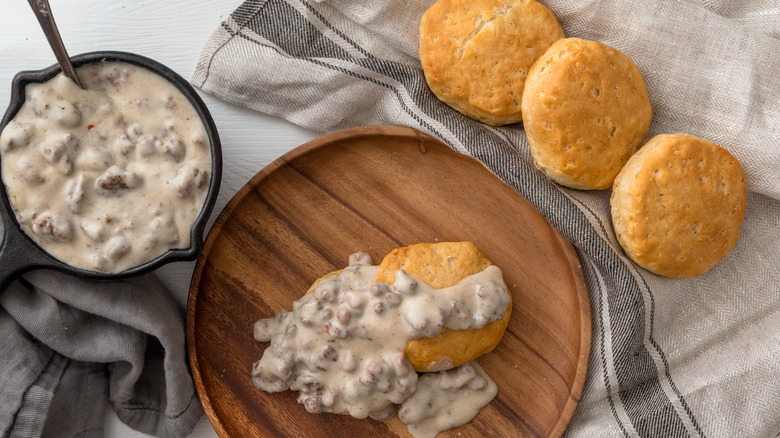 Agave Photo Studio/Shutterstock
The recipes in the book, aptly titled "The Sweet Magnolias Cookbook: More than 150 Southern Recipes," are inspired by different locations and characters in the story. The sections include the dinner menu for Dana Sue's Sullivan's Restaurant, as well as "Sunday Brunch at Sullivan's," Sweet Magnolias Margherita Nights, and a mock-up low-cal menu from the ladies' joint business venture, The Corner Spa. There's even a section dedicated to the sweet treats whipped up by the delicious Chef Erik named "Chef Erik's decadent desserts." 
All of the recipes celebrate South Carolina cuisine. This style is distinct from Southern cuisine as a whole, although some broader Southern classics still make their way into the mix — like cheese grits (perfect for an easy cheese grits casserole recipe), red-eye gravy, and red velvet cake. Southern food fans will find some more unusual Southern specialties, like cider-derived holiday drink wassail (via Taste of Southern). Most of the recipes play heavily with traditional South Carolina Gullah influences, like the "Gullah peanut and sweet potato stew" and the "cornmeal-crusted fried okra." It also features the French and English influence in Low Country cuisine, as seen in the "sherried mushroom soup," rémoulade, and of course, the ultimate Low Country dish, the seafood boil (per Discover South Carolina). And of course, what visit to Serenity could be complete without a little tipple of Helen's famous margaritas? Don't worry, they're there, too.