Twitter Is In Shambles Over Domino's Pumpkin Spice Fake-Out
September may have only just begun, but pumpkin spice season is already in full swing. What started with Starbucks' pumpkin spice latte, the unofficial VIP of the season, has slowly spiraled into a full-fledged fall phenomenon. From Swiss Miss hot chocolate and Oreos to Land O' Lakes butter and LesserEvil popcorn, brands across the country are proving that there's no food that can't be pumpkin spiced (via People).
In theory, it's possible for every consumable to be transformed into a pumpkin-spiced variety. But let's face it, certain combinations just don't make sense, and our taste buds would probably concur. For instance, Spam, hummus, hot sauce, and water have no business being pumpkin spiced (via Alot). Oh, and let's not forget about the autumn-flavored salmon that took fall too far — that's also a no-go.
Another food that may confuse some taste buds? Pumpkin-spiced pizza. While it's only a matter of time before pumpkin-spiced pizzas begin popping up around the country, we know of at least one chain that has no plans to debut this flavored pizza. Domino's revealed its disdain for the pumpkin-spiced trend in a tweet that sent Twitter into fits of laughter. 
Domino's promises to never, ever debut a pumpkin-spiced pizza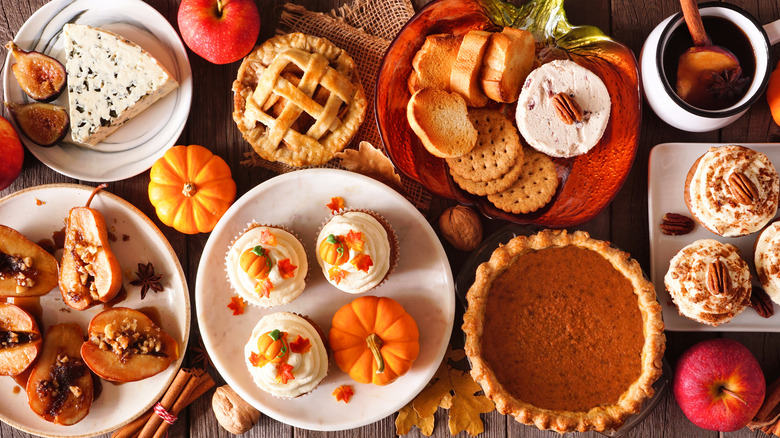 JeniFoto/Shutterstock
Domino's clapped back at the pumpkin-spiced trend in a recent Tweet, writing, "PUMPKIN SPICE PIZZA COMING SOON TO A DOMINO'S NEAR YOU never." The post left followers cracking up about the pumpkin spice fake-out in the comments section. "You squashed a lot of hopes and dreams," one person joked, while another person humorously suggested, "But what about apple pie dessert pizza with the frosting drizzle and some Graham cracker crumbles." A couple other big brands joined in on the Twitter banter, including Minute Maid and State Farm.
Even though Domino's promises to "never" debut a pumpkin-spiced pizza, that doesn't mean you can find this bizarre creation elsewhere. According to Delish, Villa Italian Kitchen will be releasing a pumpkin-spiced pizza starting on September 22. The pizza will be made with whole-milk mozzarella, and pumpkin pie filling will replace the traditional marinara as the sauce. Delicious or disgusting? There's truly only one way to find out!