The Sweet Way Ina Garten Celebrated Barefoot Contessa's 20th Anniversary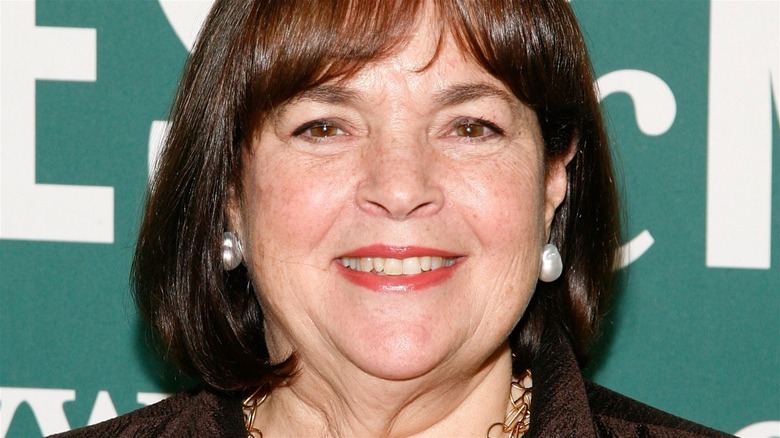 Andy Kropa/Getty
Like the classic paired favorites of peanut butter and jelly or eggs and bacon, home cooks can't picture Ina Garten without thinking of "The Barefoot Contessa." Garten's popular Food Network show debuted in 2002 and has so far successfully aired 28 full seasons (via Rotten Tomatoes). While the humble chef may never be the same since "The Barefoot Contessa" due to her immeasurable fame and success, Garten has never failed to be honest about her lack of formal training and confidence in the kitchen (via Page Six).
"Barefoot Contessa" serves as one of the most accessible shows for starter chefs, with Garten using her first cookbook, which debuted in 1999, as the most recommended resource for cooking novices (per Barefoot Contessa). She even inspired one superfan to develop his skills in the kitchen by cooking 1,272 of her recipes (per Today). Not only was her iconic storefront in West Hampton used as inspiration for a movie scene, but what other chef effortlessly spurs everyday people to return to the same recipes week after week?
It's clear that "The Barefoot Contessa" is appreciated not only for Garten's crowd-pleasing recipes like her juicy roast chicken but also for her accessible on-screen approach to help craft your at-home culinary skills. With the show's 20th anniversary upon us, Garten celebrated the occasion by taking a walk down memory lane.
Ina Garten looks to the past to celebrate where Barefoot Contessa is today
Last year Ina Garten shared an old photo on Instagram commemorating her 43 (now 44) years in the food industry. Today, in celebration of the "Barefoot Contessa's" 20th anniversary, the star chef posted a clip from her first episode of "The Barefoot Contessa" and Garten fans far and wide took time to comment.
While in the caption Garten makes fun of herself for talking too fast, the clip begins with her chatting about the flavor benefits of drinking real lemonade over "the stuff your mother used to bring home from the grocery store." You watch a young Garten make her fresh lemonade recipe on camera while a Mediterranean feast is prepared in the background.  The clip ends with Garten stating "I'm definitely putting vodka in mine" which is no surprise if you're familiar with the culinary icon's "secret weapon" in the kitchen.
Fans loved the throwback video with one commenting "the best cooking show on the planet." Other Instagrammers insisted that the earlier seasons of the show inspired them to get in the kitchen and cook. With Garten's next cookbook out next month, there may be more episodes of "The Barefoot Contessa" in the future so keep your eyes open.