Why Your Sweet Potato Casserole Is So Dense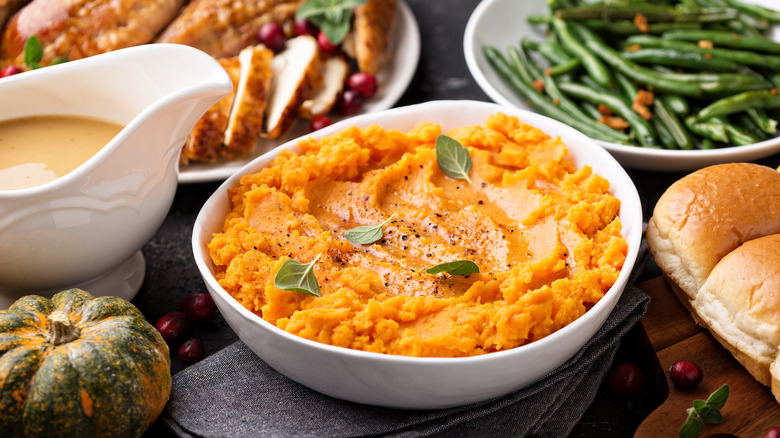 Elena Veselova/Shutterstock
Thanksgiving is coming up fast, which means there are plenty of preparations to be made. Perhaps the biggest concern (aside from dealing with those distant family members) is preparing the dinner. While you may consider yourself a master of preparing the Thanksgiving turkey or you make a stuffing so good you'll eat it by itself, it's equally important to focus on the side dishes. And what Thanksgiving dinner is complete without the humble sweet potato?
The sweet potato is a versatile vegetable, delicious when prepared in a variety of ways. You could, for example, follow Trisha Yearwood's recipe for a sweet potato pie (via Food Network). Or, perhaps you'd go down the traditional route and prepare your family a sweet potato casserole recipe. Whether you top it with toasted marshmallows or you add roasted pecans on top, as Ruth's Chris does with its sweet potato casserole, you expect it to be sweet, rich, and moist. (Think of it as the dessert before the dessert.)
But what happens when your sweet potato casserole comes out heavy and dense, rather than light and moist, even if you followed the recipe to a T? Mashed got the scoop on perfecting your sweet potato casserole from Chef Mike Anderson, chef at the Restoration Hotel's The Watch: Rooftop Kitchen & Spirits in Charleston, South Carolina. And there's an easy way to fix a dense casserole that involves one simple — almost obvious — ingredient.
Add eggs to your casserole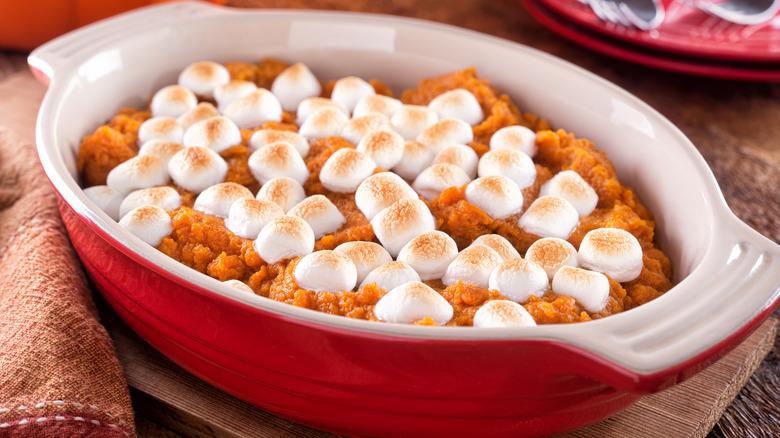 Foodio/Shutterstock
Should you find that your sweet potato casserole has come out too dense, there's a simple ingredient that can help take care of that problem: an egg. "Eggs add structure to the casserole," says Charleston-based chef Mike Anderson. 
Anderson adds that you should always measure the amount of liquid that goes into your sweet potato casserole, rather than just guesstimating. "Adding the right amount of liquid to the mixture helps. You never want to just eye it," Anderson says. 
Still, it's important to strike a balance between a light, fluffy casserole and a liquid, watery one. If you end up with a mushy, liquid-like casserole, that could be because you overworked your sweet potatoes. If your casserole becomes too runny, you can thicken it with an egg and a tablespoon of flour (per Expired Eating) to prevent the casserole from losing its structure.
Of course, whether you prefer your sweet potato casserole dense and firm or light and moist is up to you. As long as you and your family enjoy it, what difference does it make whether it was thick or light?