The Unexpected Candy SmartSweets Is Adding To Its Lineup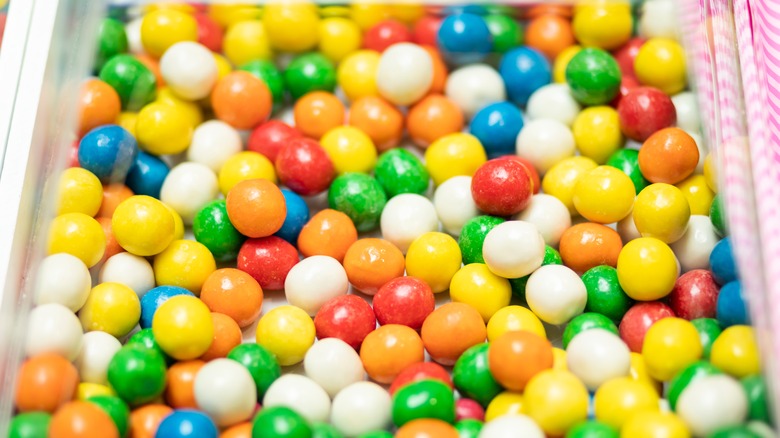 n.tati.m/Shutterstock
SmartSweets first popped up in the candy scene a few years ago, but boy, did it make a splash. The candy brand, partly backed by actress Nina Dobrev, is billed as a "low sugar, healthier" candy, according to Vitality Vixens, and was created to serve as an alternative to the sugary and bad-for-you options at most convenience stores. 
Over the years, it has come out with many versions of fan fave gummies, like Sweet Fish (meant to be a swap for Swedish Fish lovers with only 3 grams of sugar to their 27), Red Twists (a twist on licorice), and both Fruity and Sour Gummy Bears. And according to Candy Industry, it also recently released Jolly Gems, a hard candy that comes in three flavors.
Given their previous releases, it seems it would be safe to assume their latest release is in the same vein of fruity, gummy, or hard candies, but their latest announcement might throw fans for a loop in a very fun way.
No fruit flavor here!
A spokesperson from SmartSweets told Mashed that their newest candy is none other than sweet and chewy caramels, a whole new category of sweets for the brand. On September 14th, the company will be selling these sweet treats alongside its other popular selections. And in comparison to regular caramels, there are some compelling differences to take into account.
Popular caramel brand Werther's offers a soft caramel that holds 13 grams of sugar in one serving. In comparison, the new SmartSweets caramels only hold 1 gram of sugar in the entire bag. And where other caramels like Werther's are about 140 calories per serving (of five pieces), with little additional nutritional value, SmartSweets version was made to hold 15 grams of fiber and 140 calories for the full bag as well. 
Fans of the brand are already excited, with one on Instagram, @wendy_bela, commenting that they were "holding out on a little hint I saw on another IG that a chewy caramel is on its way!" They will have to wait along with other fans to see if the brand new treat will deliver on its "pinky promise: delicious candy with no artificial sweeteners, added sugar or sugar alcohols," but if past reviews are any indication, it's got this in the (candy) bag.