The Hell's Kitchen Meal That Has Reddit Raving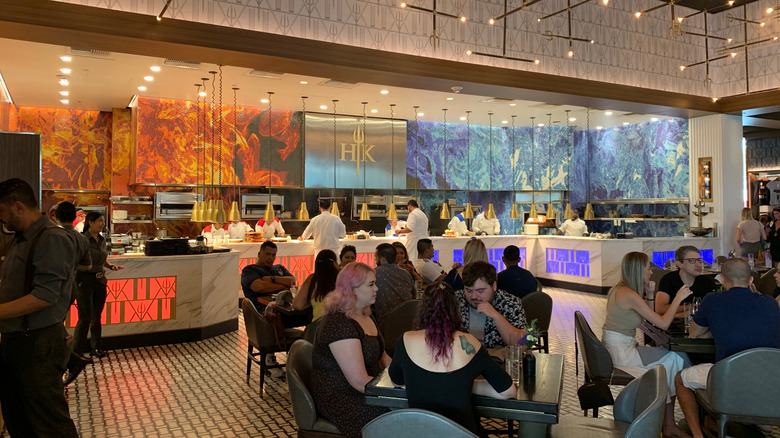 LnP images/Shutterstock
It's really incredible to witness that so many years have passed since the first season of the popular cooking competition show "Hell's Kitchen" (via IMDB). Ever since 2005, the mega-famous chef Gordon Ramsay has divided the competitors into two teams, red and blue, who compete against each other and are put through various cooking challenges over the course of a season. Whoever remains until the end gets the title and position of head chef at one of Ramsay's restaurants. 
In Las Vegas, there's the "Hell's Kitchen" restaurant where people can eat signature dishes from the show, but without the intrusive cameras and competitive chefs (per Gordon Ramsay Restaurants). The restaurant is located right in front of Caesars Palace and is open for lunch and dinner. In the cooking show, we could see a number of signature dishes, but there is one dish that has Reddit raving because it looks mouthwatering.
The beef wellington
The classic dish that everyone seems to like is, of course, Gordon Ramsay's beef wellington, consisting of tender beef that's wrapped in puff pastry with mushroom duxelles sandwiched in between (per MasterClass). The dish is accompanied by potato purée and root veggies, and from the restaurant's menu offered by Caesar's Palace, it seems like you'll need to pay $69.95 for it. However, there's also a three-course meal that costs $89.95 per person, and for that price, you'll get pan-seared scallops, beef wellington, and sticky toffee pudding. An appetizing photo of the Wellington was posted on Reddit by user Hooch_Pandersnatch, and Redditors soon started raving about it. 
One Redditor said, "This is making me very excited about my reservation there next month," while another acknowledged that "the Wellington is superb, but the mashed potatoes are godlike." It seems like many people like the mash better, as user IveeLaChatte also praised it by saying, "Those potatoes are making my mouth water." Luckily, you'll get both the meat and the mash on the same plate. According to Trip Advisor, there are tons of great reviews for the dish, so the next time you're in Las Vegas, give your taste buds a treat. After all, it looks like the pairing of the two is not considered classic without a good reason.