What Happened To Heidi Ho After Shark Tank?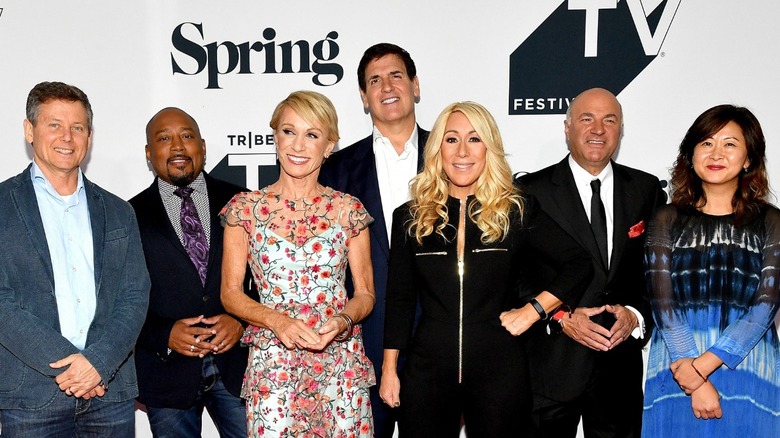 Dia Dipasupil/Getty Images
We may receive a commission on purchases made from links.
"Shark Tank," the business-driven show that puts budding entrepreneurs to the test, will premiere its fourteenth season on Sept. 23 on ABC, according to the network's website. The show stages a panel of business moguls to judge and potentially fund business ideas brought before them by inventors. The judges, or sharks, who include Lori Greiner, Marc Cuban, and Keven O'Leary, have offered $100 million in deals to a select group of entrepreneurial candidates that enter the tank. The endgame for the judges is to receive a return on their investments.
Since its 2009 premiere, the ABC series has amassed some critical acclaim, including an Emmy and a few Critics' Choice Awards(per IMDb). However, contestants who find success on the show don't necessarily thrive when the cameras go down, per Mental Floss. 
On the contrary, Squatty Potty, Scrub Daddy, and Bombas are some of the best inventions to come from "Shark Tank," even becoming household staples in some cases. Another lesser-known product from the show has found its way to a quiet success in more than 500 grocery stores.
The fastest deal in Shark Tank history
While not every product pitched to the "Shark Tank" judges is a home run, many go on to prosper long after the show has aired. Heidi Lovig founded Heidi Ho in 2011 and brought it to "Shark Tank" in 2014 (per SEOAves). The product promised all the deliciousness of regular cheese but in vegan, gluten-free, soy-free form. The cheese substitute, which is now widely available, comes in several flavors, including smokey, spicy, and blueberry.
Lovig offered the sharks a 25% stake in Heidi Ho for a $125,000 investment (via YouTube). She pitched the judges, explaining that Americans consume 33 pounds of cheese every year on average. She said Heidi Ho delivers the irresistible taste of cheese without the unfortunate health drawbacks. She spoke about her own health journey and the long road she took to find foods that made her body feel healthy. Lovig also said she wanted to combat a gap in the market for vegan cheese, Biznewske reported.
After minimal back and forth, Lori Greiner invested the full amount in Lovig's vegan cheese substitute in exchange for a 30% stake. It was the speediest deal ever made on the show.
Heidi Ho's rise to vegan cheese stardom
After landing an investor on "Shark Tank," Heidi Ho experienced an expedient rise to vegan cheese celebrity status. The product hit Whole Foods shelves across Portland after the "Shark Tank" deal (per SEOAves). E-commerce store Vegan Essentials also sells Heidi Ho cheese substitutes, and they have earned a 4-star rating.
On Amazon, some of Heidi Ho inventory is available, including the Organic Creamy Chia Cheeze which earned a 3-star review. Many of the reviewers like the taste of the cheese substitute, but say it doesn't really resemble cheese. "This product is amazing as a dip/cheese substitute, but I would warn people that this is not actually that similar to cheese itself," one reviewer who left four stars wrote. "The consistency is close to that of hummus and the flavor is savory, simple as that." Another left a similar comment and awarded it only two stars. "Although this makes a nice, light dip for veggies, it is NOTHING like cheese in any way. Don't expect any cheese-like flavor."
After "Shark Tank," Heidi Ho's sales ballooned from $140,000 to $750,000 in four months. As of 2020, SEOAves reports the company was valued at $8 million.