Shake Shack Dropped Some New Shakes For Fall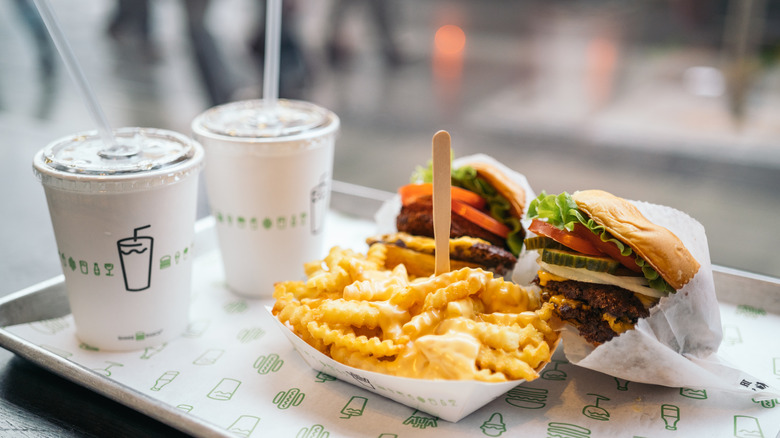 Manu Padilla/Shutterstock
Shake Shack, a fast food establishment with humble New York beginnings, has dropped three new milkshake flavors to prepare for fall. The bad news, though, is that these drinks will only be around for a limited time. According to Multi Briefs, limited-time products such as these remind consumers of a specific time of year and may even trigger a customer's FOMO (fear of missing out) response. By launching seasonal items, restaurants and companies are able to drum up demand and capitalize on the latest trends. In terms of popularity, pumpkin and pumpkin-flavored products are the official taste of fall. For pumpkin-spice beverages alone, the market has increased 130% since 2004 (via Grocery Dive).
Perhaps the most ubiquitous fall product is the Starbucks pumpkin spice latte, but there are tons of other food items that are only available this time of year, and many are well-suited for people with a sweet tooth. Kellogg's offers Pumpkin Pie Pop-Tarts, which are filled with warm spices like nutmeg, cinnamon, and clove, and Ben & Jerry's Pumpkin Cheesecake Ice Cream comes with a graham cracker swirl to emulate crust. If frozen treats with fall flavors have piqued your interest, you may want to know about the three newest Shake Shack milkshakes.
These shakes are triple the fun
The official start of fall is September 22, but you won't have to wait that long to try these autumnal creations. Shake Shack just dropped three new seasonal milkshake flavors, including Apple Cider Donut, Pumpkin Patch, and Choco Salted Toffee, per the restaurant's website. The Apple Cider flavor features apple cider donut-flavored frozen custard topped with whipped cream and "cinnamon donut crunch," and Pumpkin Patch combines pumpkin puree with vanilla custard, nutmeg, and cinnamon, plus a topping of candied pumpkin seeds and whipped cream. The final flavor, Choco Salted Toffee, is made from chocolate custard with salted toffee sauce and whipped cream with toffee sprinkles on top.
The fast food eatery also posted on Instagram to announce the new milkshakes, and customers in the comments seem quite excited. "Finally new milkshakes + fall themed ones at that," a comment read. Another Instagram user could barely believe the news. "Choco salted toffee??? Shut up and take my money," they wrote. Will you be trying one of these (or perhaps all three)? Or will you opt for something off Shake Shack's secret menu instead?