The Aldi Potato Chips That Won Labor Day Weekend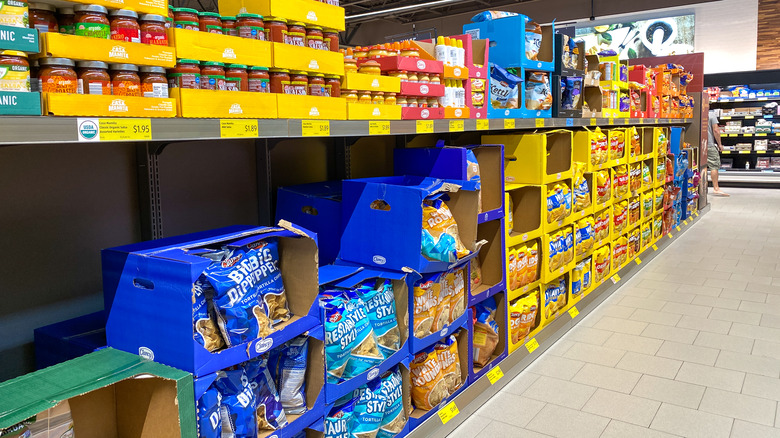 Joni Hanebutt/Shutterstock
Labor Day is a bit of a bittersweet holiday when you think about it. Not only does the celebration of America's workers promise a three-day weekend and a short workweek, but it also serves as many peoples' green light to start gearing up for fall, and therefore likely provides a big serotonin boost to the 56% of Americans who claimed in a 2020 One Poll survey that they felt the happiest during leaf-peeping season (via People). And while that makes us happy for the autumn lovers of the country, there's also a hint of sadness in the holiday, as many view it as the final hurrah for the grilling season until next year. As such, WalletHub reports that over 150 million Americans were expected to either host or attend a cookout this past weekend to commemorate summer's final days.
Now, as you probably know, the grub coming off the grill is the unequivocal star of any cookout, especially the last one of the season. However, you also probably know that the event isn't just a one-person show, and that side dishes and snacks play just as much of a role in pulling off a Labor Day BBQ that friends and family will be talking about for months after it ends. Mac & cheese, potato salad, and corn on the cob are a few of the fan-favorite accompaniments to burgers and dogs. This year, it appears a few bags of Aldi potato chips helped make the weekend a win, as well.
These unique chip flavors are a win for Aldi shoppers
With food inflation being the worst it's been in over 40 years, many consumers may have turned to Aldi to stock up for their Labor Day cookouts this year. However, the chain's low price tags weren't all that shoppers found when gathering BBQ supplies last week — there were also some unique products lining the shelves like the pickle ranch and loaded bacon & cheddar-flavored wavy potato chips that Aldi-obsessed Instagrammer @theamazingaldi recently highlighted. "Happy Labor Day! Here are a couple of items you might need to celebrate today," they captioned a post yesterday, which featured a snap of the Clancy's-brand snacks that are priced at $1.89 per bag (via Aldi).
Several Aldi fans seemed to agree that the duo of chips was a BBQ must-have. "Love the bacon," one person commented, while user @rainroo44 called the pickle chips "delicious." YouTuber Tami Dunn also gave the snacks high praise and even awarded the loaded bacon & cheddar flavor a score of five out of five. Dunn also noted the pickle ranch chips could make an interesting addition to a Cuban sandwich.
Didn't get a chance to pick these chips up for your Labor Day festivities? Don't worry, you may still have time. Per the Aldi website, both flavors are a part of the chain's Aldi finds for the week of August 31 through September 6. If you act fast, you may still be able to grab a bag for yourself.