The Difference Between LongHorn Steakhouse And Ted's Montana Grill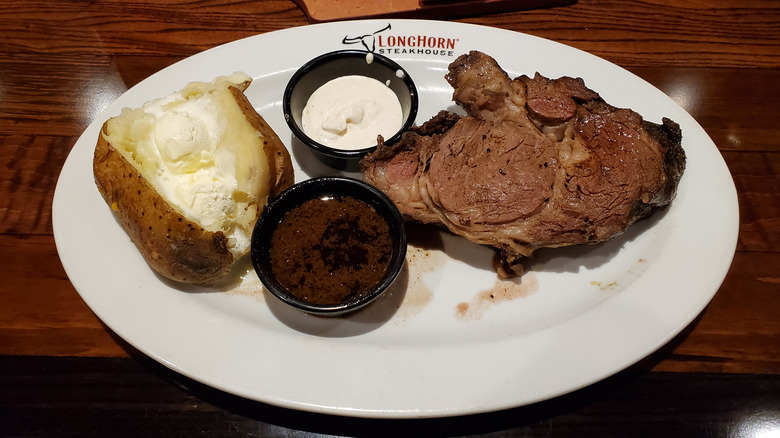 Jon Kraft/Shutterstock
"Beef. It's what's for dinner," proclaims an iconic advertising campaign slogan of the National Cattlemen's Beef Association, and in America, there is no shortage of choices when it comes to filling your plate and your gullet with beef. LongHorn Steakhouse and Ted's Montana Grill are two casual eatery options where you can satisfy a hankering for steak.
Both were either founded or co-founded by George W. McKerrow, a restaurateur who opened the first LongHorn Steakhouse in Atlanta in 1981. In January 2002, after he had sold off RARE Hospitality International, which owned LongHorn Steakhouse at the time (Darden Restaurants bought it in 2007), McKerrow reentered the steak game when he co-founded Ted's Montana Grill along with media mogul Ted Turner (per the Captain Planet Foundation).
McKerrow still serves as the CEO of Ted's Montana Grill, which took a different approach to a casual steak restaurant than LongHorn Steakhouse. It started by helping Turner address what to do with all those bison he had been raising on his ranches, according to an interview with McKerrow in Reporter Newspapers & Atlanta Intown.
Cow v. Bison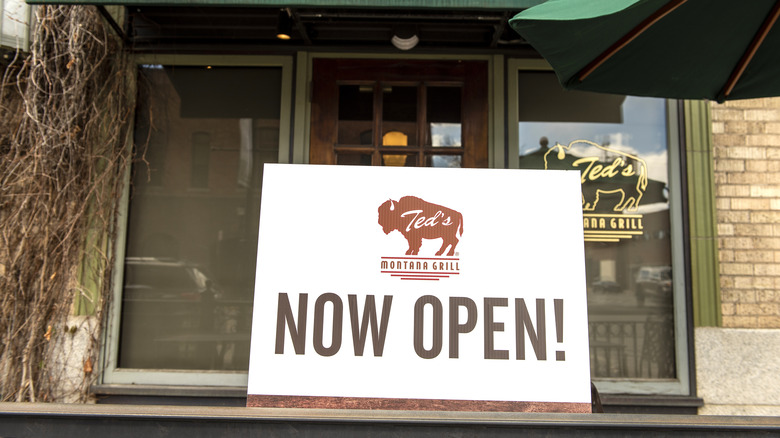 William Campbell/Getty Images
Whereas George W. McKerrow's previous restaurant LongHorn Steakhouse featured beef steaks from cows, Ted's Montana Grill would set out to serve bison as the "cornerstone of its menu." Its website proudly states that the chain dishes out "more bison than any other restaurant in the world." A leaner alternative to beef and "other types of red meat," bison is high in protein and other nutrients like iron and selenium and low in calories compared to a lot of other meats (per Healthline).
Ted's Montana Grill also emphasizes a focus on sustainability through a commitment to local growers and eco-friendly details such as using paper straws and Boraxo soap in its restrooms, and going with sustainable kitchen options. The restaurant chain further states on its website that the bison raised for use in its restaurants are never subjected to hormones or steroids. And thanks to a slick 2018 revamp (per FSR Magazine), the menu now includes dishes like turkey burgers and a gravy-topped bison chopped steak.
Unlike LongHorn Steakhouse, which transitioned from a roadhouse look to more of a ranch vibe in 2009, Ted's Montana Grill designed its interior to emulate more of a 19th-century classic saloon ambiance and simulate a place where "cattlemen and land barons" could relax after enduring the daily grind. Whatever your daily grind entails, it's up to you, the discerning consumer, to decide whether bison or beef is 'what's for dinner.'