New Yorkers Have More Than One Reason To Be Excited About This New Krispy Kreme Location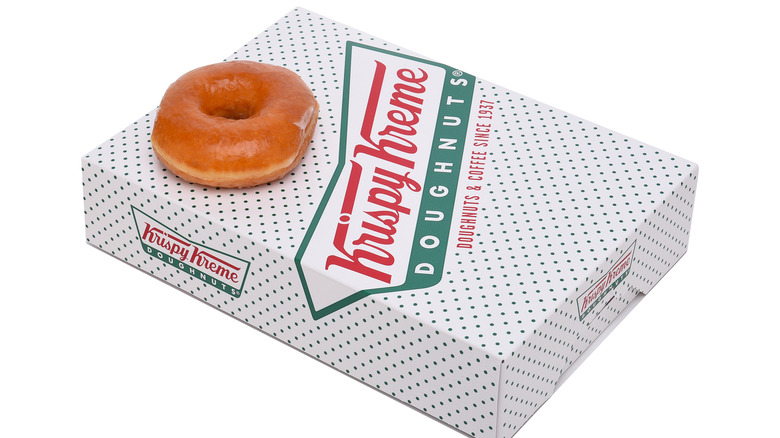 Steve Cukrov/Shutterstock
New York City's flagship Krispy Kreme outpost in Time Square (1601 Broadway, at West 48th Street) pulls plenty of people in each day. Its draws include a walk-up window that never closes, a glaze waterfall, a state-of-the-art kitchen and line that can produce nearly 400 doughnuts an hour, and a ginormous "Hot Now'" light that glows red when fresh batches of sticky-sweet Original Glazed doughnuts are ready for enjoyment (per Eater).
What could possibly be better than that? How about a Krispy Kreme location that's open every day of the week and has a drive-thru lane so you don't even have to step out of your vehicle for a bag or box of the North Carolina-based doughnut peddler's signature delights? The soon-to-open Krispy Kreme location in the New Springville area of Staten Island will have that convenience and will become the first location in New York City and New York State to do so (per silive.com).
Staten Island will be home to New York State's first drive-thru Krispy Kreme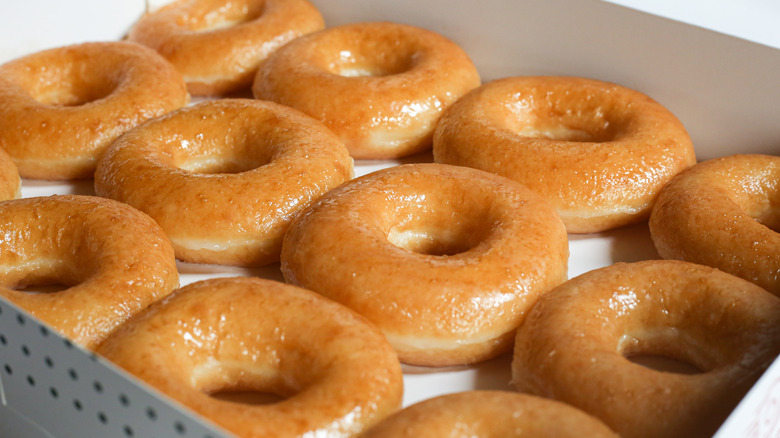 Pong Stocker/Shutterstock
Staten Island is known for its legendary pizza parlors, Italian bakeries, and salumerias, as well as Filipino, Sri Lankan, and other ethnic cuisines (per silive.com). But residents of the Borough of Parks can look forward to an all-American Krispy Kreme outpost of their own and will no longer have to travel to Times Square and other locations in the Big Apple to get their light and delicious doughnut fix.
Staten Island's first Krispy Kreme has been taking shape at 2643 Richmond Ave. in New Springville, near the Staten Island Mall. It is scheduled to open its doors on September 20 and will be open daily (per New York Daily News). Opening week opportunities could warrant a detour to Staten Island: Visitors to the shop can come in for a free Original Glazed doughnut anytime the "Hot Now" light is on until September 27 and might also receive a golden ticket that will earn them free doughnuts for a year.
As Homer Simpson would say, "Mmm, doughnuts" (via YouTube).