Easy Rhubarb Cake Recipe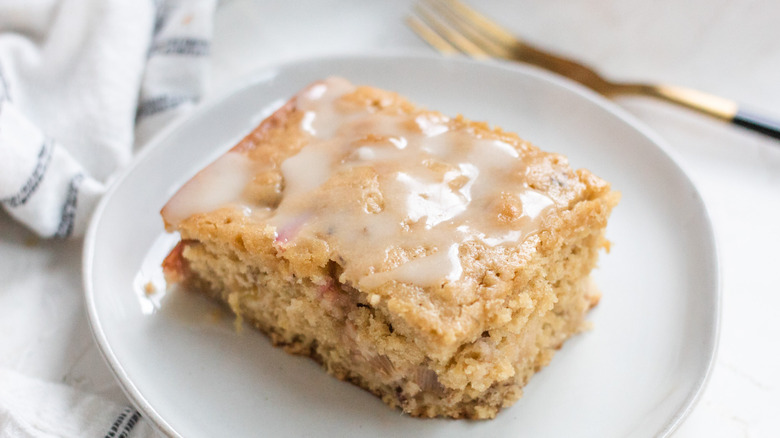 Jaime Shelbert/Mashed
Rhubarb's tart and tangy flavor lends itself to being paired with copious amounts of sugar in dessert recipes — offering a balance of tart and sweet, not unlike lemon and lime. But while rhubarb pies, bars, and crumbles are fairly common summertime desserts, rhubarb cake is a little more novel. But that's exactly why you should add it to your list of recipes worth trying. "This is such a wonderful recipe for rhubarb season," says recipe developer and registered dietitian Jaime Shelbert. "The sweetness of the cake contrasts so nicely with the tartness of the rhubarb. The lemon glaze adds a little something extra special, and its subtleness complements rather than overpowers the rhubarb." 
So when you're looking for a fresh way to liven up your dessert plate, and you want a flavor combination that's fresh, tart, and sweet ... with a little bit of fruit thrown in for good measure, give yourself about an hour to make this tasty cake. Your taste buds (and those of your family and friends) won't be disappointed. 
Gather the ingredients for easy rhubarb cake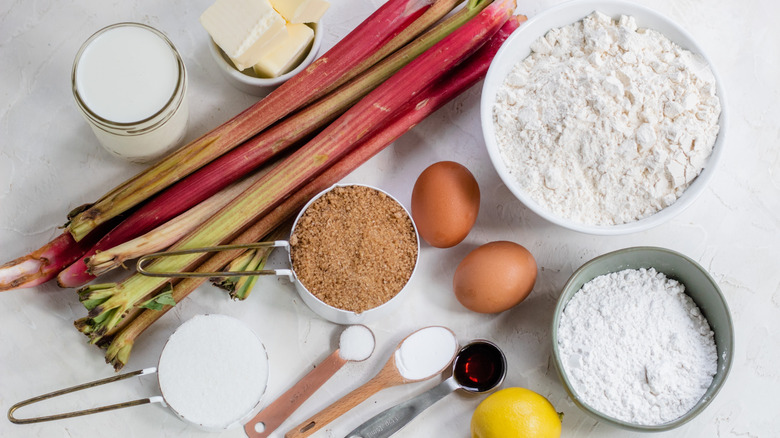 Jaime Shelbert/Mashed
The ingredient list for a rhubarb cake isn't all that different from most cakes, but there are a few items (including the rhubarb itself) that you may not have stocked in your pantry. So check to make sure you have brown sugar, granulated sugar, salt, baking soda, unsalted butter, buttermilk, eggs, vanilla, all-purpose flour, and the rhubarb, of course. You'll also need powdered sugar and lemon juice to whip together that lemon glaze Shelbert hinted at. 
One item of note is the buttermilk. "I opted to use buttermilk in this recipe," Shelbert explains. "It's a bit of an old-fashioned ingredient, but it really helps with leavening and also adds tang and a moist, fluffy texture." 
Preheat the oven and mix the dry ingredients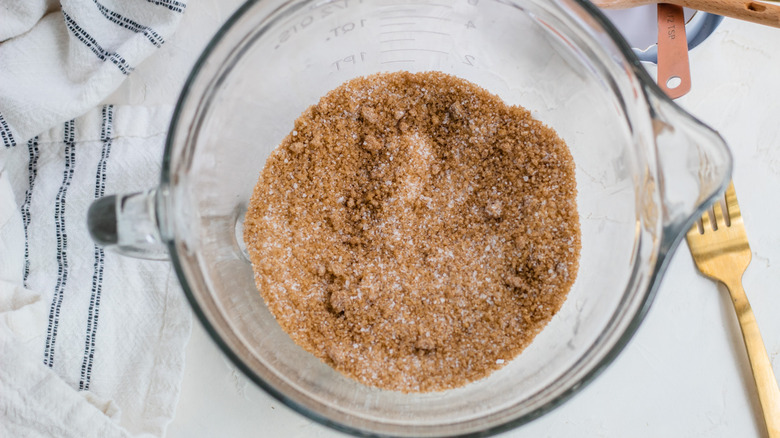 Jaime Shelbert/Mashed
And, just like most recipes for baked goods, you'll start your work by preheating the oven. Set the temperature to 350 F, then prep a 9x13-inch baking dish by greasing it before setting it aside. 
With basic prep work done, turn your attention to a large mixing bowl. Pour in the brown sugar, granulated sugar, salt, and baking soda, and stir them with a whisk or fork to combine. 
Add the wet ingredients and the flour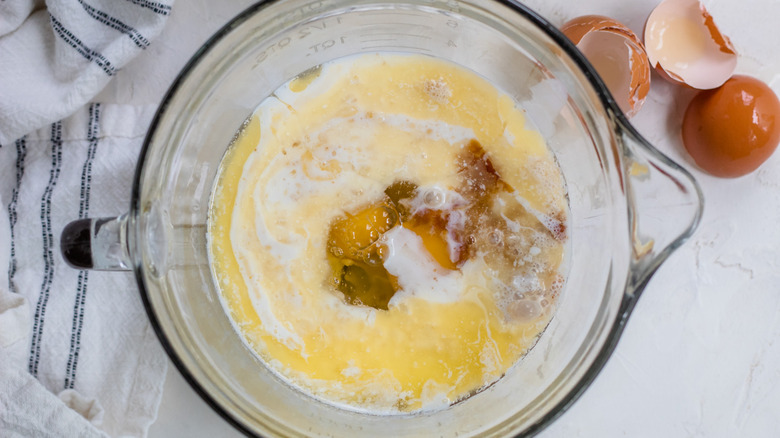 Jaime Shelbert/Tasting Table
What's a little different about the prep process here is that you wait to add the flour last. So go ahead and add the wet ingredients — the melted butter, buttermilk, eggs, and vanilla to the bowl, and whisk to combine. You want to make sure all the ingredients are well-incorporated, then add the flour to the bowl. Again, stir well to form the batter. 
Fold in the rhubarb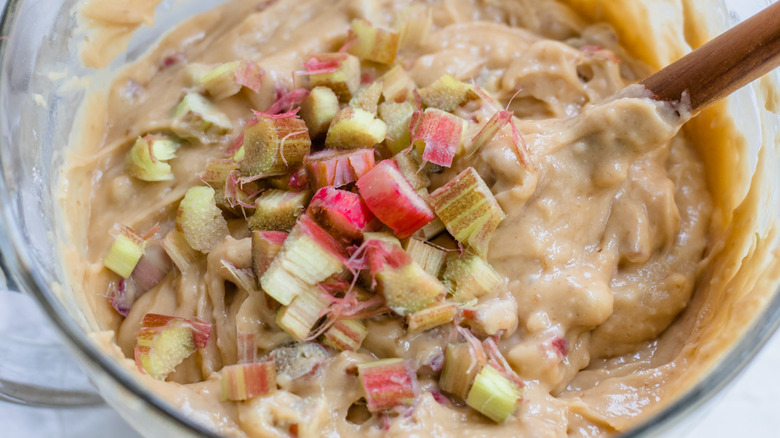 Jaime Shelbert/Mashed
To finish making the batter, gently fold in the rhubarb with a wooden spoon. Don't overmix, but do make sure the chopped fruit is well-dispersed throughout. "Rahl rhubarb is very tart or even sour on its own, which is why it works so well in baked goods," explains Shelbert. "The sugar in this recipe mellows out the tartness. It's still there, but not as sharp. Using in-season rhubarb from late sprint to early summer is ideal, but frozen rhubarb works in this recipe as well. Look for thinner, firm, bright red stalks." 
Bake the cake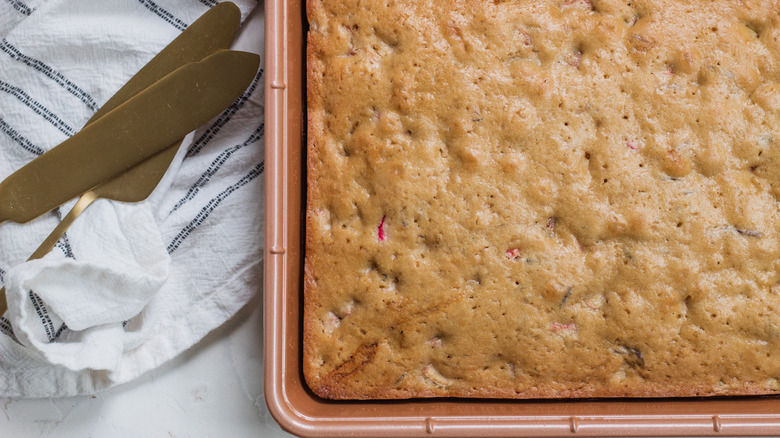 Jaime Shelbert/Mashed
All that's left to prep the actual cake itself is to bake it. Simply pour the batter into the prepared pan and bake it for 45-50 minutes. To check for doneness, stick a toothpick in the center of the cake — if it comes out clean, you're almost ready to serve the dish! Just set it aside to cool while you make the lemon glaze.
Make and apply the lemon glaze, then serve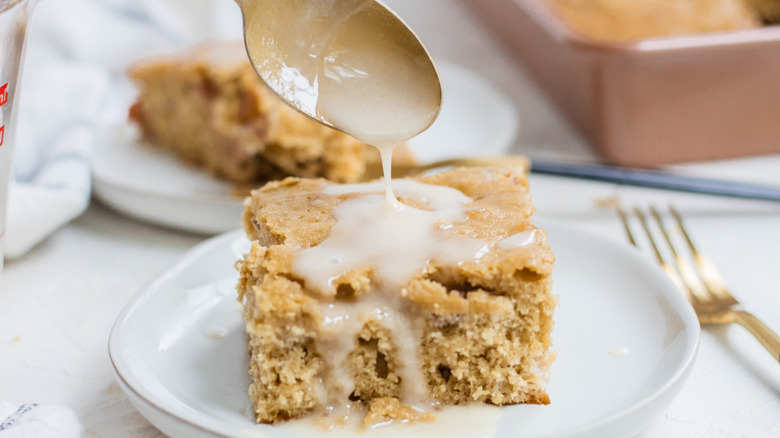 Jaime Shelbert/Mashed
Making the lemon glaze really couldn't be easier — simply whisk together the powdered sugar and lemon juice in a small bowl until they're well-combined. Once your cake is cooled, drizzle the glaze over the top and enjoy! "This cake is delicious with a warm beverage such as tea or coffee, or with a glass of milk," suggests Shelbert. Which makes us think that in addition to dessert, a slice of this cake would make an excellent afternoon snack, or even a sweet treat for breakfast. 
Easy Rhubarb Cake Recipe
This easy rhubarb cake perfectly combines tart and sweet flavors.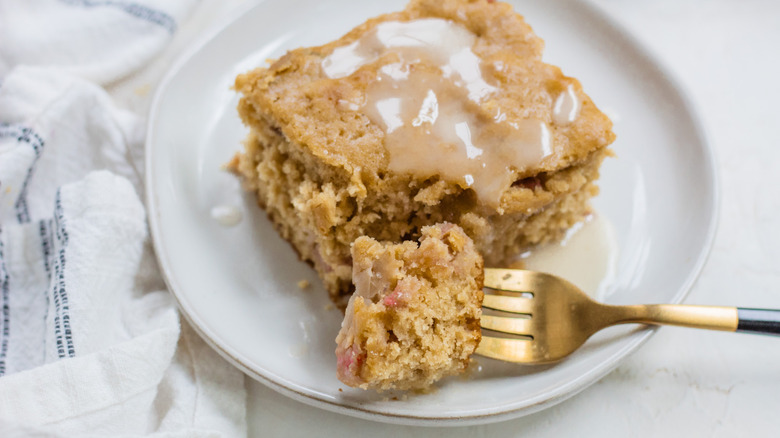 Ingredients
1 cup brown sugar
½ cup granulated sugar
½ teaspoon salt
1 teaspoon baking soda
⅔ cup unsalted butter, melted
1 cup buttermilk
2 eggs
1 teaspoon vanilla
2 ½ cups all-purpose flour
3 cups rhubarb, diced
¾ cup confectioner's sugar
2 tablespoons lemon juice
Directions
Preheat the oven to 350 F. Grease a 9x13-inch baking dish.
Add the sugars, salt, and baking soda to a large mixing bowl. Whisk or stir with a fork to combine.
Add the butter, buttermilk, eggs, and vanilla to the dry ingredients. Whisk to combine.
Add the flour to the mixing bowl and stir to incorporate.
Fold in the diced rhubarb.
Pour the batter into the prepared baking dish and bake it in the preheated oven for 45 to 50 minutes, or until a toothpick inserted into the center comes out clean. Set the cake aside to cool.
Make the lemon glaze by whisking the confectioner's sugar and lemon juice in a small bowl or measuring cup.
Drizzle the glaze on top of the cooled cake.
Nutrition
| | |
| --- | --- |
| Calories per Serving | 319 |
| Total Fat | 11.4 g |
| Saturated Fat | 6.9 g |
| Trans Fat | 0.4 g |
| Cholesterol | 54.6 mg |
| | |
| --- | --- |
| Total Carbohydrates | 50.2 g |
| Dietary Fiber | 1.3 g |
| Total Sugars | 28.9 g |
| Sodium | 257.5 mg |
| Protein | 4.7 g |