Easy Rhubarb Custard Bars Recipe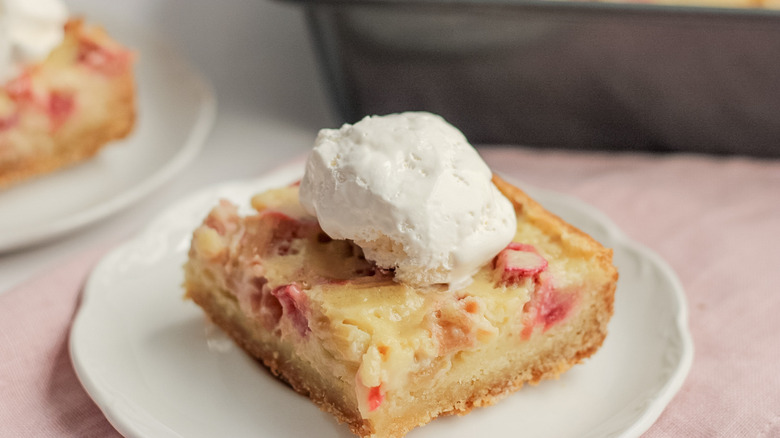 Jessica Morone/Mashed
Combining seasonal fruits with baking ingredients might be the ultimate idea of a well-balanced dessert — and we have just the treat for you that falls into that category. Jessica Morone, recipe developer and food enthusiast from Jess Loves Cooking, created these easy rhubarb custard bars to showcase the best flavors of summer. She notes, "I love how [rhubarb] brings a tart flavor to an otherwise sweet dessert." Although rhubarb is technically a vegetable, when paired with a creamy filling and cookie base, the scrumptious match takes on a totally different flavor profile. A simple sugar cookie dough "gives the bars the perfect flavor," according to Morone.
A few shortcuts such as using a cookie mix for the base make these bars easy to whip up in just about no time at all. The subtle sweet flavors of custard complement the tartness of rhubarb, for a combination you'll want to keep in mind for future baking projects. Even better, the recipe is designed to cut up into single portion sizes so you are sure to get your serving of vegetables and sweets in one compact square. These bars are equally delicious whether you serve them for dessert paired with a dollop of fresh whipped topping, or grab them on the go to enjoy all by themselves.
Gather the ingredients to prepare these rhubarb custard bars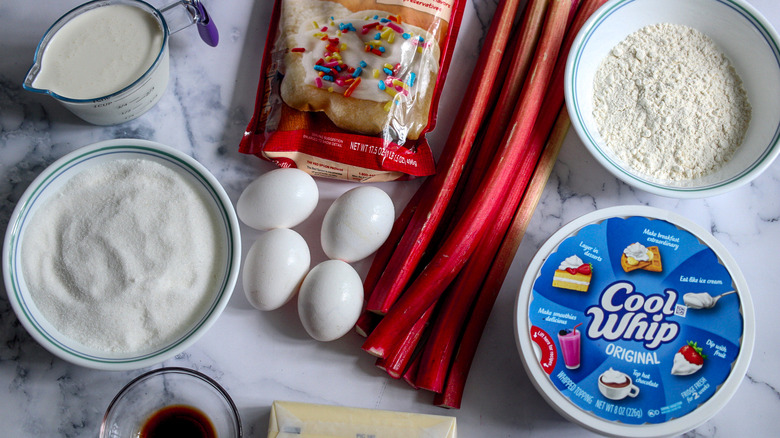 Jessica Morone/Mashed
To begin, gather the ingredients for these rhubarb custard bars. You'll need a package of sugar cookie mix — Betty Crocker makes one perfect for this purpose. Instead of preparing a cookie base from scratch, a pre-made mix incorporates what you need to make melt-in-your-mouth dough. Simply add some softened butter to facilitate blending and one egg to bind everything together. If you want to make your own dough, Morone says it's fine "as long as it is baked to light golden brown before the filling is added." 
Next, for the custard filling, you'll need to round up a few more eggs, granulated white sugar, heavy cream (or coconut cream for a tropical twist), flour, and vanilla extract. Vanilla adds plenty of warm aromas while enhancing those of the other ingredients. If you want to substitute the white sugar, Jessica suggests, "[You can use] Splenda or coconut sugar in a 1:1 ratio, or use one cup of honey or maple syrup." To add a bit of zing and color, chop up some fresh rhubarb, and add it to the custard mixture. If you're not used to cooking with rhubarb, choose firm glossy stalks, and cut them into small pieces so that they cook evenly. It is sour if eaten alone, but a great match to balance the sweetness of baked goods. If you'd rather choose something more familiar, Morone remarks, "I bet it would work really well with strawberries or a strawberry rhubarb combination."
Combine the sugar cookie mix, butter, and egg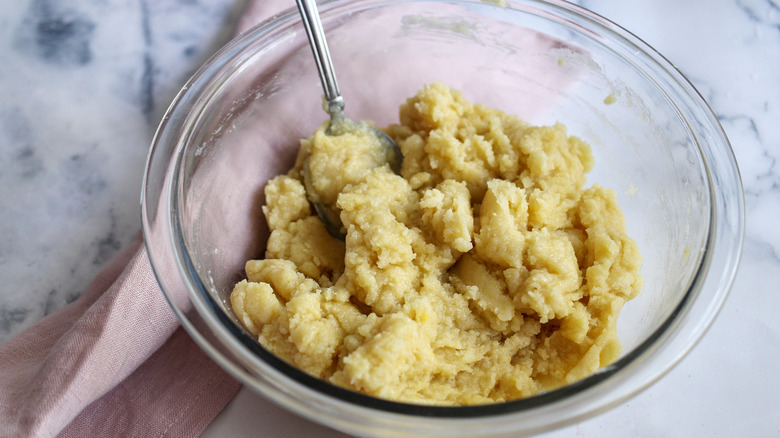 Jessica Morone/Mashed
First things first: Preheat your oven to 375 F. Next, line a 9x13-inch baking dish with parchment paper.
In a large bowl, empty the contents of the sugar cookie mixture. If your butter is refrigerated, soften it up in the microwave, but be careful not to let it melt. Add the softened butter to the sugar cookie mix, and crack one of the eggs into the bowl as well. Mix the contents with a wooden spoon until the cookie mixture is no longer dry and the ingredients have properly combined. We're definitely satisfied by this efficient cookie dough base. It certainly beats having to roll your dough out on a floury surface. 
Press the dough into a baking dish, and bake for 10 to 15 minutes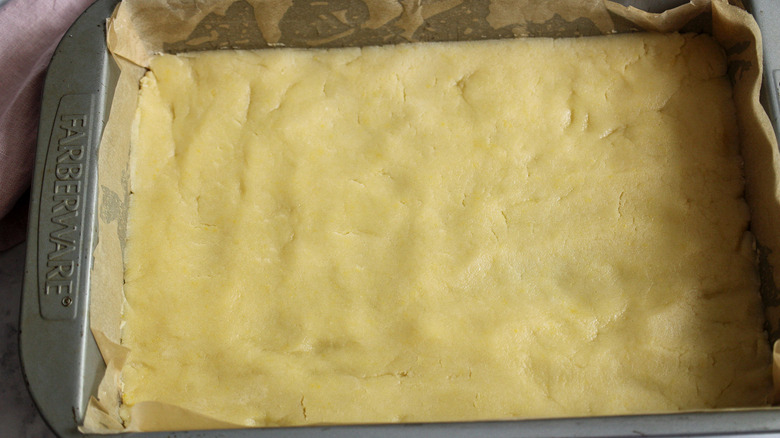 Jessica Morone/Mashed
Once the cookie mixture is thoroughly combined, pour the mix into your prepared baking dish. Using a spatula or your hands, press the dough so that it covers the entire dish. You'll need to make sure the dough is pressed against the sides, or else your custard mixture will spill over. By preparing a smooth cookie base from one end of the dish to the other, your bars will have a distinct cookie layer, topped with custard. 
Bake the cookie dough base in the preheated oven for 10 to 15 minutes, until the crust is a light golden brown. It will return to the oven once the custard goes on top, so be careful not to overcook it. When the crust is sufficiently golden, remove it from the oven, and reduce the temperature to 350 F. 
Mix the eggs, sugar, cream, flour, vanilla, and rhubarb together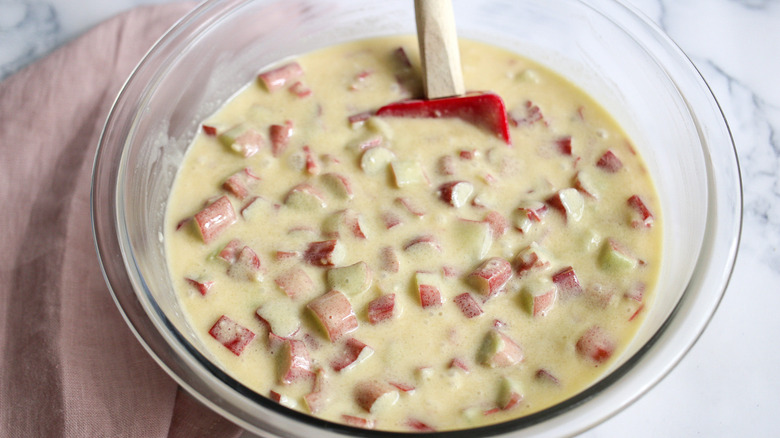 Jessica Morone/Mashed
Chop up the rhubarb stalks into small pieces so that you have some tasty tartness in every single bite. In a large bowl, crack the three remaining eggs, and whisk them until they are combined nicely. Once the mixture is uniformly yellow, add in the granulated sugar, heavy cream, flour, and vanilla extract. Whisk the contents thoroughly until everything is mixed together. At this point, add in the chopped rhubarb, and mix it so that it spreads evenly throughout the custard. You're just a few steps away from enjoying this contrasting match! 
Pour the custard over the crust, and bake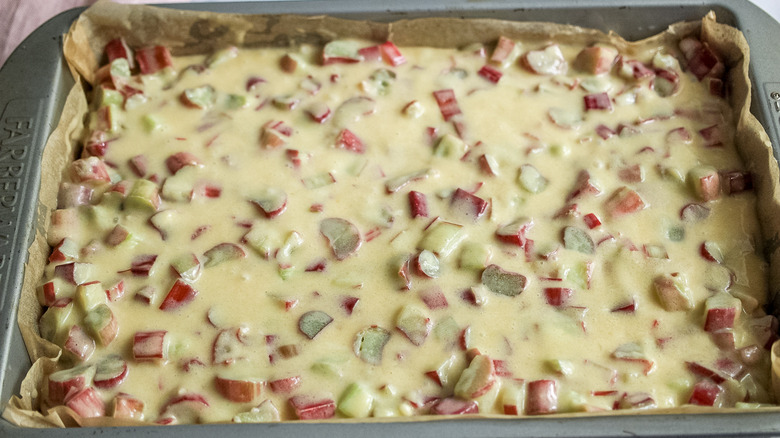 Jessica Morone/Mashed
Carefully pour the custard rhubarb mixture over your pre-baked cookie crust. You can spread the rhubarb around with a spatula if the distribution is a bit uneven. This will ensure each bite has the right blend of creamy and tart. At this point, your oven should be at the right temperature, so you can pop your baking dish back in, and set the timer for 40 to 45 minutes. As you approach the 40-minute mark, check the custard for doneness. The custard should not ripple when you give the pan a shake. Instead, Morone says, "The custard filling is set when it jiggles slightly when you gently nudge the pan."
Allow the bars to cool before cutting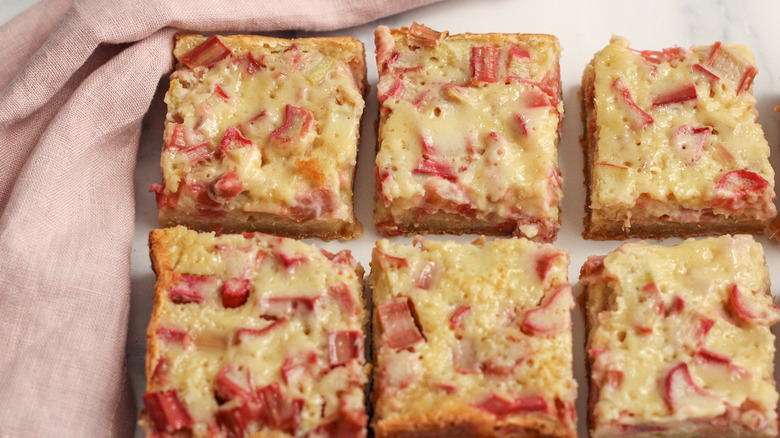 Jessica Morone/Mashed
As the bars cool, they will continue to set. Once they have completely cooled down, slice the rhubarb custard into portion-sized bars. If you cut them too soon, the custard might fall, so be patient. You should be able to get about 20 bars out of this recipe, but feel free to cut them into whatever size your heart desires. If you are not planning on devouring the bars (or at least one bar) immediately, place them in a container, and put them in the refrigerator. This will help preserve the custard's consistency.
Serve your custard bars with whipped topping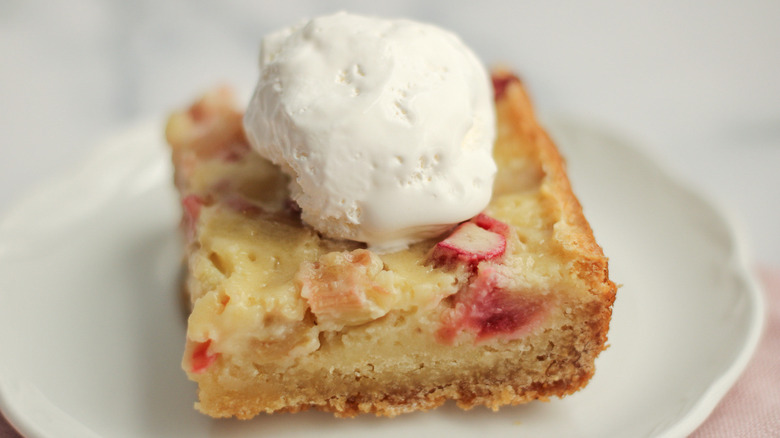 Jessica Morone/Mashed
When you're ready to taste these heavenly rhubarb custard bars, remove them from the refrigerator. For a decadent pairing, Morone loves adding a dollop of whipped topping to the bars. The creamy texture from the custard and the whip melts in your mouth along with the sugar cookie base. The sour rhubarb, now softer and subtler after its time in the oven, is a tasty contrast. If you've never baked with rhubarb before, after trying these, you'll realize it's the touch of tartness you've been missing all along.
According to Morone, these bars will keep up to five days in the fridge, although we doubt they'll last that long! Custard is not a great candidate for the freezer, because it tends to split, compromising the creamy texture. You're better off making a fresh batch for the occasion.
Easy Rhubarb Custard Bars Recipe
These easy rhubarb custard bars showcase the best flavors of summer.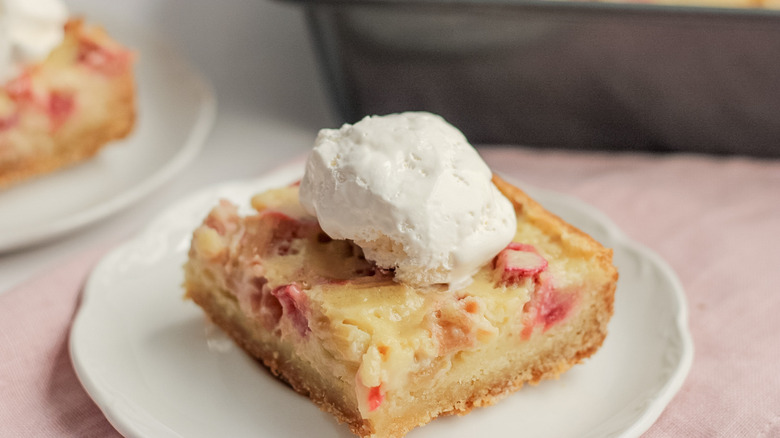 Ingredients
1 (17½-ounce) package sugar cookie mix
½ cup butter, softened
4 eggs, divided
1 ½ cups granulated sugar
1 cup heavy cream
½ cup flour
1 teaspoon vanilla extract
4 cups rhubarb, chopped
Optional Ingredients
whipped topping, for serving
Directions
Preheat the oven to 375 F.
Line a 9x13-inch pan with parchment paper.
In a large bowl, combine the sugar cookie mix, softened butter, and one egg, and mix until well combined.
Pour the cookie mix into the prepared pan, and press the dough into an even layer.
Bake for 10 to 15 minutes in the oven until the crust is light golden brown.
Once done, remove the crust from the oven, and reduce the oven temperature to 350 F.
In another large bowl, whisk the remaining three eggs, granulated sugar, heavy cream, flour, and vanilla extract. Once combined, mix in the rhubarb.
Pour the rhubarb mixture onto the crust, then bake it in the preheated oven for 40 to 45 minutes until the filling has set.
Let the bars cool completely before cutting them.
Keep them refrigerated until you are ready to serve. If desired, top the bars with whipped topping before serving.
Nutrition
| | |
| --- | --- |
| Calories per Serving | 292 |
| Total Fat | 16.2 g |
| Saturated Fat | 8.0 g |
| Trans Fat | 0.2 g |
| Cholesterol | 60.5 mg |
| | |
| --- | --- |
| Total Carbohydrates | 35.3 g |
| Dietary Fiber | 0.5 g |
| Total Sugars | 15.6 g |
| Sodium | 90.5 mg |
| Protein | 3.1 g |