Why Guy Fieri's Eating Habits On Diners, Drive-Ins And Dives Are Not What They Seem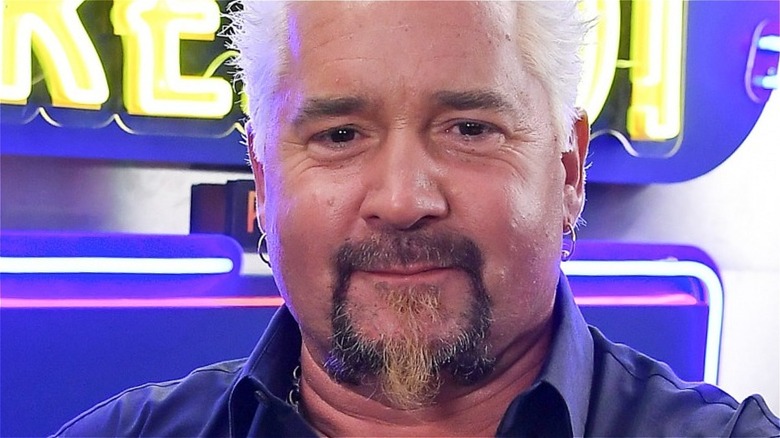 Steve Jennings/Getty
"Diners, Drive-Ins and Dives" has been airing since 2006, and it's safe to say it's one of Food Network's most successful TV series. According to Eater.com, producer David Page was joking when he came up with the concept for the show, but an executive from the network loved the idea, and casted Guy Fieri as the show's host.
At the time, Fieri had just began his journey as a restauranter, with Johnny Garlic's and Tex Wasabi's under his belt at the time. He didn't have much experience being in front of a camera, having only been in a few episodes of a failed Food Network barbecue show. But he took to "Triple D" naturally, despite never going to a diner before.
On the show, Fieri is usually seen eating the biggest waffles or meatiest paninis (via Delish). But in a recent interview with People, the Food Network star discloses that when it comes to his eating habits, there is more than what the camera sees.
Fieri changed his lifestyle for his family
In "Diners, Drive-Ins and Dives," chef Guy Fieri and his team travel across the country to sample some of the best "greasy spoon" restaurants (via Food Network). The host often goes into the kitchen to see how star dishes are made, and gives his take on some of the most popular items. Fieri recently told People, that after working with a nutritionist, he learned to find a better balance than just solely eating the foods provided on the job. He now participates in 6 a.m. workouts and practices intermittent fasting, which has increased his energy levels. 
Fieri was motivated to make these changes for his family, stating that he wanted to see his kids, Hunter and Ryder, grow up. "I've changed my lifestyle in the last couple years—what I eat, when I eat, how I eat. I don't want to be one of those guys that burns up through the tunnel," Fieri told People. However, he emphasized that balance was key, as he still enjoys having "fun" meals and sampling all the good food when filming "Diners, Drive-Ins and Dives." What the camera doesn't see is the unfinished meals that he doesn't entirely finish, but still enjoys a few bites of.