TikTok Is Raving Over This DIY Popeyes Meal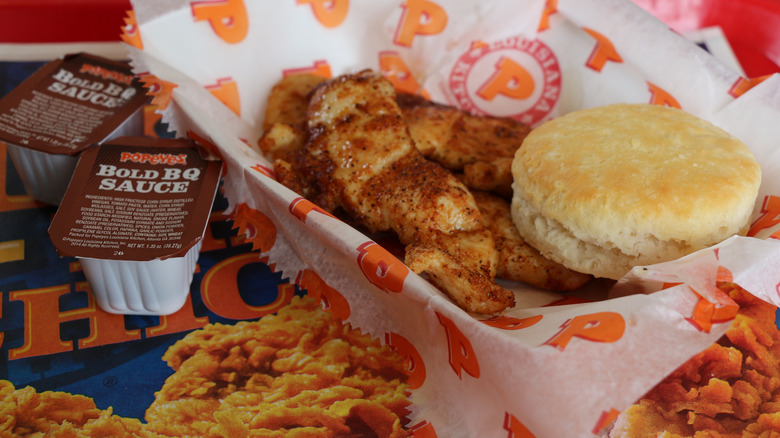 Deutschlandreform/Shutterstock
Food TikTok surprises us every day, especially as content creators go further beyond the standard recipes and reviews. Scrolling through our food content has never been more fun. When it comes to creativity, TikToker Danny Kim (@dannygrubs) has been asking chefs to create gourmet dishes using fast food meals (via Thrillist). 
In one video, Kim visited Indian chef and Maryland-based restaurateur K.N. Vinod. When challenged with a full Popeyes meal of fried chicken, popcorn shrimp, rice, and an apple pie, Vinod told the TikTok personality he was going to "blow him away."
As opposed to making just one fancy meal, the chef crafted three dishes with curry powder, garam masala, mint, curry, and other staples of Indian food. "This is legendary," a user commented. Beyond the flavor, he was applauded for using all the Popeyes elements, in addition to a few readily-available ingredients that make things look easy for anyone wanting to replicate it. "I'm favoriting the video, in case I ever wanna do this," someone said.
A chef turned a Popeyes meal into three authentic Indian dishes
Using Popeyes fried chicken, popcorn shrimp, rice, and apple pie, chef K.N. Vinod created a papad cone appetizer, a chicken biryani, and a dessert resembling a soufflé, but with the apple pie filling inside.
For the appetizer, he grilled papad — a type of Indian wafer, according to Food Crumbles — before shaping it into a cone. After chopping the popcorn shrimp, he sautéed it with mustard seeds, garlic, ginger, curry leaves, turmeric, and a few other Indian spices. Once ready, he filled the papad cone with the popcorn shrimp mix, topping it with coconut. Both the chef and TikToker Danny Kim tasted it, with it sounding as crunchy as it looked.
Next, he recreated a classic chicken biryani: a colorful and tasty Indian dish with aromatics, protein, and rice. Of course, this version contained Popeyes fried chicken; only here, it was marinated with a yogurt-based gravy with garam masala, plus several other tangy components. The best part? He served it on the coconut shell. After watching the video several times and arranging an ingredients list, are you ready to do it yourself?