Bobby Flay's Super-Intense Ritual Before Every Beat Bobby Flay Episode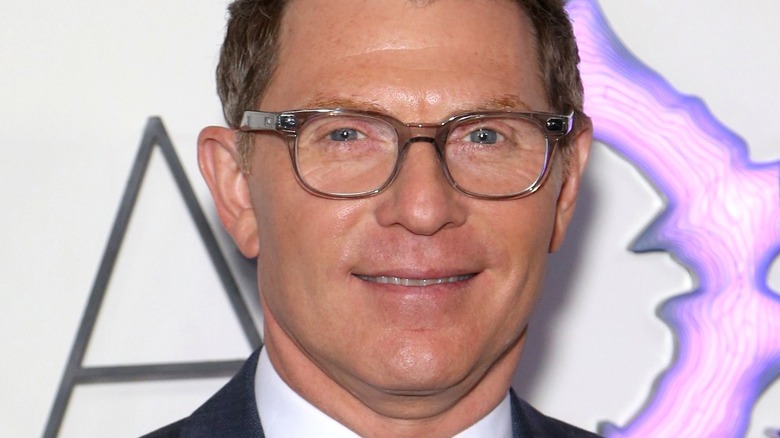 Gabe Ginsberg/Getty Images
Bobby Flay fans may appreciate the on-screen persona he delivers in every one of his shows, but the culinary wizard's charismatic energy in "Beat Bobby Flay" is often unmatched. Apart from managing his various restaurants around the globe and keeping up with his other shows like the newly debuted "Bobby and Sophie On the Coast," Flay continues to film one and often two new episodes per day for his popular cooking show. Considering all the wins Flay achieves in these cooking competitions, he needs to save up his energy to come out on top each and every time.
While some Food Network fans think "Beat Bobby Flay" is rigged due to his impressive track record of victories, during an appearance on "The Drew Barrymore Show" (per YouTube), he said that he loses more than fans think. He also admitted that his primary reasons for starting the show were "to hang out with friends ... and to cook."
Even though hanging out with friends might sound fun, filming an action-packed cooking show with a live audience takes a lot of endurance. Even chef Jet Tila reveals what the cameras don't show on "Beat Bobby Flay": long hours and multiple cooking sessions from Flay himself. Constant stimulation and long hours on your feet can lead to exhaustion, but Flay has a way to energize himself to make the most of those long arduous hours on set.
Staying active keeps Flay motivated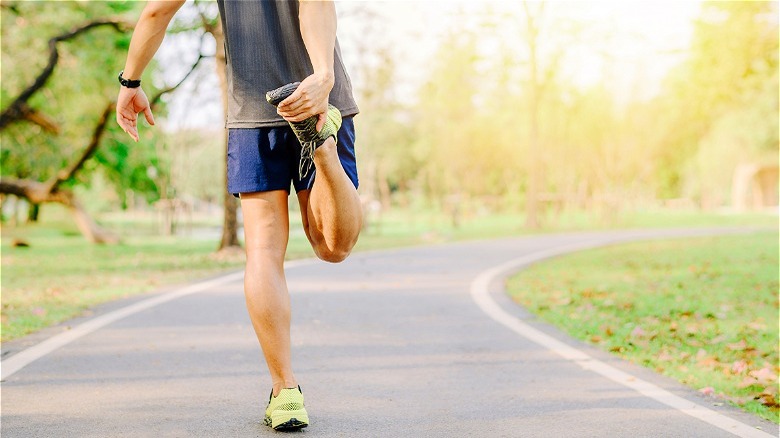 interstid/Shutterstock
A few days ago, Bobby Flay shared his daily schedule when filming back-to-back episodes of "Beat Bobby Flay" and the culinary pro has quite the antidote in preparing himself for a long day at work. In the Instagram video, Flay details his morning routine, which includes waking before the sun rises and running 3.5 miles. According to Flay, "Running is the way I get my body going." The star chef offers other tidbits such as feeding his cats, driving to work, and divulging what he eats during the day which apparently is "a lot of soup."
Flay fans responded to the video with absolute positivity claiming "That is a lot of dedication! You are amazing at what you do though." Another Instagrammer commented, "Your energy was unmatched that's for sure."
Running before a long work day may not be your cup of tea, but when your schedule includes filming "10 shows a week for 4 weeks" straight, developing a healthy method to boost energy is essential. While Flay has shared the fitness struggles that come with being a chef, he told Men's Journal that he changed his mindset in 1999 when he realized he wasn't putting his health first. He then recommitted to eating healthier and running five times per week to keep his mental health in check. When promoting his healthy cookbook "Bobby Flay Fit" in 2018, he gave Parade his two pieces of advice for staying healthy: "everything in moderation" and "get moving."