Jet Tila Reveals What The Cameras Don't Show Us On Beat Bobby Flay - Exclusive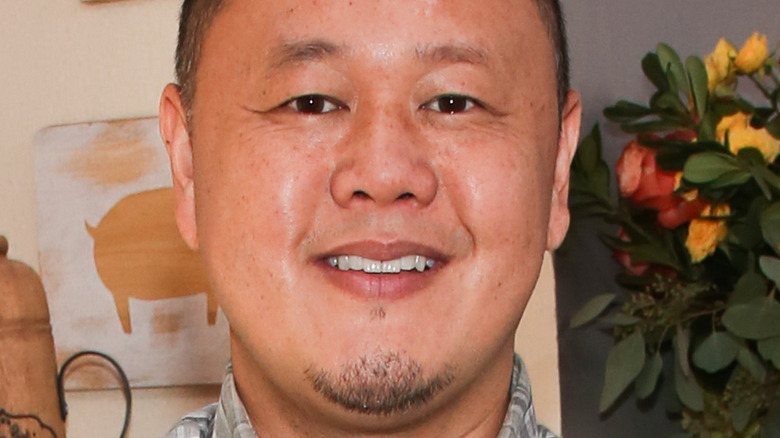 Paul Archuleta/Getty Images
This far into his decade-long career on the Food Network, chef Jet Tila has been in pretty much every competition kitchen out there. From "Chopped," to "Iron Chef," "Guy's Grocery Games," and more, he's seen and done it all, and he learned all the behind-the-scenes secrets along the way (via IMDb).
Tila recently decided to share some of those secrets in an exclusive interview with Mashed. He opened up about his many appearances as a guest on one of the most popular shows on Food Network, "Beat Bobby Flay." And for any hopefuls out there who think they can take on a culinary legend, Tila will be the first to tell you that this show is not for the faint of heart or the inexperienced chef. "You've got to be seasoned. You've got to have a really wide breadth of knowledge and you've got to be quick on your feet." But that's not all he shared. Tila also explained what it takes to film an episode, and revealed what the cameras don't show us on "Beat Bobby Flay."
Competing on 'Beat Bobby Flay' is even harder than it looks, according to chef Jet Tila
Hopefully, no one who competes on "Beat Bobby Flay" goes into it thinking it will be easy. It's a chance to go up against one of the best chefs out there, so there's no doubt that the pressure is through the roof. But Jet Tila says it's even more nerve-racking than you can imagine, and certainly more so than what you see on TV. Tila told Mashed, "The camera doesn't capture the accurate fear in competitors. The literal holy sh**, I'm going to try to beat Bobby Flay, that moment." Tila says part of this comes down to the pace of the show "because we have to move so quickly."
But that fear isn't without reason, according to Tila. As he puts it, "Bobby is one of the best chefs alive." And before you even get to him, you have to outcook an opponent using a surprise ingredient hand-picked by Flay. "You have no idea what he's going to pull. And it's going to be something very culinary-focused and it's not going to be easy to cook in 30 minutes." Tila added, "[The camera] doesn't really capture the nuance of frustration ... you don't see the bad decisions that weigh on the faces and how it affects the competitors ... the frustration, the pain, and the agony," says Tila.
Chef Jet Tila says the audience doesn't know how much Bobby Flay is really cooking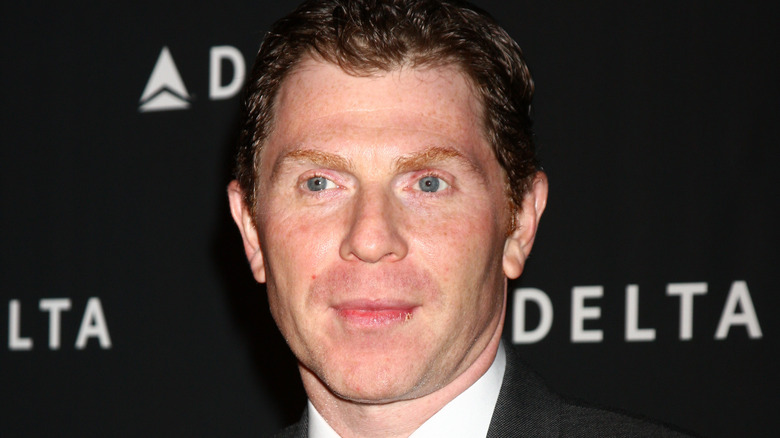 Kathy Hutchins/Shutterstock
While it may not be so exciting when Bobby Flay himself ends up as the winner on "Beat Bobby Flay," fans might be a little more impressed if they only knew how much Flay was actually cooking in a day. According to Jet Tila, "Bobby is a beast." Tila revealed that a workday for Flay means filming "two full episodes, plus all the interviews and the posts, and then he's back out in the restaurant by dinner service at 6:00."
Tila says a day on the set of "Beat Bobby Flay" is "about eight hours ... it's a nine to five day." And during that time, Flay "cooks twice" and goes up against two different chefs a day who are hellbent on taking him down. And then after all that, Tila says "back when we shot in New York, he'd literally hang it up and then go directly to the restaurant and cook dinner service." Tila even recalled a few years ago when he and his wife, Ali Tila did an episode together. "We co-judged it, hosted it. And then we had dinner at GATO that night and [Flay] cooked for us."
You can catch Jet Tila on his YouTube channel and on Food Network. And keep an eye out for his newest cookbook, on sale in January 2022.