This Is The Perfect Cookbook For New Girl Fans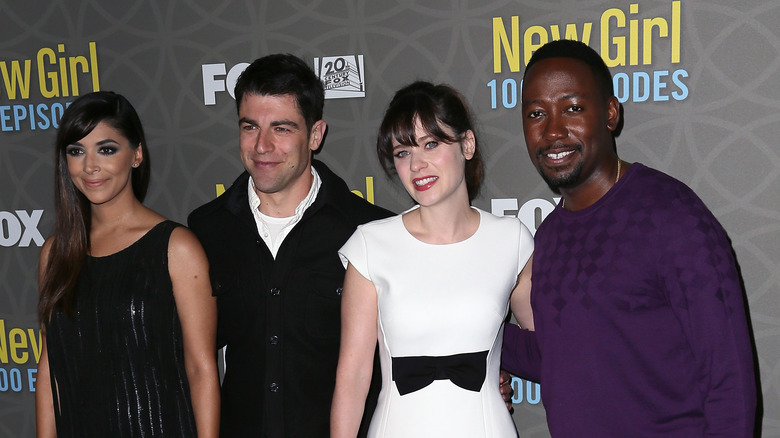 David Livingston/Getty Images
There's a reason that cookbooks inspired by novels, television shows, or movies can be so much fun — as you whip up tasty dishes that were referenced on the show or inspired by the book, you'll get the chance to feel like you're truly living in that world. Now, while some popular shows like "Gilmore Girls" have official cookbooks with recipes inspired by the respective shows, as SheKnows outlines, some shows have such a devoted fan base and desire for a cookbook they can have fun with that unofficial cookbooks have spawned, as was the case for an unofficial "Schitt's Creek" cookbook.
This is precisely what happened for the sitcom "New Girl" as well, which stars Zooey Deschanel as the quirky Jessica Day, who finds three guys looking for a roommate and eventually begins forming both friendships and, in one case, a romantic bond with the interesting group of guys living in the loft she moves into. Even though you won't ever get the opportunity to live in the iconic loft itself with the quirky cast of characters, why not invite your friends over for a meal inspired by the show? The cookbook even references one of the show's iconic characters, Schmidt, in its title.
"Tastes Like Schmidt: The Unofficial New Girl Cookbook: Recipes from the Loft" has a dedication that shouts out to all the fans, and the cookbook itself is packed with a wide range of recipes from appetizers to drinks and desserts.
What fans are saying about the cookbook
The cookbook comes in both a paperback and Kindle version and was released in August 2021 (via Amazon). Each recipe is laid out simply with the ingredients along the left and the directions on the right. And, as may be expected in a cookbook of this nature, each recipe has little references to the moments from the show that the recipe is inspired by. However, those who love to see what the recipe they're creating should look like may want to note that the cookbook doesn't appear to have any pictures of the dishes within it, so you'll have to follow the steps and trust it'll turn out right (or use your Jessica Day-inspired creativity to plate up a masterpiece).
It's a relatively short cookbook at 74 pages, but that hasn't stopped over 100 fans from rating and reviewing it — and the feedback is overwhelmingly positive, with 85% of reviewers giving the themed cookbook a 5-star rating.
Many reviews are also packed with inside references to the show that only fans would understand, and many love the humor within the cookbook. One Amazon user wrote, "I've never smiled/laughed my way through a cookbook, nor read one so quickly." Another seemed to agree and commented, "This book is just too cute. You can tell that it was made by someone who truly loves the show. There are some super niche references that made me laugh really hard." It's clearly perfect for anyone who loved Gordon Ramsay's cameo on "New Girl."