Aldi's Yogurt Flavors Are Back And Instagram Is Thrilled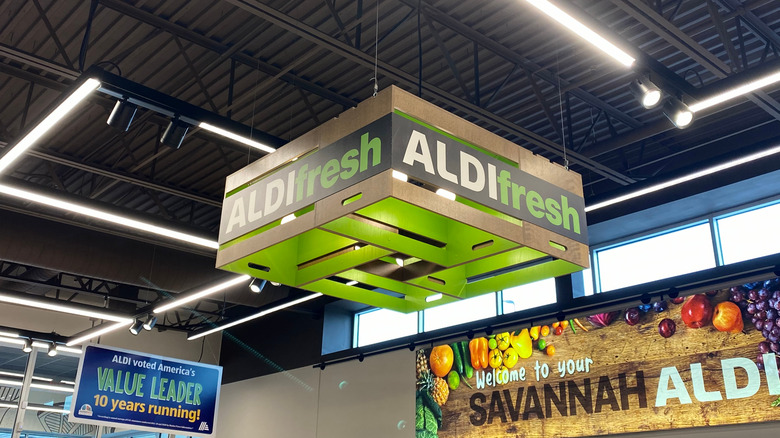 Kevin Chen Images/Shutterstock
Aldi has had some product hits over the years like the pie that's making shoppers rush to the store and the scotch that's giving Americans serious FOMO. It's also had some misses, though, such as the frozen sushi you should never buy. An Aldi fan account on Instagram has announced the return of some of the grocery chain's seasonal yogurt flavors. And if you take the words of commenters as gospel, the yogurts are more hits than misses. And because they are hits, many fans seem eager not to miss them.
Creating excitement specific to this time of year sounds like no small task for yogurt – something that can be enjoyed year-round in seemingly countless flavors. This is a period for what Aldi Reviewer called the brand's "cornucopia of fall products," which over the years have included a pumpkin cake roll their family is wild about. She Knows highlighted two special whipped toppings Aldi is offering this fall as well. Aldi's own listing of fall seasonal products features a caramel apple pie and L'oven Fresh pumpkin spice bagels. So, what has shoppers who frequent the dairy aisle so thrilled?
An eye for pumpkin pie
Aldifavoritefinds on Instagram posted a picture of the three fall Friendly Farms yogurt flavors and in the caption asked, "Yogurt flavors for fall! Which ones will you be trying?" The three Aldi flavors are Apple & Cinnamon, Maple, and Pumpkin Pie. Commenters chimed in with answers, saying, "I love the maple! My man loves the pumpkin pie! We've been waiting for this." User yaya_love_312 refused to choose just one, writing, "All of them please!"
However, user lifeisprecious2 added an asterisk to the excitement, expressing that they were "waiting for Aldi to come out with an almond milk yogurt for those who are lactose intolerant." While there appear to be no non-dairy equivalents of these seasonal yogurts currently, VeggL lists over 40 vegan products that Aldi carries regularly. These include vegan ice cream and non-dairy coffee creamers. For those who can consume dairy, though, these Instagram comments might relatable, similar to how Aldi shoppers became fixated on Friendly Farms Greek yogurt.