Chef Lamar Moore Shares His Expertise On Beef And Chicago Foods - Exclusive Interview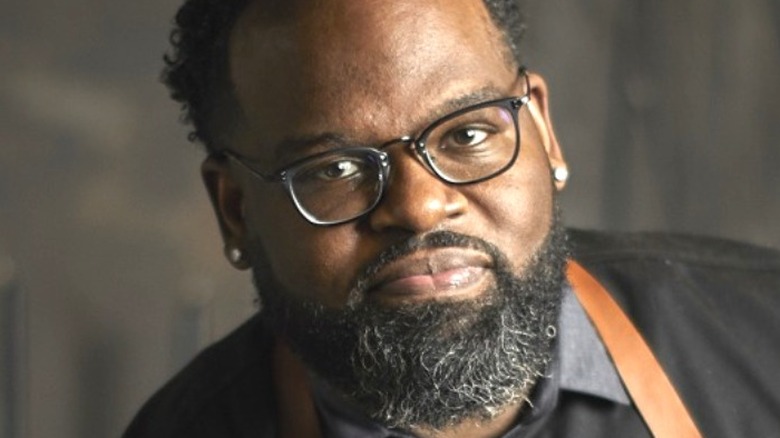 Certified Angus Beef
Certified Angus Beef brand ambassador chef partner Lamar Moore is a man of many talents. Obviously, he's great at cooking beef, as a glance at the menus of his restaurants like Eleven|Eleven and Bugsy & Meyer's Steakhouse will show. If you're a Food Network fan, you may recognize him from his appearances on "Chopped" and "Beat Bobby Flay," or from his victorious run on the network's "Vegas Chef Prizefight" (via IMDb).
Since Moore is a chef who grew up in Chicago and now runs restaurants in his home city, we were curious what he thought about Hulu's hit show, "The Bear," which is set in a Chicago Italian beef restaurant. But we didn't just ask him about TV. As a Certified Angus Beef ambassador, Moore is a beef expert, so we picked his brain for useful beef cooking tips. The chef is also a font of wisdom about the local Chicago food scene, and he had great tips for what to eat when you visit the Windy City.
How well The Bear represents kitchen culture
Everybody is talking about "The Bear" these days. Have you seen the show?
Absolutely. Definitely. Being from Chicago, too, everyone's been talking about it; chefs are all excited about it. It's shot at one of the oldest beef places here in Chicago, so absolutely.
As a Chicago chef who's known for working with beef, do you think the show gets the kitchen experience right?
Yeah. It gives a really good bird's-eye view of how we are as chefs, how we work in a kitchen, and how we move in a kitchen. [It shows] how we have a hard time trying to run restaurants, especially after the pandemic, or however you want to say that ... we're still in the pandemic. It's definitely a bird's-eye view of what we do and how we operate.
Do you think there's something that media portrayals of professional kitchens tend to get wrong?
Sometimes, chefs get misconstrued as being overly arrogant and not good to our staff or to our team. I've been doing this for over 20 years, and I've experienced some of that as a young culinarian, and even some in my older life as a chef. But those are things that we have continuously worked hard to try to get out of the industry. There is that media portrayal, but there's also the realistic side of it, too.
Lamar Moore's Chicago food tips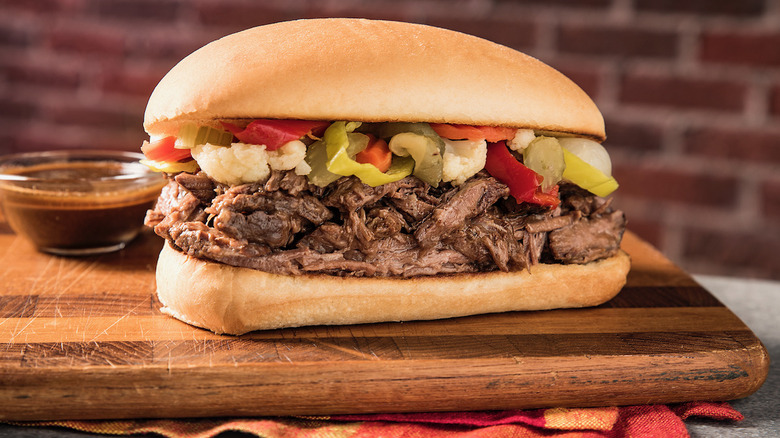 Certified Angus Beef
What is a perfect Italian beef sandwich for you?
A perfect Italian beef is on a nice kaiser roll, and there's cheddar cheese. I like hot giardiniera in there, and definitely thinly sliced beef, and dipped very, very well. I like the bread to be soggy. I don't like hard bread for Italian beef. I want it to be nice and sloppy and greasy.
In your opinion, what's the most underrated local Chicago food?
The most underrated actually is a pizza puff. People describe it as a pizza pie, but it's not a pie. It's a dough wrapped around pizza filling and cheese on the inside. A pizza puff and fries with mild sauce — people don't know too much about it.
It's kind of like a Hot Pocket, but better.
People say that, but it's not a Hot Pocket. It's very similar, but it's not a Hot Pocket. But it has some of those nuances.
Is deep-dish pizza a tourist trap, or is it worth it?
It's definitely worth it. It's not necessarily a tourist trap. If you're going to come to Chicago and you're looking for one of those nostalgic items, Italian beef or a deep-dish pizza is what to get.
The best cut of beef and the advantages of Certified Angus Beef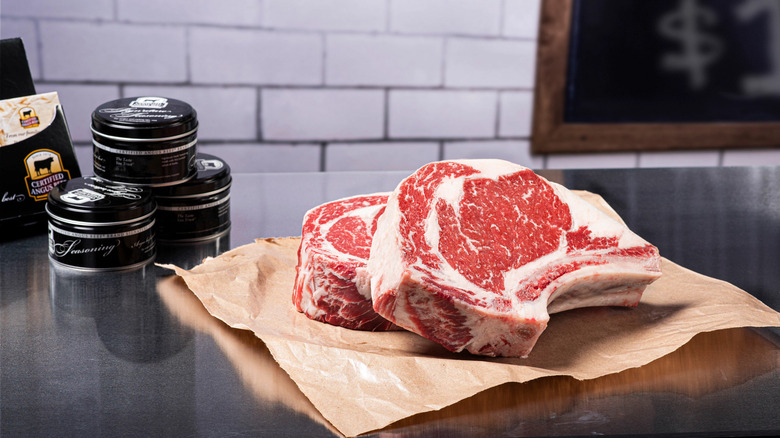 Nicole Erceg/Certified Angus Beef
What's your favorite cut of beef to cook?
My favorite cut of beef to cook is a bone-in rib eye. I like the fattiness of the rib eye, I like the marbleization, and it gets a really good sear on there. Rib eye is one of my favorites.
Is that also your favorite to eat?
It is, very much so. Every menu that I've had, I've had a 22-ounce rib eye bone-in.
Do you cook with [Certified Angus Beef products] products on all of those?
Yes. My brand partnership for beef is with Certified Angus Beef, so all of my beef product comes from [them]. Conceptually, we're working on a project now where we'll have a 22-ounce bone-in rib eye, and there is a 14-ounce New York strip and also a filet on the menu. We'll do our signature burger patties, so it's 80% Angus, 20% brisket, which will be thin patties. It will be seared, not grilled. Then there's also mini sliders that have oxtail in there.
What are the advantages of working with Certified Angus Beef?
Some of the advantages of working with [this company] are the guarantee of product quality and working with the local farmers. Here in Chicago, in collaboration with Certified Angus Beef, we work with a local place called Purely Meats. I know I'm guaranteed great product that's consistent, local, and fresh. When I travel and do a lot of events, if I'm utilizing [their cuts of meat], they're making sure that I'm getting the best product possible.
Las Vegas' special restaurant scene and how to develop a restaurant menu
How did it feel to win the "Vegas Chef Prizefight" on The Food Network?
"Vegas Chef Prizefight" was very bittersweet because it was right in the middle of the pandemic. It was a great opportunity to open up a $15 million steakhouse in Las Vegas. But at the same time, working at half capacity, trying to operate as a chef with a team in Vegas, was difficult. I didn't get to celebrate as much, because we were on lockdown. Still, it was a great opportunity nevertheless.
What makes Las Vegas' culinary scene special?
Vegas is special because you have food literally in every corner of the city. You would think that there's an overabundance of steakhouses, and that turns out not to be the case. I read an article recently that there's another $20 million steakhouse opening on the strip. It's food and fun in abundance, and it never sleeps. It makes it very, very different.
When you think that your concept doesn't fit in Vegas, it does fit. It's just a different echelon of what people are looking for. If you think there's not enough variety, more variety continues to come to Vegas.
What's your approach for developing menus for your restaurants like Eleven|Eleven or Bugsy & Meyer's?
There are three approaches. There is the first approach of what I like to eat, the second is what the guests like and appreciate, and the third one is the one that makes me money. When you combine all three, you'll have a successful product.
Tips for buying and cooking beef at home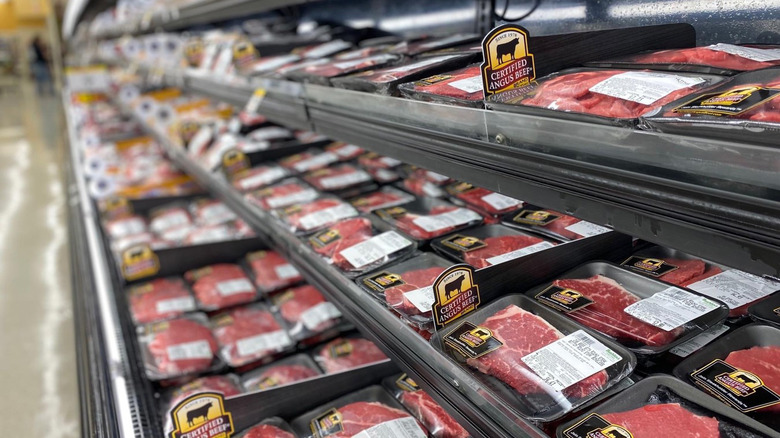 Nicole Erceg/Certified Angus Beef
For people who are buying beef to cook at home, what are your tips for what to look for in the supermarket?
Trying to find a butcher is the first great problem to have. Most of the time, even when I buy beef to cook at home, I go to the butcher. I don't go to the cold case where the beef's already cut. Then you can get your signature cut the way you want. You see it cut fresh in front of you. The butcher's there talking to you about the product and letting you know about the beef. My recommendation is to go to the butcher.
What tips do you have for home cooks to not ruin their steaks?
I was just talking to someone that told me they cook their steaks in the oven, which — the challenge there is that all the juices release from the steak. Having a really hot pan or hot grill is important to get a good sear. Make sure that it's seasoned well, coast to coast, meaning that you hit every edge of the steak from the top to the bottom, both sides. Then, the biggest piece is allowing it to rest before you cut into it.
When we cook steaks in the restaurant, we allow them to rest for at least five minutes so that the juices redistribute inside of the steak, and then you cut into it and you have the most delicious steak. Simplicity is also important. It's cool to use truffle sauce and Cajun spice, which I do from time to time. But when you want the true natural flavor of steak, simple kosher salt and black pepper do the trick.
Chef Lamar's Food Network memories
What was it like appearing on "Beat Bobby Flay"?
One, if I had ever gotten to actually compete against Bobby Flay we would have a better conversation. But just to be in the room was great. He is considered one of the biggest culinary pioneers in the world, so it would've been nice to get to try to beat him. But the feel, the pace, and the vibrance of the show were great. I'm still waiting for my rematch, to be quite honest.
On "Chopped," you made it to the entrée round. Is that show as stressful as it looks on TV?
It was definitely stressful at the end. It was one of the first shows I'd done on TV, and it's nothing like cooking in front of an audience. It's a different pace when you look up and there are 27 cameras that are zooming in and out of your space. Your heart is pounding, and you're sweating, and you're not in a familiar kitchen to cook in. I ended up using beef. A burger was one of my dishes on there that I screwed up and got nailed about for years to come.
It was challenging from the beginning, but after a while, about the time I get to the second or third show, I settled in very well.
What's the difference between cooking on a TV show versus running a restaurant kitchen?
It's very different. When you're on TV, you're looking at your competitors next to you, and you try not to focus on the camera too much and stay in the zone for what you're trying to compete in. You're looking to win, so you're looking to get an angle on your competitors, keeping yourself away from looking at the camera, and focusing on what you do on a day-to-day basis in the restaurant, but just on TV.
Working with farmers to source sustainable beef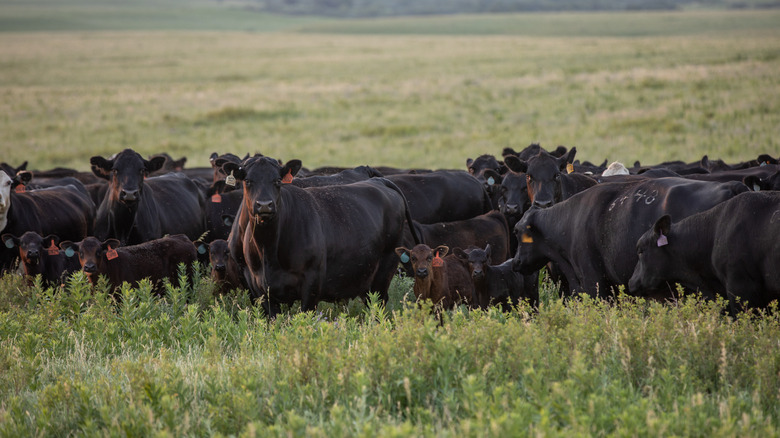 Nicole Erceg/Certified Angus Beef
You've talked a little bit about sustainability in the beef industry before. What does that mean for you?
It means a lot. When we talk about Certified Angus Beef, especially during a pandemic, they've definitely led the way in making sure that the beef is sustainable and that the farmers are consistent. One great approach that we take together, me being a chef and working with Certified Angus Beef, is going out to the farms and being super close to the farmers. It's even going through struggles with animal feed and trying to get the right corn or right wheat, depending on the region you're in, and making sure that the cows are being fed well and taken care of by the families.
It allows higher sustainability for what we're putting in our restaurants, having some name recognition from the farms. Using CAB, people recognize that stamp of approval. It gives us a little bit more leverage when we're trying to produce great recipes in our restaurants.
Lamar Moore's new restaurant and his picks for go-to foods
You've got a new restaurant that's going to open in the River North neighborhood soon. Can you share anything that we should look forward to about that?
Not right now. We haven't done a public release yet. There'll be a lot of good Southern food and a lot of good music. I'll leave it at that for now.
If you could choose any chef to cook dinner for you, who would it be?
I would actually love Bobby Flay to cook for me.
If you could pick one ingredient that you can't live without, what would it be?
Nutella.
What do you like to do with Nutella?
On a banana, on french toast, on bread, graham crackers, cake, milkshakes ...
If you eat fast food, what's your favorite spot?
When I'm traveling, I try to find a Waffle House. If it's in general, McDonald's is always my way to go.
What do you get at Waffle House?
At Waffle House I get two waffles, hash browns scattered covered, cheese grits, and a sweet tea. Extra sausage, too.
Find out more about Certified Angus Beef at its website. Lamar Moore's restaurants include Chicago's Eleven|Eleven and Las Vegas' Bugsy & Meyer's Steakhouse.
This interview was edited for clarity.