TikTok Absolutely Loves This Crinkle Cake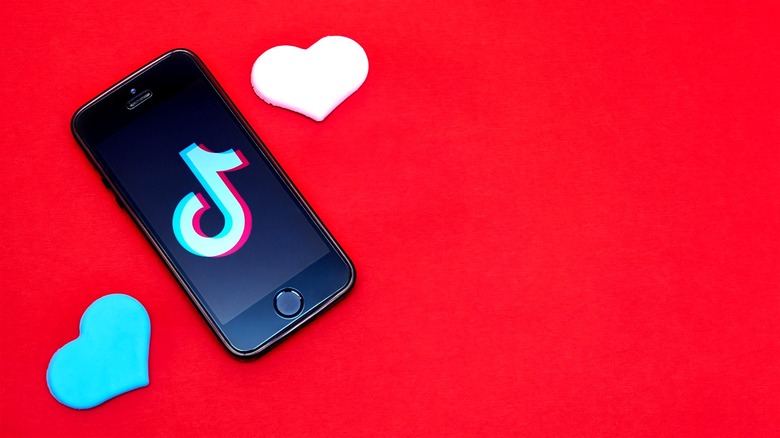 Tatiana Buzmakova/Shutterstock
Aside from the food trends you should be trying on Tiktok, there's an immeasurable number of recipes on the popular app that may also be worthy of your attention. With TikTok coming out on top as the most downloaded app of 2021, via Business of Apps, it is also the platform Gen Z'ers turn to the most for food and recipe inspiration based on recent research by focus group "Cassandra" (per Progressive Grocer).
With TikTok's continued rise in popularity over the last few years, there is now a considerable amount of recipes shared on the app that may give you the gusto you're looking for to get cooking in the kitchen. Whether you feel overwhelmed by looking through the thousands of options for #bakedoats, or have been heavily influenced to try @saltnsprinkles viral chocolate quinoa crunch bars – that Today Show's dietician Heather Martin calls "yummy" — the dessert options on social media are endless.
Beyond the TikTok recipes that will have you cooking like a star, there are also those enticing recipes you may be too intimidated to try. For example, one user shared a cake recipe last year that continues to blow the minds of TikTokers near and far.
How phyllo dough is transformed into one impressive-looking cake
Last year @ramenasaidwow was one of many influencers to share a viral recipe on social media. Known as the dessert the user "built an entire business on," with over 1 million likes, it's safe to say her crinkle cake recipe was and still is a hit among TikTok recipe collectors.
According to the video, you first start by "crinkling" two sheets of phyllo dough at a time, placing the crinkled logs back to back in a 9x11-inch baking dish. After baking for 10 minutes at 350 degrees, you then pour two sticks of melted butter over the par-baked phyllo dough and then bake another 10 minutes. Importantly, don't use more than two sheets of phyllo at a time, or else the layers will be too thick. Make a custard, pour that mixture over the dough, and bake until crispy. The final touch includes a homemade simple syrup poured on top. Sounds simple enough right?
TikTokers seem to think so, as one claimed, "I've tried it and can't seem to stop myself from making it," while another stated, "i've made this 3 times. I love it!" Although there are tricks to spotting a bad TikTok recipe, @ramenasaidwow may be onto something with this cake recipe when you factor in the multitude of positive comments.
User @ramenasaidwow has skills beyond sweets and recently shared her favorite creamy fall-inspired dip. She also uncovered a way to recreate the classic McGriddle from McDonald's, restaurant style.