Why Almost All Of Cracker Barrel's Ingredients Come From The US
Cracker Barrel has inspired customers to travel near and far for Momma's Pancake Breakfast. For instance, one couple made headlines in 2019 traveling 5 million miles after visiting every one of the chain's homey locations. At the time, that amounted to a whopping 645 restaurants (via Wide Open Eats). Now with over 660 locations in over 45 states, the Southern restaurant's empire has continued to expand, and Tennessee and North Carolina, in particular, cannot get enough of Cracker Barrel.
The love could be due to the gift shop stocked with rocking chairs or their abundance of themed decor that's all vintage and regional (via Country Living). But the decor and patio ware aside, the most likely reason the country restaurant has been around since 1969 has probably more to do with its hearty menu. Not exactly known for lighter fare, Cracker Barrel's menu is all about filling large plates of fresh food. In fact, much of what's on people's plates is sourced from in the U.S., and that's no accident.
Cracker Barrel offers homegrown food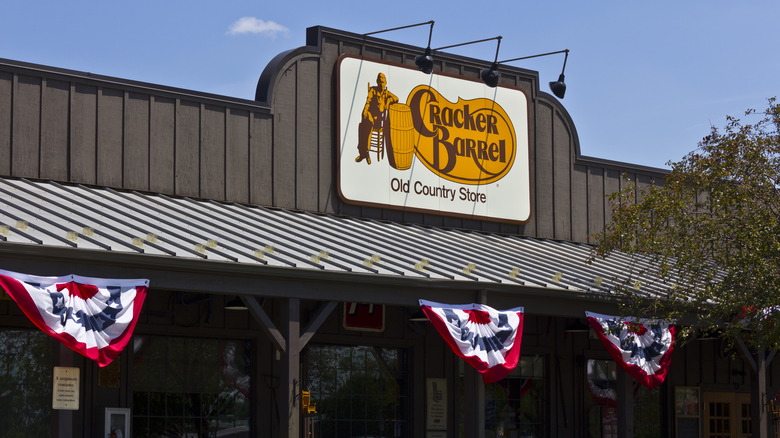 Jonathan Weiss/Shutterstock
According to Today, about 90% of Cracker Barrel's ingredients are sourced in the United States. The country cooking restaurant's vast menu is full of different fruits, vegetables, and meats, most of which are produced in the United States. If you order a platter of blueberry pancakes, know that the blueberries are fresh from Maine and the maple syrup is straight from Vermont. Having almost all the ingredients local, Cracker Barrel is a surprising source of fresh food. It's ahead of the game; the demand for local food is growing. According to Statista, over 42% of Americans aged 50 to 64 and 33% of 18 to 29-year-olds prefer to opt for locally grown products.
Believing that homegrown tastes better, finding locally sourced ingredients is core to Cracker Barrel's philosophy (via Cracker Barrel). However, one item not sourced in the U.S. is shrimp which cannot be ordered in significant enough quantities to supply the chain's many stores (via Today). The fact that most of the ingredients used in the restaurant's over 660 storefronts are sourced here in the United States is only one of the reasons why Cracker Barrel is so successful.