The Exclusive Chili's Menu That Football Fans Should Know About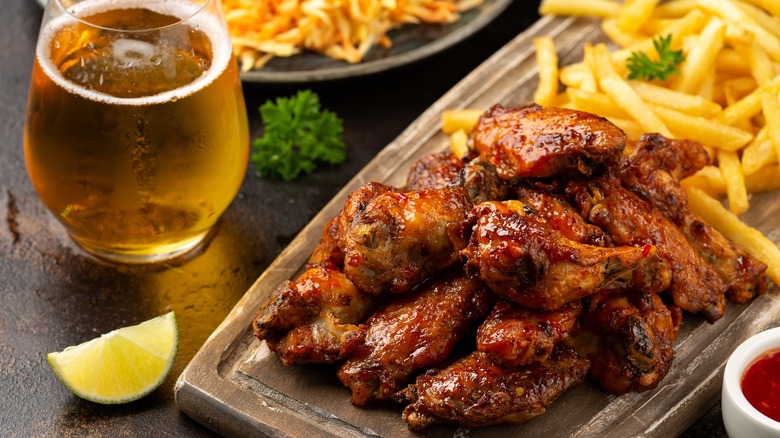 DronG/Shutterstock
"Are You Ready For Some Fooootbaaall?" was answered with a resounding "YES" by 17.1 million Americans who watched last season's 17 NFL games, up 10% from 2020. For a whopping 370 billion minutes, viewers were glued to their televisions, rooting and armchair coaching for their favorite team (per NFL).
According to the NFL schedule, football fans can find a game on television almost all day on Sunday, with kick-offs at 1 pm, 4 pm, and 8:20 pm (EST). Fans can also catch a night game on Mondays at 8:25 pm (EST) and a few games on Thursdays and Saturdays throughout the season, making most days of the week, 'Football Night in America' (in Al Roker's voice).
Going hand-in-hand with cheering on your favorite team is digging into snacks. "Game Day isn't complete without food and drinks," according to 93% of the Americans DoorDash surveyed and data they collected during the 2020/2021 NFL season, culminating with the sport's main event, the Super Bowl. While fans were forced to "homegate" during the pandemic by preparing snacks at home or ordering take-out, now there are more options.
Jersey-wearing, face-painted fanatics can tailgate before the game with high-calorie food at the stadium or stay closer to home at a local establishment, like Chili's, which has revamped its bar food and drink menu, hoping to be this season's destination for football.
Chili's new happy hour details
According to a press release, participating Chili's across the U.S. will offer a new happy hour food and drink menu for the 2021/2022 NFL season. Traditionally reserved for 4 pm Monday thru Friday to drive traffic into restaurants during the slower time of day, per Esquire, Chili's new happy hour will occur whenever a football game is on.
According to the press release, Chili's will be serving popular game-day eats with ten new happy hour plates for just $5 each. Chili's offers nine types of chicken wings with flavors including its popular house BBQ to the spicy Mango Habanero and they are served with curly fries. Also added to the new lineup is an Eagles fan favorite, the Chili's Philly cheesesteak, along with a happy hour-inspired dessert to round out the limited-time food menu.
Beer, a common accessory found in the hands of football fans, is being offered at discounted prices, too. Select locations are offering 16 oz. Bud Lights for $3 and Modelos for $4. Not a beer fan? Chili's is offering popular cocktails like the Tequila Trifecta and its popular margaritas for $6, as well as new concoctions like a PB&J shot containing Skrewball peanut butter whiskey and Chambord black raspberry liqueur.
Check the restaurant's website to see if your local Chili's is participating.