The Longstanding LA Natural Grocery Store You've Likely Never Heard Of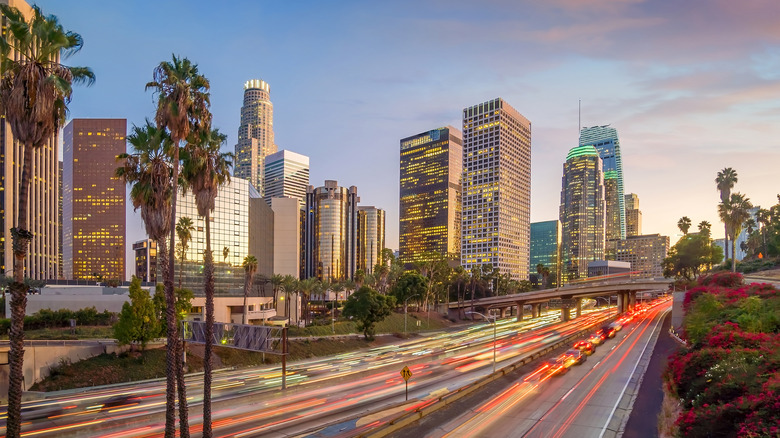 f11photo/Shutterstock
Los Angeles has long been consumed by its health-conscious mindset (via LA Times). The vibrant people of LA are dedicated to fostering community engagement centered around wellbeing. You are never too far from health and wellness hubs wherever you are in the City of Angels. Whether it's sunset yoga at the Santa Monica Pier, community hikes at dawn, or organic acai bowls made by the friendly staff at Uba Tuba, the Southern California metropolis is the apex of accessible wellness in America. 
When it comes to keeping their homes stocked with natural ingredients and products, many LA shoppers turn to Erewhon – an elegant, one-stop-shop for all things nourishing that lives by the slogan "If it's here, it's good for you" (via Supermarket News). However, with inflation increasing food insecurity across the nation, many residents have had to cut back on grocery spending, which means shopping at expensive luxury grocers like Erewhon may no longer fit into their budget. 
Enter Rainbow Acres — the unsuspecting LA grocer that has been redefining local wellness for residents of Santa Monica. Located on Washington Boulevard, just outside Marina Del Ray, Rainbow Acres has cultivated an affordable, health-conscious shopping experience with a community ethos. Founded in 1981, the grocery outlet has served the people of Santa Monica for over four decades. Its humble storefront is unassuming, boasting a hole-in-the-wall guise that's easy to look over. But inside, Rainbow Acres is a welcoming mecca that offers wholesome ingredients, a hot bar, made-to-order fresh-pressed juice, and self-care products — all for accessible, fair prices.
Rainbow Acres is small but mighty
According to their website, most of Rainbow Acres' staff have been with the company for years, even decades. Fueled by education and extensive knowledge of what constitutes a healthy product, each employee is uniquely trained with the highest standards in mind. Howard Pollack, the store's owner for over 40 years, has remained dedicated to investing in his community's roots, starting with a healthy work environment for the store's well-informed crew, who have helped define the spirit of Rainbow Acres.
Committed to providing a 360-degree shopping experience for its customers, Rainbow Acres offers the full spectrum of wellness. The modest market sells vegan cosmetics and soaps, vitamins and holistic healing, non-GMO produce portioned to your liking, and nutritious bites from their grab-and-go deli, plus more. As if their extensive catalog of products was not enough, the quaint utopia strikes good deals for its patrons, offering up rotating sales on a monthly basis. Some highlights have been Beyond Meat patties for $4.99, macadamia milk for $3.99, and Meyer's cleaning products starting at $3.99. 
Moreover, there is great power in shopping locally. In fact, Telegram & Gazette reports that buying locally puts twice as much money into the community when compared to franchise stores of any kind. This sincere, stand-alone retailer may be small in size, but Rainbow Acres has been making an impact on Los Angeles shopping for years as the biggest independently owned natural food retailer in the area (via Rainbow Acres).