Garlic-Sautéed Spinach Recipe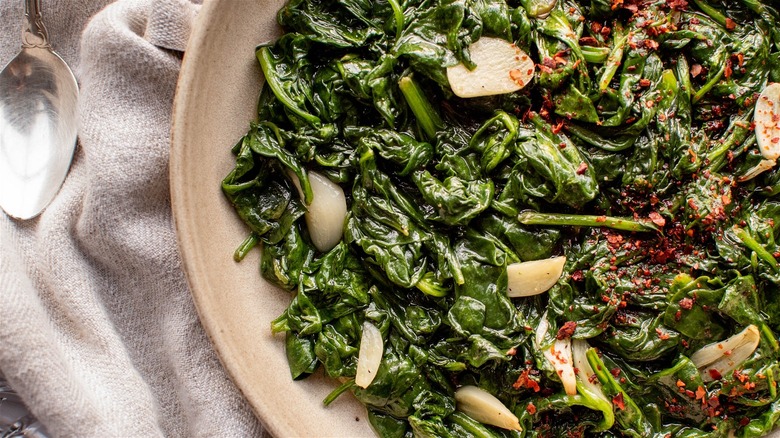 Michelle McGlinn/Mashed
Need a super-easy side dish that complements any entrée and is packed with nutrition? We've got the recipe for you. This simple sautéed spinach recipe uses one easy technique that boosts the delicious, garlicky flavor: quick-infused garlic oil. By letting the thin slices of fresh garlic steep in the oil while it heats, the oil takes on a deep flavor that the spinach later absorbs. This will be your new favorite way to make a simple side dish feel a little fancy!
Popeye had it right; spinach is delicious, nutritious, and easy to prepare. While we prefer ours fresh instead of canned, the popular green vegetable can be transformed and added to many dishes for a delicious boost of vitamins. In this recipe, developer Michelle McGlinn guides you through how to make a simple, garlicky spinach and she offers add-in options to make your side dishes more exciting, too. Check out our garlic-sautéed spinach recipe below for a delicious side dish and its perfect pairing options.
Gather your garlic-sautéed spinach ingredients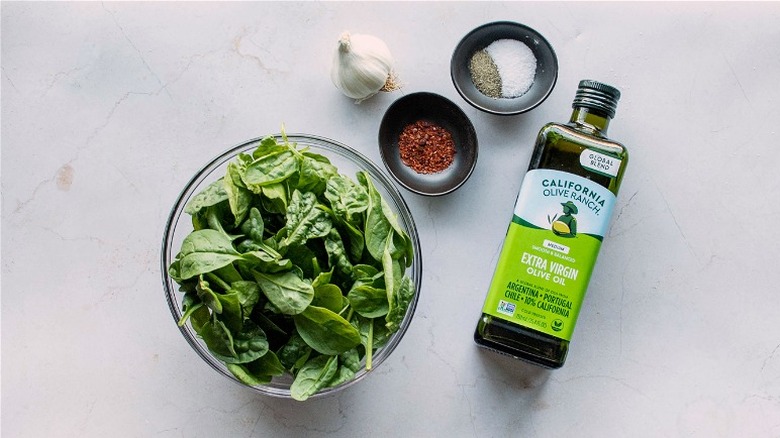 Michelle McGlinn/Mashed
This recipe couldn't be easier, and all you need is 6 ingredients: spinach, olive oil, salt, pepper, garlic, and red pepper flakes. We all know how famous spinach is for wilting down to less than half its raw volume, so for 4 servings you'll need the largest box of spinach, or about 10-12 cups. We know it sounds like a lot, but all that spinach will wilt down to just 2 cups cooked, or ½ cup per serving. Since there are so few ingredients, seek out high-quality olive oil and fresh spinach for the best results. The garlic can be sliced or minced, depending on your preference. To finish the simple, garlicky sautéed spinach, sprinkle on red pepper flakes for a little bit of heat, if desired.
Infuse the oil with garlic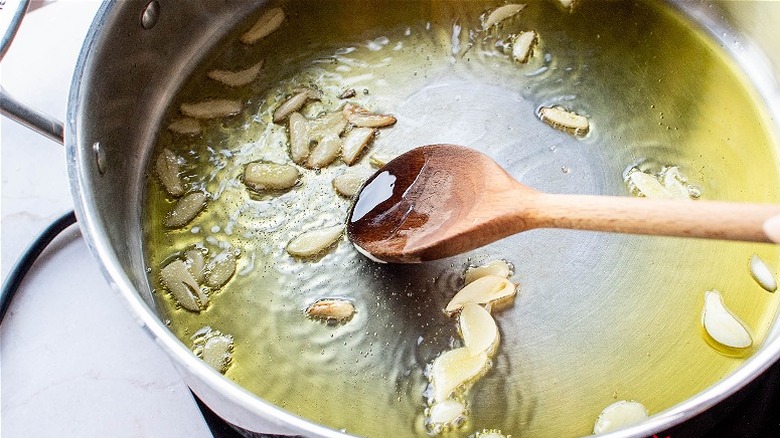 Michelle McGlinn/Mashed
The key to making a deliciously simple sautéed spinach is to make a quick garlic oil first. Start with a cold skillet and add the oil and garlic, then heat the two together on medium-low heat so the garlic infuses while it warms. Once the skillet is warm, cook the garlic until it softens, about a minute or two, and watch the garlic carefully to ensure it doesn't burn and become bitter.
Wilt the spinach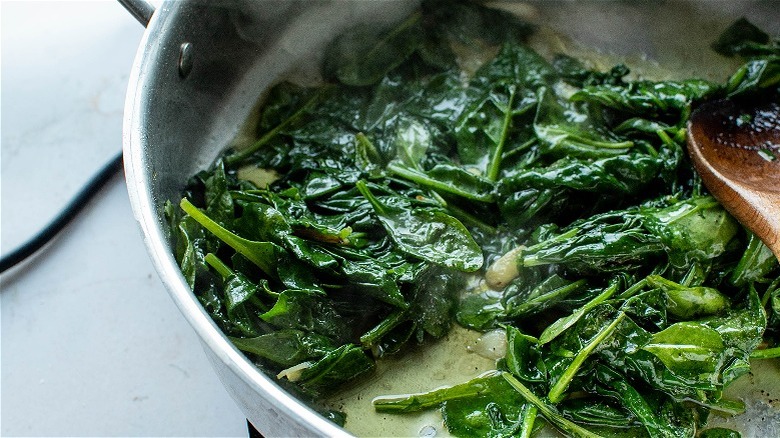 Michelle McGlinn/Mashed
Pile in the raw, washed spinach, working in batches, if needed. Toss the spinach using tongs or a spatula to coat it in oil, stirring constantly while the spinach wilts. As the spinach cooks, it will turn bright green, a sign that it's nearly done. Once wilted, season with salt and pepper, to taste — you'll only need a sprinkle of each, but add enough that the spinach tastes savory and flavorful, not grassy. 
Optional add-ins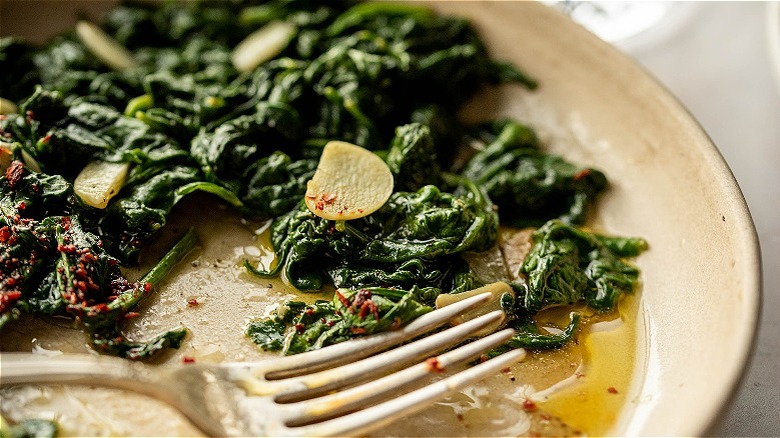 Michelle McGlinn/Mashed
This recipe keeps it simple, but if you want to jazz up your spinach, consider adding a few other ingredients. Add a squeeze of lemon for a bright summery spinach. Pour in some heavy cream for a creamy spinach sauce to spoon over salmon. And for a perfect way to elevate pasta dishes, try adding sun-dried tomatoes and mixing it into spaghetti.
Add the finishing touches and serve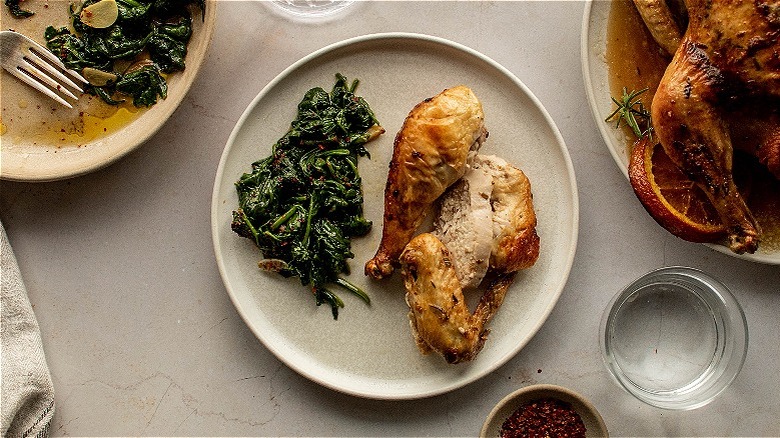 Michelle McGlinn/Mashed
While the garlic is the star ingredient in this dish, adding just a sprinkling of red pepper flakes completes the dish with a touch of heat. You can use red pepper flakes, crushed chilis, paprika, or even cayenne. And if you don't want any heat at all? Skip this step!
With a versatile side dish like this, the pairing options are endless. Our favorite meals to serve this with include roast chicken, baked salmon, and easy vodka sauce pasta. Trust us, you'll be pairing this with everything!
Garlic-Sautéed Spinach Recipe
For an easy side dish that's flavorful and packed with vitamins, try this quick garlic-sauteed spinach recipe. It'll be ready to serve in just 10 minutes.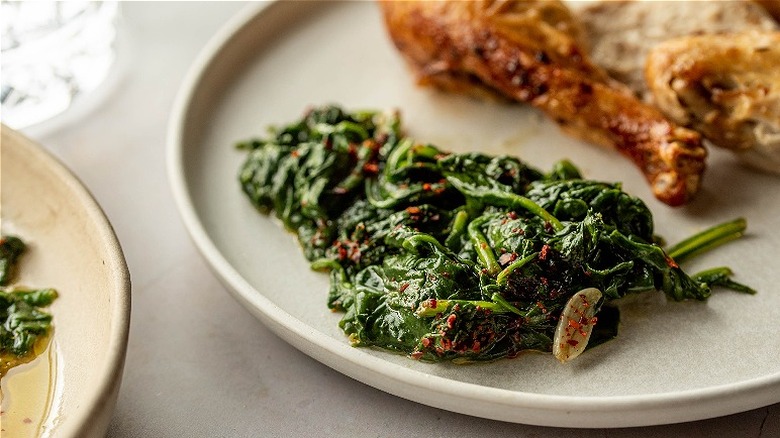 Ingredients
½ cup extra virgin olive oil
4 cloves garlic, thinly sliced
10-ounce box baby spinach, or 10-12 cups
Salt and pepper, to taste
Optional Ingredients
red pepper flakes, to serve
Directions
Add oil to a cold skillet over medium heat. Add the garlic slices, then turn the heat down to medium-low and bring it to a sizzling simmer. Cook until softened, about 1-2 minutes. Do not allow the garlic to burn.
Once the garlic is softened and fragrant, add the spinach and cook it down in the oil until bright green and fully wilted, about 3 minutes.
Season with the salt and pepper, to taste.
To serve, sprinkle with red pepper flakes, if desired.
Nutrition
| | |
| --- | --- |
| Calories per Serving | 260 |
| Total Fat | 27.3 g |
| Saturated Fat | 3.8 g |
| Trans Fat | 0.0 g |
| Cholesterol | 0.0 mg |
| | |
| --- | --- |
| Total Carbohydrates | 3.8 g |
| Dietary Fiber | 1.7 g |
| Total Sugars | 0.3 g |
| Sodium | 235.3 mg |
| Protein | 2.2 g |