5-Ingredient Penne Alla Vodka Recipe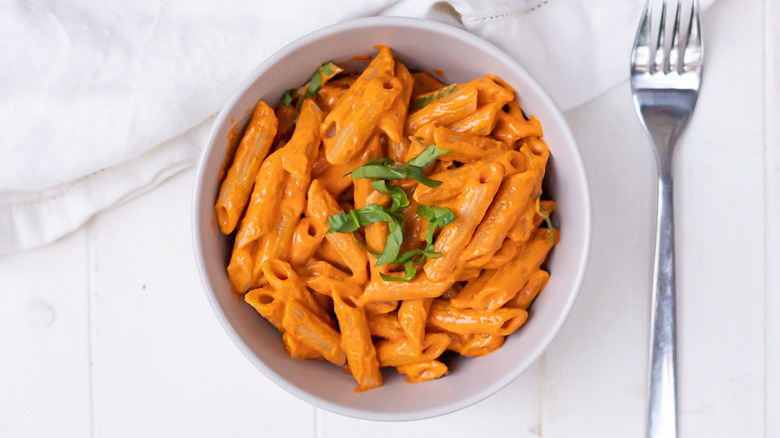 Jamie Monkkonen/Mashed
There's nothing better than a classic and simple recipe that checks all of the boxes. Penne pasta is a simple staple, and so is vodka sauce. Combine the two of them, and you have a match made in heaven! The fact that you can whip up a tasty penne alla vodka that tastes like it comes from a restaurant is pretty impressive. Friends and family are going to totally love this drool-worthy dish. It's great for a quick and easy weekday meal with the family, or it would be wonderful to bring to a potluck dinner.
There's so much to love about this recipe, and we can thank developer Jamie Monkkonen for coming up with it. Monkkonen explains what makes this pasta dish so special the best: "I love the creamy texture of the vodka sauce and also that the vodka adds a unique flavor," she raves. "It's super easy to add your favorite pasta spices or to keep it simple, so it's versatile for dinner anytime." 
Keep reading to find out how to make this fantastic dish.
Gather the ingredients for this penne alla vodka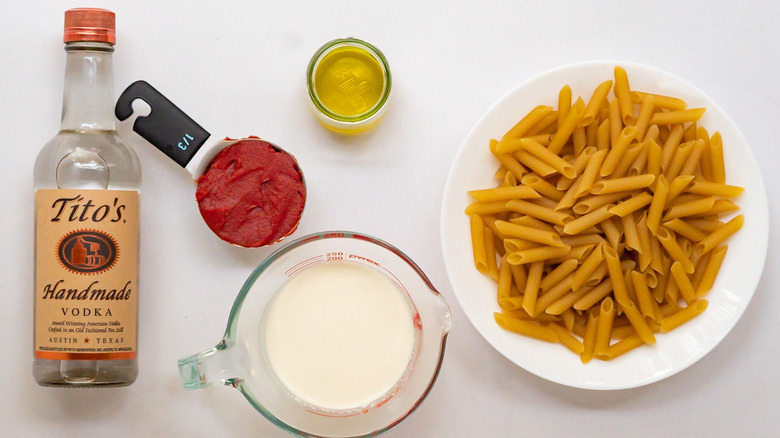 Jamie Monkkonen/Mashed
Once you're ready to begin, take a trip to the store and gather all of the necessary items to whip up this tasty penne alla vodka. You will need a box of uncooked penne pasta and a few tablespoons of olive oil to start. Next, grab some tomato paste. You will also need a few tablespoons of vodka, so double-check to see if you have any at home already.
The last items you will need to get are heavy cream and whatever spices you decide to add to the mix.
Cook the pasta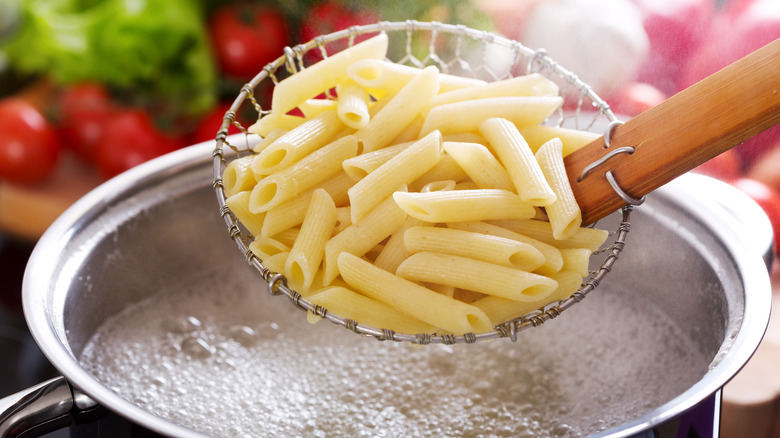 Nitr/Shutterstock
Now that you have all of your ingredients, it's time to start the actual prep work for this tasty pasta. First, grab your box of penne and take a look at the instructions on the back of the box. Since each brand varies slightly, just follow the instructions on the box. No matter what brand you opt to use, we do know that you need to grab a pot and fill it with water. Just figure out how long to cook it.
We recommend just using your go-to pasta brand for this, but there's really no right or wrong pasta to use. 
Make the sauce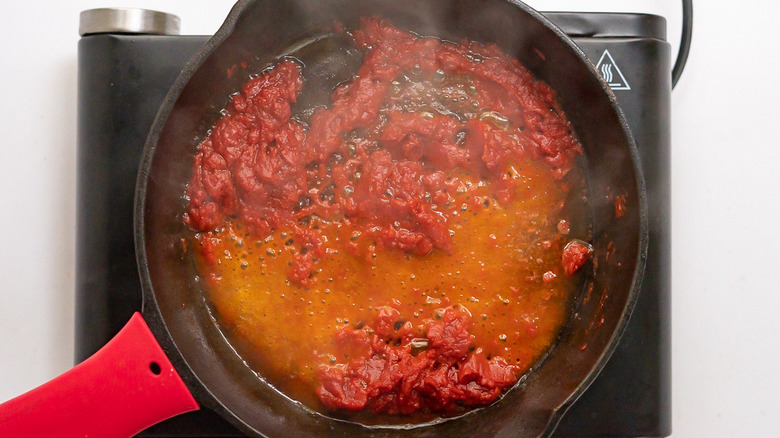 Jamie Monkkonen/Mashed
Grab an eight-inch skillet and drizzle in the olive oil. Next, throw in the tomato paste and turn the heat up to medium-high. As the sauce cooks, be sure to constantly stir so that it doesn't stick to the bottom of the pan. Continue cooking until the paste turns a darker shade of red. This shouldn't take more than three minutes or so.
Please also note that it's okay if the paste and the oil don't fully mix at this time. There are a few more steps for the sauce, so they have plenty of time to marry together still.
Add the vodka and heavy cream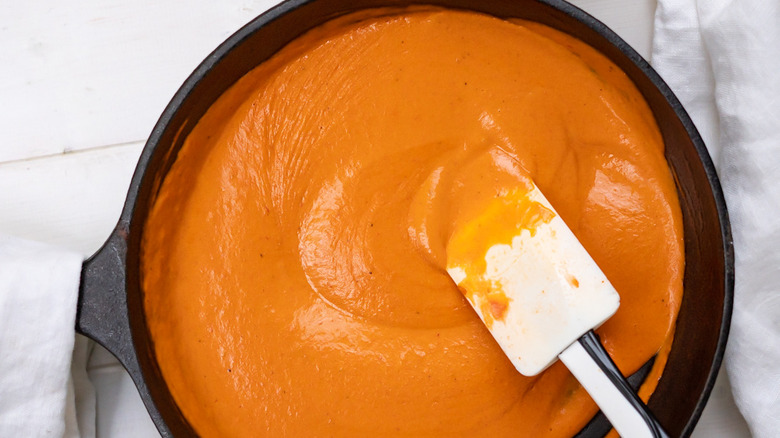 Jamie Monkkonen/Mashed
Great job! Now that you have finished making the first part of the sauce, it's time to continue to the second part. Now, add in the vodka. Allow the alcohol to boil off for about two minutes, so it's kid-friendly and not too strong. Once those two minutes are up, you can toss in the heavy cream. "Full-fat coconut milk is a good dairy-free and vegan substitute for heavy cream in this recipe," Monkkonen notes. "I don't recommend lightening the sauce with a low-fat alternative because if it's too thin, it won't stick to the noodles."
Bring the sauce to a simmer, and once it begins simmering, remove the sauce from heat. "A simmer is just below a low boil when there are very small bubbles that reach the surface of the sauce," Monkkonen shares. Add a little bit of salt and pepper to taste as you wish.
Mix the sauce and enjoy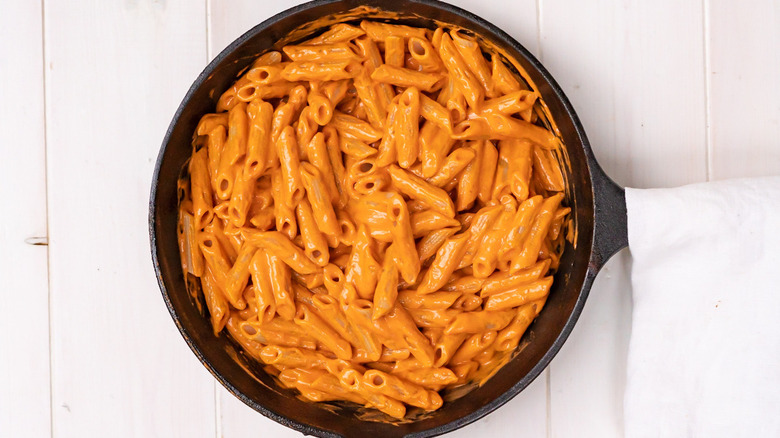 Jamie Monkkonen/Mashed
By now, the pasta should have also finished cooking. Strain pasta and put it into a bowl. Then, grab the sauce and pour it over the top of your pasta. Feel free to serve and plate as you wish. "Make it your own by adding crushed red pepper, Italian seasoning, garlic powder or fresh garlic, or using an infused olive oil," Monkkonen notes. You can also add some protein. "Chicken tastes great with this recipe! The sauce has a unique flavor, so a protein with a stronger flavor may not meld well. I also enjoy sautéing mushrooms and/or garlic in the olive oil before adding the rest of the sauce ingredients," Monkkonen shares. 
Anything left? "Store the leftovers in an airtight container in the refrigerator for up to three days. Reheat in a small pot on the stove with a little extra water or in the microwave, adding a sprinkle of water as needed," Monkkonen shares. 
Just another great recipe for the books!
5-Ingredient Penne Alla Vodka Recipe
Penne pasta is a simple staple, and so is vodka sauce. Combine the two of them, and you have a match made in heaven! Try this recipe out today.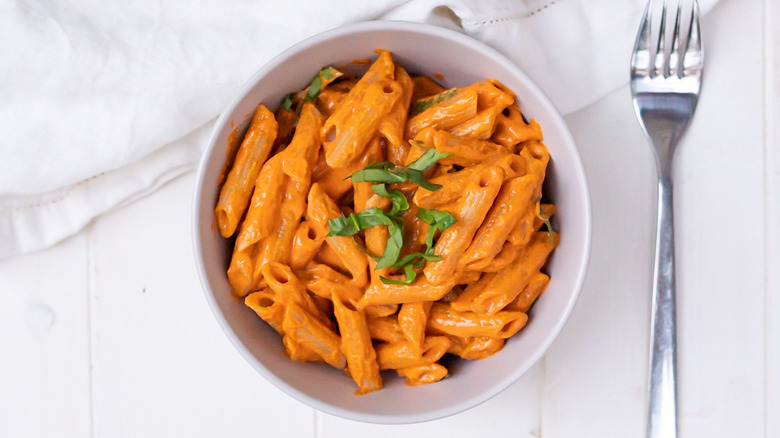 Ingredients
½ pound uncooked penne pasta
1 ½ tablespoons olive oil
⅓ cup tomato paste
2 ½ tablespoons vodka
¾ cup heavy cream
Directions
Cook pasta according to instructions on the packaging.
Meanwhile, add olive oil and tomato paste to an 8-inch skillet on medium heat. Stir constantly until the paste turns a darker shade of red (about 3 minutes). It's okay if the paste and the oil do not fully mix at this point.
Add vodka. Allow the alcohol from the vodka to boil off (about 2 minutes).
Add heavy cream and bring to a simmer. Once simmering, remove from heat.
Add salt and pepper to taste and toss with cooked penne pasta. Serve hot and enjoy!
Nutrition
| | |
| --- | --- |
| Calories per Serving | 596 |
| Total Fat | 30.0 g |
| Saturated Fat | 14.9 g |
| Trans Fat | 0.0 g |
| Cholesterol | 81.5 mg |
| | |
| --- | --- |
| Total Carbohydrates | 63.7 g |
| Dietary Fiber | 3.6 g |
| Total Sugars | 7.3 g |
| Sodium | 259.1 mg |
| Protein | 12.3 g |