The Best Soda Makers Of 2022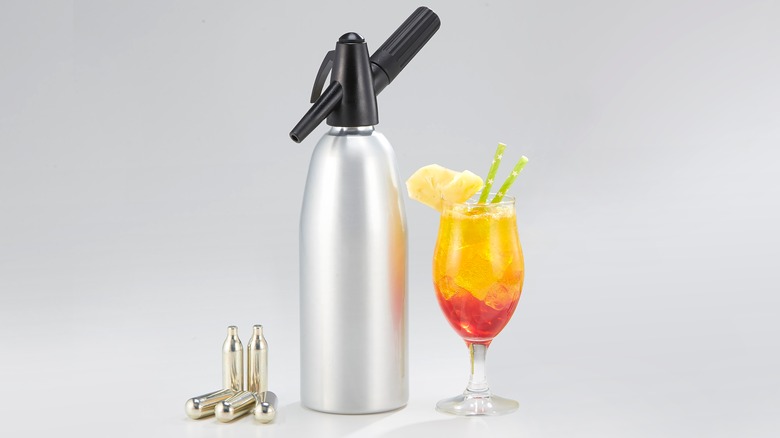 Jangqq/Shutterstock
We may receive a commission on purchases made from links.
Who doesn't love the invigorating fizz of a carbonated drink? There's something undeniably refreshing about all those bubbles, especially when they combine with the bold flavors of soda. But even though it tastes great, the truth is that sugary soda — or any highly sweetened beverages — are really bad for your health (via Healthline). When you flood your body with excessive amounts of liquefied sugar, it burdens your liver and eventually gets transformed into body fat. Considering that sugary drinks can also lead to increased risk of heart disease, obesity, and cancer, it's no wonder more Americans are learning to leave commercially-produced soda pop behind (via The New York Times).
That said, there's still a way to enjoy delicious carbonated drinks without wreaking havoc on your health: making your own at home. Having a soda maker empowers you to control all of the ingredients in your drinks and allows you to customize flavors with tasty recipes that are often much healthier than what you'll find in grocery stores. Between all of the easy homemade soda recipes out there and your own creative twists, you can make all kinds of unique sparkling beverages from the comfort of home. All you'll need is the right soda maker.
How we selected products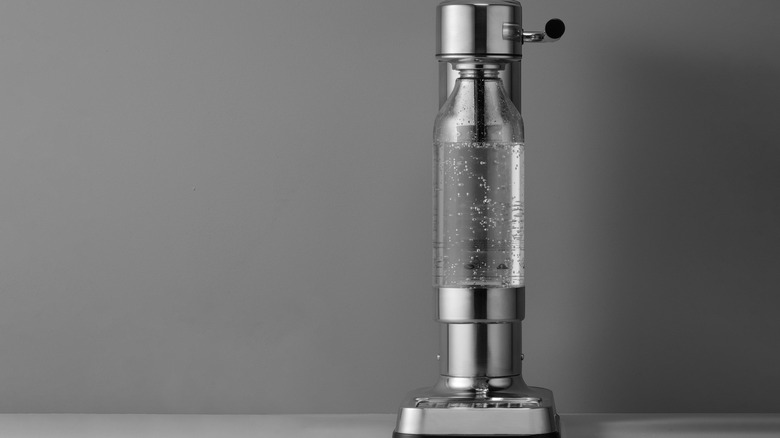 Sergey yakubovskiy/Shutterstock
The soda makers on this list were selected through a research process that took several factors into consideration. Customer feedback was crucial, since user reviews are one of the best ways to get honest insight into a product's quality and performance. By carefully evaluating user reviews of verified purchases, each soda maker's strengths and weaknesses were assessed to gain a comprehensive view of its caliber.
We also made sure to select soda makers with a variety of useful features. Whether you're looking for a bundle package, a model for beginners, or a soda maker that's easily portable, we've got you covered. Budget is another factor that guided our selection process, so you'll find a lot of reasonable prices here mixed in with some of the more costly selections for those with a bigger budget. 
Regardless of the size of your budget or experience level in the kitchen, you'll find a high-quality soda maker on this list that will suit your needs. Here are the best soda makers of 2022.
Best overall soda maker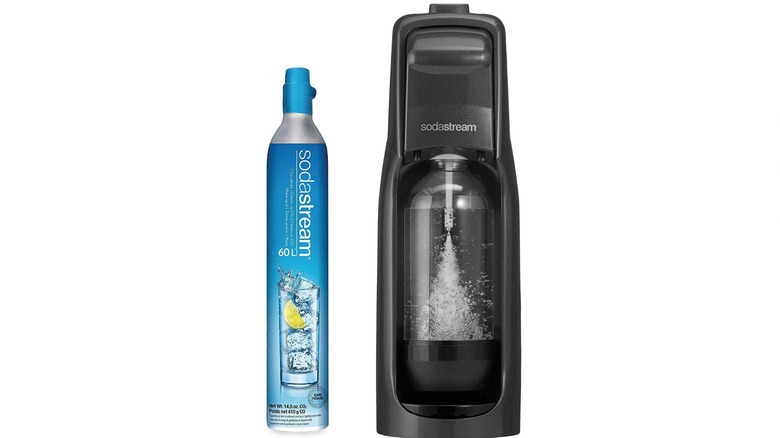 SodaStream
If you're on the hunt for a high-quality soda maker that's an all-around great deal, then this offer from SodaStream should do the trick. This package comes with a sparkling water maker, a 60 liter CO2 cylinder, and a one liter reusable carbonating bottle. With well over 4,500 reviews and an average four star rating, it's clear that plenty of fizzy drink enthusiasts around the globe are very happy with this soda maker kit.
Wondering how many drinks you can make with just one cylinder of CO2 from this SodaStream model? The answer might pleasantly surprise you. Just one cylinder can whip up about 126 16-ounce bottles of sparkling beverages for you to enjoy. Not only is this a great way to save money and make healthier drinks, but it's also a way to significantly reduce the number of single-use plastic bottles you use. That's great news for the environment. 
This easy-to-use soda maker can make a fresh fizzy drink in a matter of seconds, and all with just the push of a button. You can come up with your own recipes using fresh ingredients, or you can let SodaStream do all the work for you and choose from a wide range of flavored add-ins like blueberry pomegranate, peach, and grapefruit.
You can buy the SodaStream sparkling water machine on Amazon for $90.
Best budget soda maker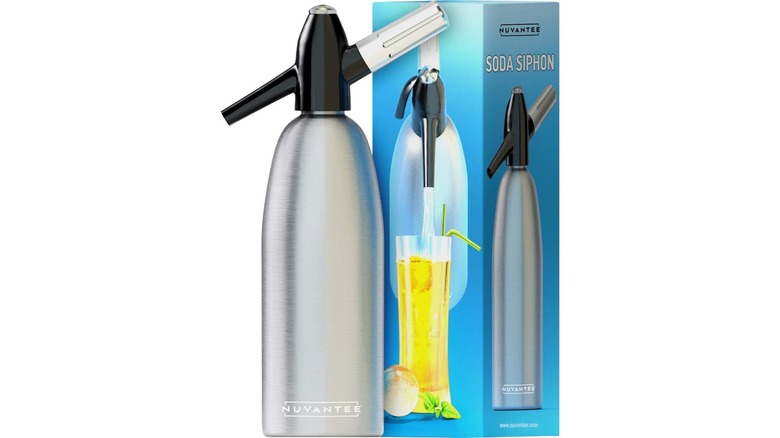 Nuvantee
It's no secret that new appliances can be a little expensive. But that doesn't mean that you can't score a high-quality soda maker for a good price. There are plenty of great deals on the market for fantastic fizzy drink makers, including this soda siphon that comes in at under 40 bucks.
Made with sleek, eye-catching aluminum, all this one-liter soda siphon needs is a CO2 charger to get you started in making some of the most refreshing homemade drinks you've ever tasted. This siphon is really easy to use, too, so there's no need to feel intimidated. All you need to do is add water to the bottle, insert the CO2 charger, then turn the nozzle to add a healthy dash of sparkling aeration. 
This deal comes with an aluminum charger holder, a fork key to remove the inner tube of the siphon, and a few extra o-rings just in case you need replacements later on. To sweeten the pot, the company even includes some free cocktail recipes with your purchase. All things considered, this is easily one of the most reasonably priced and high-quality soda makers out there right now.
Purchase the Nuvantee sparkling soda maker on Amazon for only $37.
Best splurge soda maker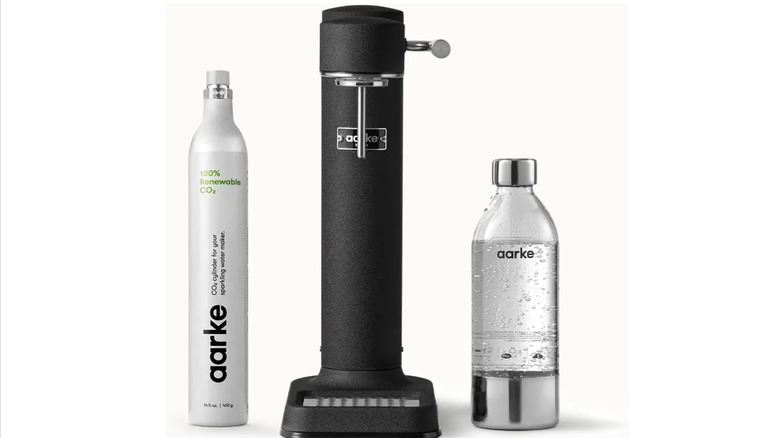 Aarke
If you have a bigger budget lined up for your new soda maker, why not splurge and treat yourself to a deluxe model? Available in a range of different finishes that include matte black, white, and stainless steel, this premium soda maker has a slim, modern aesthetic that's bound to add a touch of class and sophistication to any kitchen counter. Did we mention that it also has a nearly perfect five-star rating after more than 3,000 customer reviews on Amazon?
For a super easy way to flavor your bubbly drinks, you can score some pre-made flavor additives for this soda maker such as wild strawberry, cucumber lime, and citrus twist. This device even comes with a fill line on the bottle so you know exactly how much water to add to make the perfect mix. It's also important to note that colder water will produce more bubbles, so try and make sure to use refrigerated water. 
This deal also comes with a CO2 cylinder so you can start making tasty drinks right away. If you're going to invest in a soda machine, why not go big and get one that's exceptionally well-designed and easy on the eyes?
You can buy the Aarke soda maker on Amazon for $260.
Best versatile soda maker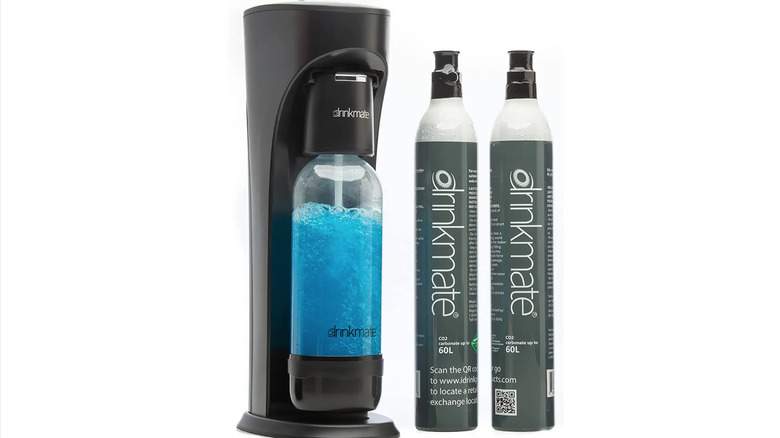 Drinkmate
You might be wondering how a soda maker could possibly be more versatile than other models. After all, don't they all work pretty much the same way? Here's the deal: most popular soda makers can only use water. Other liquids simply won't work or could even damage the equipment, according to House Digest. In other words, with most models on the market, you're very limited in the kinds of liquids that you can employ, because you can only use water. This model liberates you from the shackles of that narrow restriction, freeing you up to use other liquids like wine or juice, which opens up a whole new world of possibilities. All you have to do is fill the bottle with your liquid of choice, press the button, and enjoy the fresh effervescence of your tasty homemade beverage.
This deal comes with the soda maker, a BPA-fee bottle with volume measurement lines, two CO2 cylinders, and a fizz infuser. Another bonus: this model is available in four different colors — red, white, arctic blue, and black. Stylish, innovative, and useful, this sparkling beverage maker was made for those of us who like to be a little more experimental in the kitchen. Liven up your cocktails and mocktails and see what you've been missing out on.
Purchase the Drinkmate sparkling water maker on Amazon for $165.
Best soda maker bundle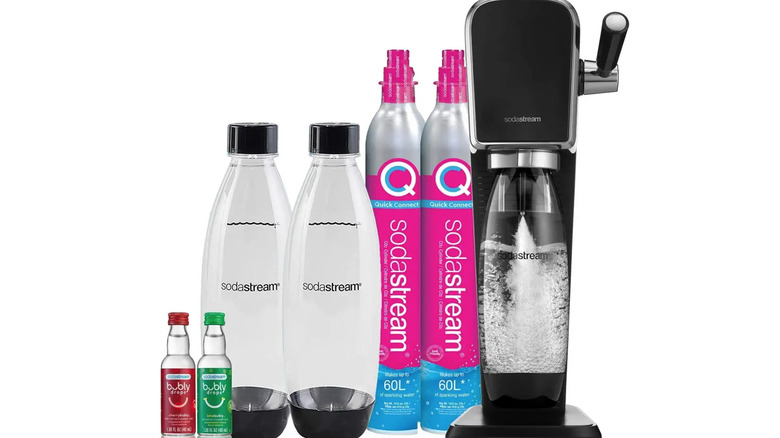 SodaStream
It's often more convenient to just buy a bundle package that includes everything you need, rather than having to purchase a bunch of different items separately. The good news is that we found a generous bundle kit from SodaStream that offers up everything you need to make some of the best-tasting homemade drinks you've ever had. If you're still on the fence, you might want to take a peek at the hundreds of raving reviews this model has earned from highly satisfied customers.
This bundle deal comes with a soda maker, two CO2 cylinders, two dishwasher-safe bottles, and two bottles of flavored Bubly brand drops to get you started. This model is equipped with a quick connect CO2 system that simplifies the process of attaching CO2 cylinders — all you have to do is line up the cylinder and snap the lock into place. This soda maker also has an appealing retro look that will bring a unique vintage vibe to your kitchen. Save money, save plastic, and enjoy the fresh fizz of a handcrafted drink with this soda maker bundle package that has everything you need.
You can buy the SodaStream bundle on Amazon for $180.
Best mini soda maker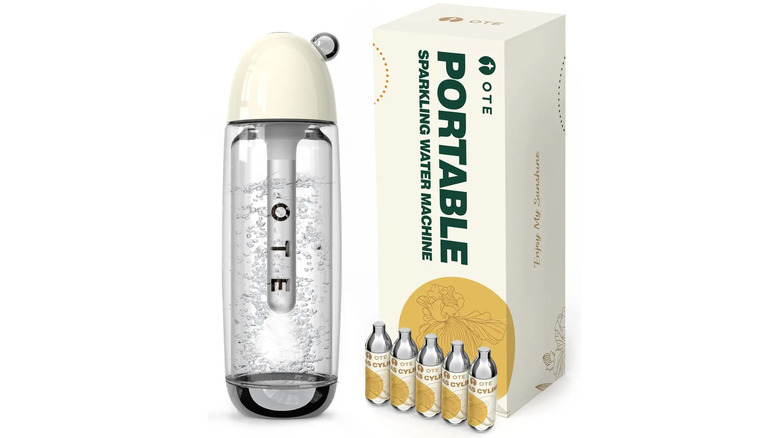 OTE
When you don't have much space in the kitchen, every inch counts. Having smaller appliances is a great way to maximize the space in your kitchen without having to make any sacrifices. And it doesn't get much more compact than this soda maker, which weighs less than three pounds.
This model can hold up to 450 milliliters of liquid and comes with a hermetic seal that can lock in carbonation to maintain freshness. All you need to do is insert the mini gas cartridge, twist the cap, and presto — you have a bubblicious beverage ready to go! If you're wondering if you'll need to buy the mini gas cartridges separately, no need to worry. This package comes with 20 cartridges so you can hit the ground running. Great for all kinds of lifestyles and very reasonably priced, this is a great deal that you don't want to let slip by.
Purchase the OTE mini sparkling water maker on Amazon for $40.
Best portable soda maker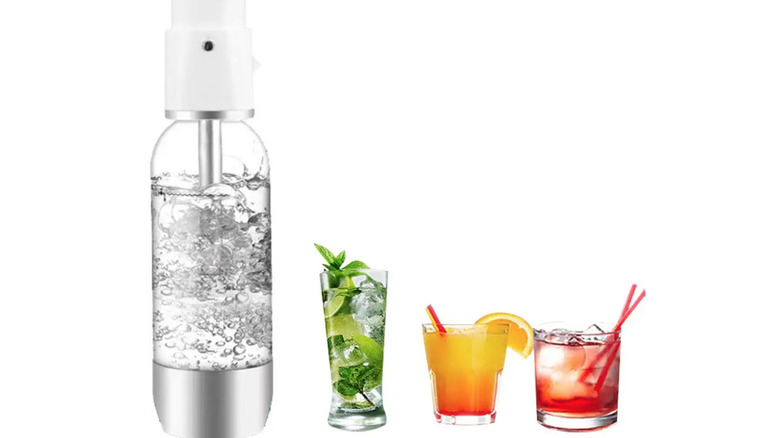 HXZB
If you're always on the go, a portable soda maker can be really useful. Whether you're at the gym, on a picnic, or even camping, having easy access to the refreshing taste of a homemade sparkling beverage can be highly satisfying. And luckily for you, this model was recently ranked in the top three best portable soda makers currently on the market.
Another advantage: this model can work with all non-threaded eight gram CO2 cartridges, so finding refills should be nice and easy. Once you install the mini CO2 cartridge, the process is simple: all you have to do is add water, screw on the cap, and press the carbonation button. In a matter of seconds, your drink will be teeming with fizzy bubbles and ready to go! Once you start making delicious sparkling drinks on the go, you'll see what you've been missing out on. The wait is over — you're just a few clicks away from one of the most convenient and lightweight mini soda makers on the market.
You can buy the HXZB portable soda maker on Amazon for $51.
Best stylish soda maker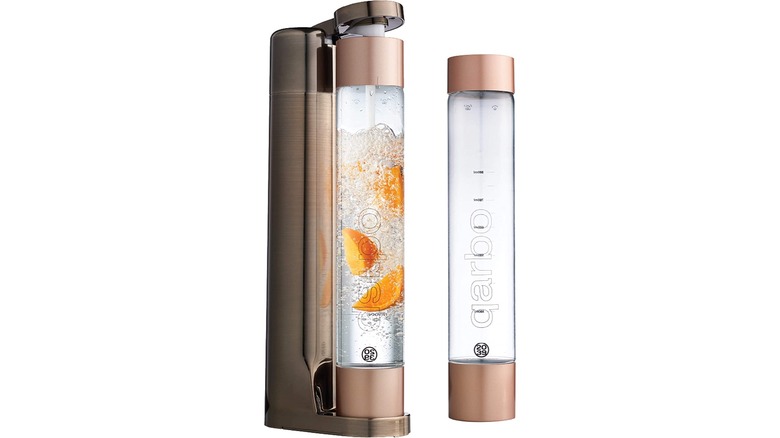 Twenty39
There's no doubt that appliances play a role in the look and feel of your kitchen. Vintage appliances naturally radiate retro vibes, while newer gadgets tend to give off a more modern feel. This soda maker model from Twenty39 has a beautiful chrome finish that somehow manages to perfectly ride the line between old-fashioned sensibilities and contemporary aesthetics, making it a great fit for any kitchen.
This model is offered in four radiant colors that include metallic red, silver, and black, along with an absolutely beautiful shade of bronze. No matter what color scheme you have going on in the kitchen, one of these gorgeous shades is bound to offer a striking touch of style to your space. Since the drink bottle of this soda maker is equipped with a wider sized mouth, it's very easy to add chunks of fresh fruit to your drinks to add some extra flavor and natural sweetness. You'll have to buy the CO2 cartridges separately, but that's a small price to pay for an appliance that is so tastefully designed.
Purchase the Twenty39 soda maker on Amazon for $119.
Best soda siphon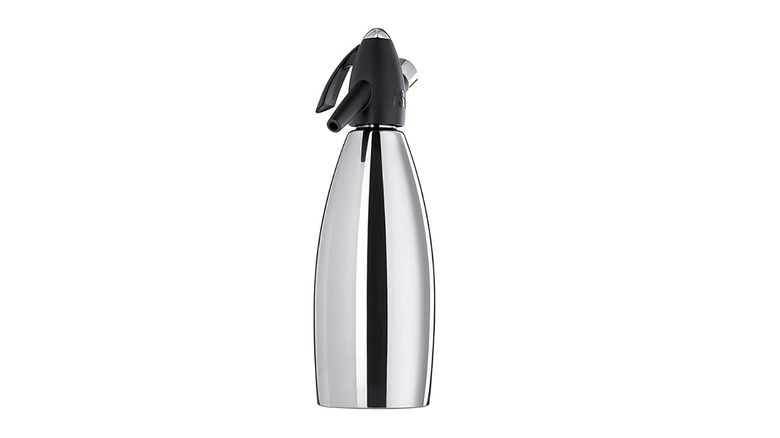 iSi
The cool thing about soda siphons is how easily portable they are — they also have a classic, timeless look that's simple yet refined. Weighing only one pound, this soda siphon can hold up to a full quart of liquid, is made with durable stainless steel, and comes equipped with a high impact plastic head to ensure longevity. Rated as the best soda siphon on the market for its sturdy construction and design, there's no doubt that you'll be pleasantly surprised with this model's ease of use (via Top 5 USA).
The one downside is that this model isn't dishwasher-safe, but that's not a big deal considering the bottle only contains liquids, meaning that it's easy to clean with some soap and hot water. The time has come to stop buying all those canned fizzy drinks at the grocery store and take control of your hydration's destiny. Strawberry mojitos and all kinds of enticing drinks await you!
Purchase the iSi stainless steel soda siphon on Amazon for $75.
Best soda maker with water cooler attachment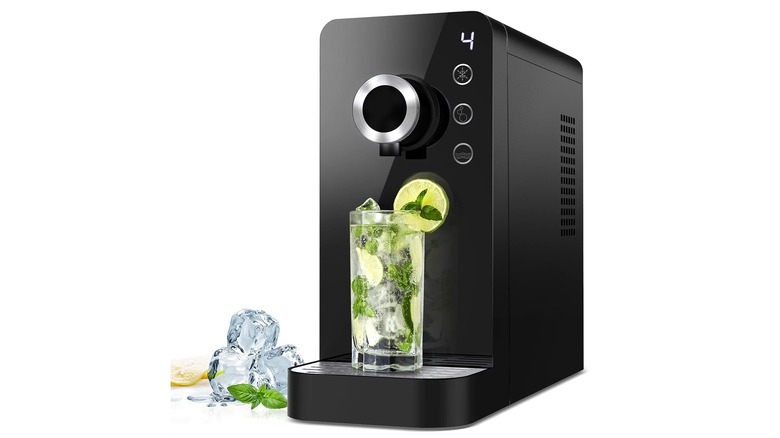 LifePlus
There are a few features that really make this soda maker unique and exceptionally well-designed. For starters, and perhaps most importantly, it has a water cooler attachment on the back of the model that can store up to one and a half liters of liquid. This feature makes it extra easy to whip up multiple drinks at once, which is a great advantage when you're entertaining friends and family — or just on those hotter days when you're feeling extra parched.
There's also the fact that this model has three different drink settings to choose from. You can choose the ice water setting when you need to cool off, a room temperature setting for if you're more sensitive to the cold, and of course, there's also the soda maker function that adds carbonated bubbles to your drinks. Having that kind of versatility definitely has its advantages since you can customize each drink to suit individual needs. Even though this model is marketed for commercial purposes, the reality is that a nice water cooler like this is just as practical in a home kitchen as it would be in a business setting.
You can buy the LifePlus soda maker and water cooler on Amazon for $660.
Best stainless steel soda maker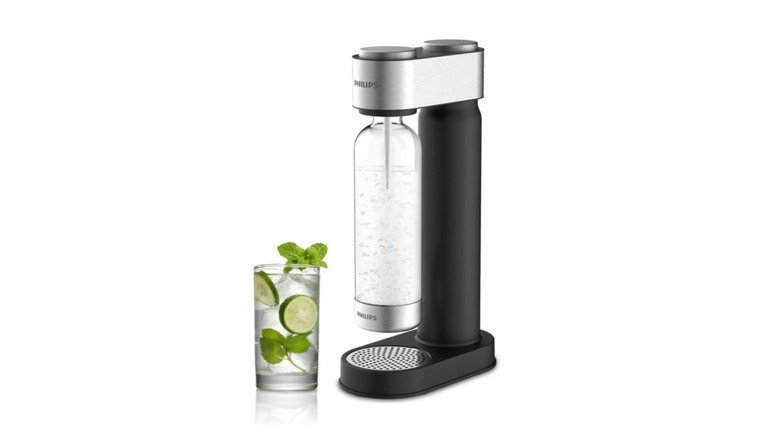 Philips
Everyone knows that stainless steel is a popular choice for countless tools and appliances, and there are a few good reasons for that. For one, stainless steel is extremely durable and can withstand fluctuations in temperature (via Tampa Steel). It's also one of the best materials for kitchen appliances since it's very hygienic, due to the fact that stainless steel's non-porous nature doesn't readily allow bacteria and other potentially harmful microbes to accumulate. Stainless steel is also highly resistant to corrosion, which tends to extend the shelf life of products made with the material. The bottom line is that stainless steel has a wide range of benefits, so getting a soda maker that's made with it is a good idea.
This stainless steel soda maker is made by Philips, which has been in business for over 130 years, so you know it's a company that you can trust with a good reputation for high-quality products (via Philips). This soda maker also comes with a BPA-free carbonating bottle with an airtight lid to lock in freshness. Easy to operate with a slim design, this soda maker was built to last and worth every penny.
Purchase the Philips stainless steel soda maker on Amazon for $70.
Best soda maker for beginners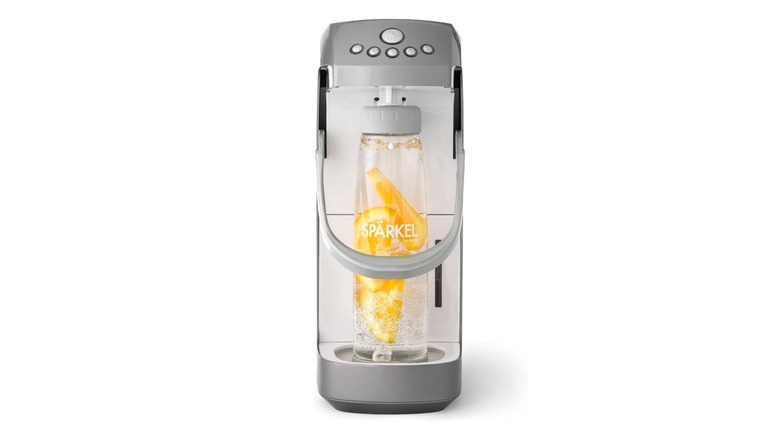 Spärkel
We get it — if you're new to soda makers, all this talk about CO2 cylinders and adjusting carbonation levels can feel a little complicated and perhaps even intimidating. Rest assured, it's much easier than it may first seem to get these machines up and running. That said, we will admit that some models are easier to operate than others. If you're still concerned about ease of use, then rest easy knowing that this soda maker from Spärkel is about as easy to work as it gets.
Let's start with the fact that this model doesn't even need a CO2 cylinder, so there's no need to worry about things like connection issues. Instead, this device relies on carbonator packets that naturally produce CO2. Instead of having to return or dispose of CO2 cylinders, Spärkel makes it super easy and sends these carbonator packets directly in the mail. This model also has five one-touch buttons that automatically adjust carbonation level, ranging from 1 (light) to 5 (serious). Between the lack of CO2 cylinders and the simple design, this soda maker is practically foolproof.
You can buy the Spärkel soda maker on Amazon for $130.