The Real Reason Bang Energy Was Sued By Prince's Estate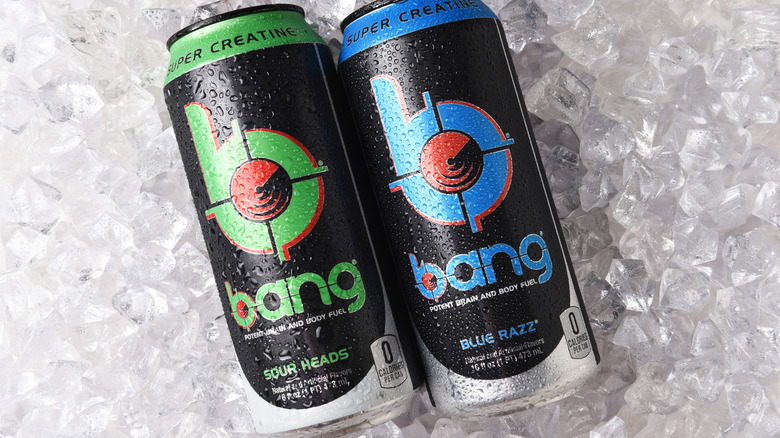 Steve Cukrov/Shutterstock
Ah, energy drinks. The highly caffeinated, sweetly flavored, carbonated beverages that provide a temporary jolt whenever needed have been around for decades. According to Thrillist, the invigorating libations made their debut in the mid-20th century, when Tri-City Beverage launched Dr. Enuf, a vitamin- and caffeine-infused drink that claimed to be "the original energy booster" in ads. Years later in the 1960s, Japanese company Taisho Pharmaceutical Holdings created Lipovitan, an innovative, effervescent drink containing taurine and B vitamins. Over the years, a number of mega-popular energy drink brands have entered the market, including Red Bull, Monster, Rockstar, and Bang Energy.
Bang Energy, which was founded in 1993 by wellness and fitness advocate Jack Owoc, offers a wide variety of flavors in its lineup, many of which have quirky, catchy names such as Blue Razz, Mango Bango, Delish Strawberry Kiss, and Radical Skadattle (whatever that even means). One Bang flavor in particular, however, stirred up quite a buzz with a late rock star's fortune, resulting in a lawsuit that will go down in history.
Bang Energy was sued by Prince's estate for its Purple Rain flavor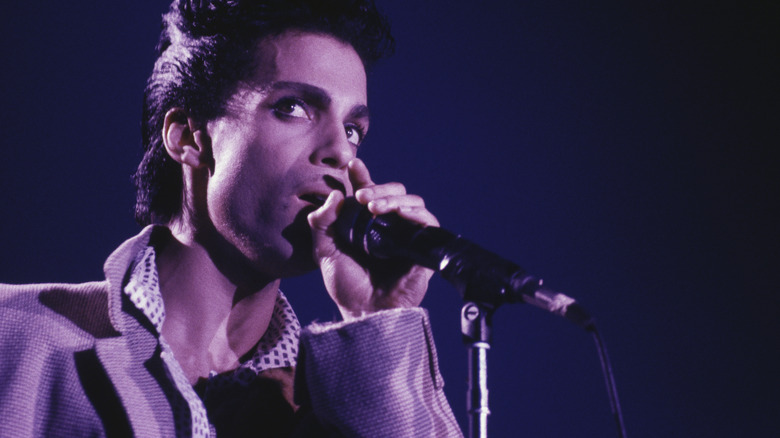 Michael Putland/Getty Images
On August 23, 2022, the U.S. Patent and Trademark Office ruled that Bang Energy didn't have the right to use the phrase "Purple Rain" for its grape-essenced product (per Billboard). The Purple Rain flavor would have shared its name with the chart-topping 1984 hit as well as the movie of the same name starring Prince. Pitchfork reports that the Prince estate won the trademark case with flying colors, essentially forcing Bang Energy to cease the intended use of the iconic name.
"Prince chose the phrase [purple rain] and made it famous through a Grammy-winning album, a major motion picture, a song performed around the world, and the iconic image of the late artist in the costume, movie and tour," the Prince estate attorneys stated in their case (per Pitchfork). "For the great majority of consumers, the only significance the term 'Purple Rain' has is to identify Prince and the image he made famous." Nevertheless, Bang Energy does offer a flavor called "Purple Haze," perhaps unbeknownst to the Jimi Hendrix estate.