The Lord Of The Rings-Inspired Miruvor Cocktail Recipe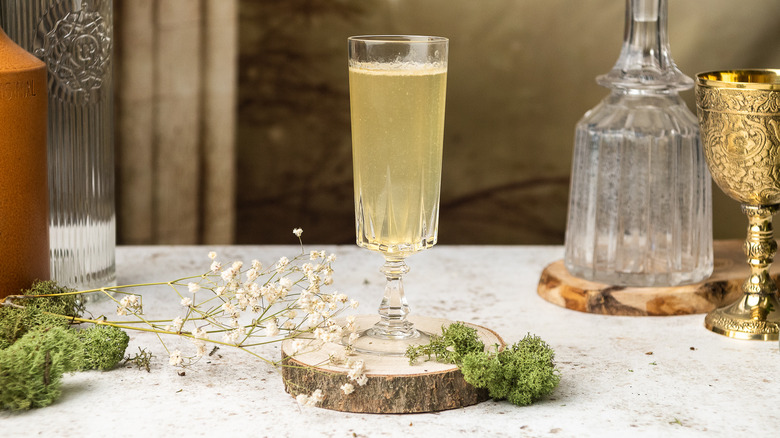 Jennine Rye/Mashed
After Peter Jackson's mega-successful "Lord of the Rings" film trilogy and his "The Hobbit" follow-up, Amazon's new "The Rings of Power" series takes us right back to Middle-earth, this time in the Second Age. You know what this means? There's now room for a few more millennia of fantasy tales. Now that's what we're Tolkien about — let's cheers to that with a proper drink!
As any true Ringer will know, the Miruvor referenced in the name of this cocktail is an elven cordial made by the elves of Imladris (aka Rivendell). While the stuff was doled out in small sips by Gandalf to strengthen the Company of the Ring on their perilous quest, we felt that something more substantial might be required to sustain you through a lengthy binge-watching session. So rather than a cordial, recipe developer Jennine Rye has concocted what she calls a "delicate and deeply delicious elven-inspired cocktail" for you to sip as you once again lose yourself in LOTR.
Assemble your company of Miruvor ingredients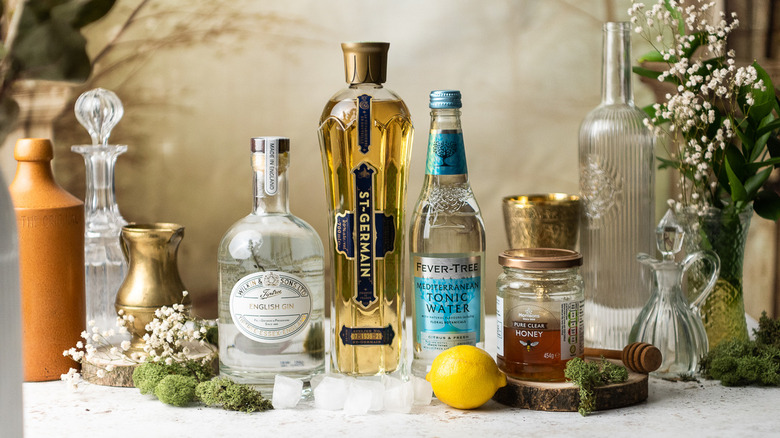 Jennine Rye/Mashed
While we don't know what arcane elvish ingredients went into the original, we imagine they'd have gone for something floral, and the elderflower liqueur we're using here (St. Germain being the best-known and most widely available brand) reminds us of those dear old Elder Days that preceded even the events of "The Rings of Power." We're also using gin, as it both lends itself well to floral notes and it's, as Rye calls it, "a classic English spirit."
The honey we're using in the drink was an ingredient well known to denizens of Middle Earth. Here it "adds a warming sweetness which pairs beautifully with the floral sweetness of the elderflower liqueur," Rye explains. We admit that lemons do not play much part in Tolkien's work. Still, as a wise hobbit named Bilbo once said, "all that is gold does not glitter." So we're using this fruit to bring what Rye describes as "just the right amount of sharpness to balance out the flavors." While fizzy water is an invention of the Fourth Age, Rye includes this element (in the form of a crisp tonic water) as she feels it "makes [the drink] wonderfully light." Gin and tonic is a classic combo, after all.
Make the honey syrup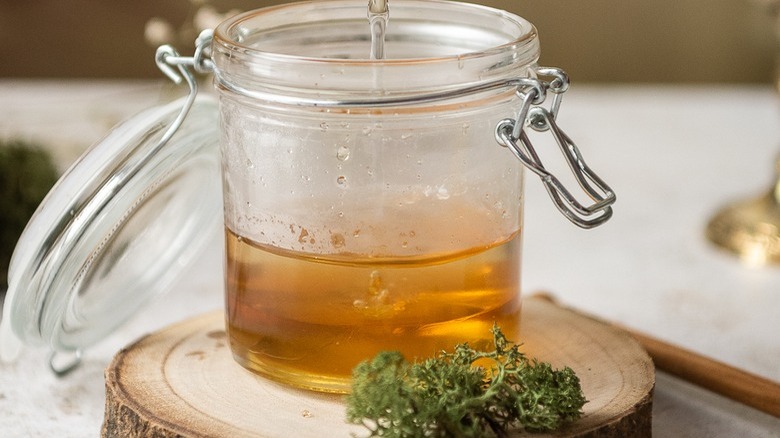 Jennine Rye/Mashed
In "The Hobbit," the cast of characters meets up with shapeshifting beekeeper (and part-time bear) Beorn and feast on cakes that he baked using his own honey. Here we're using honey that comes from the store, (though hey, we may well be pouring it from a bear-shaped vessel). We are, however, going the DIY route by making our own honey syrup. This is fairly easy to do. First, boil some water, then mix ¼ cup of it with an equal amount of honey. Stir or shake the mixture until the honey is completely dissolved in the water, then let the syrup cool for 5 minutes.
Everything comes together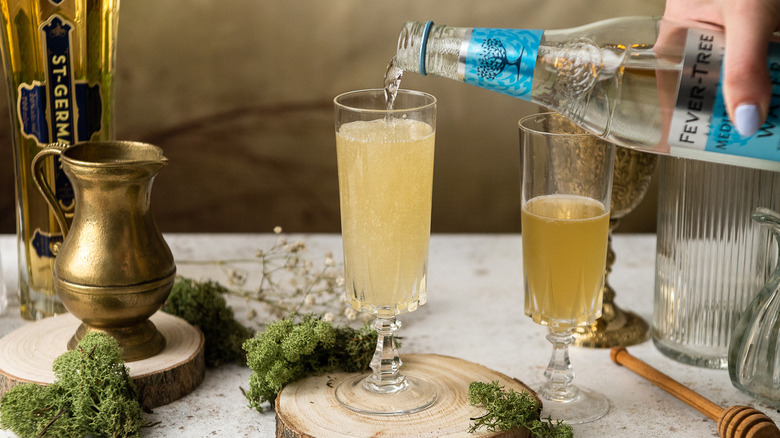 Jennine Rye/Mashed
Once the honey syrup is cool, combine it with the liqueur, gin, and lemon juice in a cocktail shaker. Shake the drink with ice to chill it, then strain it into two serving goblets. Rye feels that "a fluted or cordial glass ... should be suitably elegant and refined" for this Miruvor-inspired cocktail, although you may prefer sturdier steins should you fear an Unexpected Party may break out. As a final touch, top each drink with tonic water. Newfangled the stuff may be (relatively speaking), but it adds a little sparkle and fizz befitting such a magical concoction.
And we raise our glass at last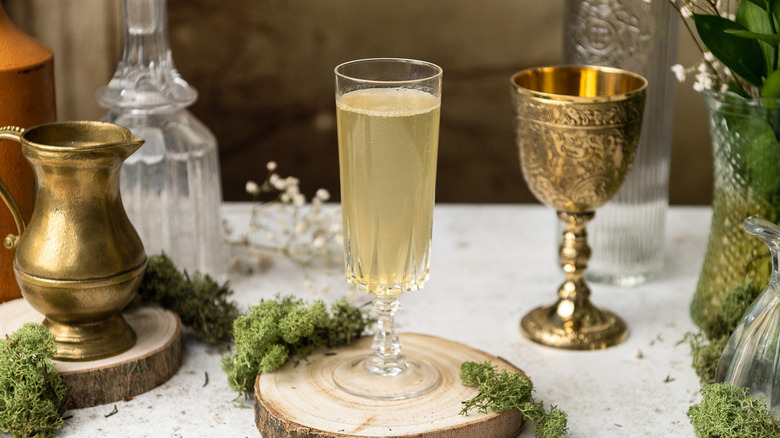 Jennine Rye/Mashed
If you want to add a decorative touch to your drinks, Rye feels that fresh edible flowers would be lovely, while using rosemary, lemon balm, or thyme "would look beautiful and also introduce a slight herbal element to the drink." Such embellishment is not required, of course, as this elvish elixir stands on its own. Of course, it does pair nicely with lembas bread.
Now raise your glass and drink the health of all good hobbits, elves, men, and dwarves! As you do so, keep in mind the wise words once spoken to Bilbo Baggins by Thorin Oakenshield: "If more of us valued food and cheer and song above hoarded gold, it would be a merrier world."
The Lord Of The Rings-Inspired Miruvor Cocktail Recipe
Miruvor is a (fictional) cordial made by the elves of Imladris. It becomes very real in this drink inspired by "The Lord of the Rings" and "Rings of Power."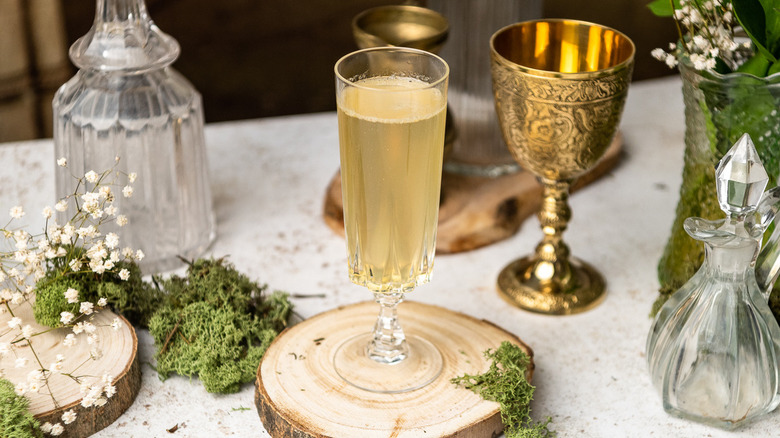 Ingredients
¼ cup honey
3 ounces elderflower liqueur
3 ounces gin
3 ounces fresh-squeezed lemon juice
6 ice cubes
tonic water, to top off drinks
Directions
Combine the honey with ¼ cup boiling water. Stir to combine, then allow the honey syrup to cool for 5 minutes.
In a cocktail shaker, combine the syrup with the liqueur, gin, and lemon juice.
Add ice cubes to the shaker. Shake the mixture to chill the drink.
Strain the cocktail into two tall glasses. Top each one with tonic water.