The Divisive Secret Ingredient In Florence Pugh's Favorite Tzatziki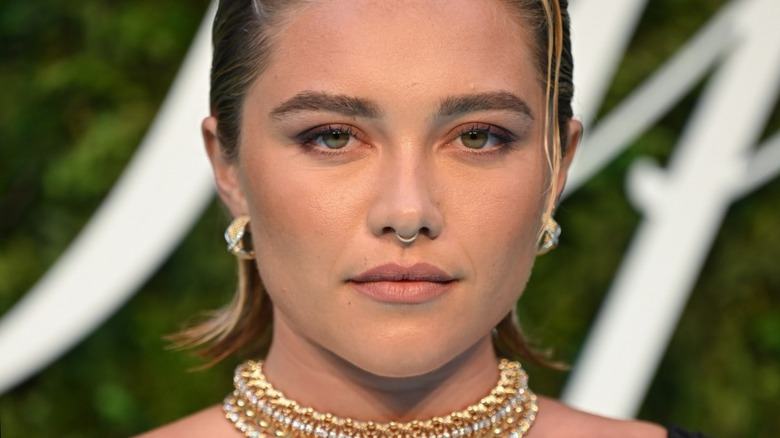 Karwai Tang/Getty
If you love dips and sauces, you should have a go-to recipe for homemade tzatziki sauce. It's quick and simple, and it's a refreshing sauce that will add plenty of flavor to chopped vegetables or pita bread. Plus, you can add your tzatziki to this classic gyro recipe that will really impress your friends and family.
One famous fan of tzatziki is actress Florence Pugh, who posted a video of herself making the sauce on her Instagram page. Pugh's tzatziki contains all the essentials: Greek yogurt, olive oil, cucumbers, garlic, salt, and pepper. Although Pugh doesn't add dill, throwing a bit of this herb into the mix really lets tzatziki shine.
As she makes the dish, Pugh notes that she likes her tzatziki with extra garlic, and she keeps the cucumber peels on. Cucumber peels can be a controversial ingredient — some people will always peel cucumbers before eating them. If you do usually peel them, make sure you save cucumber peels for this surprising household use, but Pugh also makes a compelling case for keeping the skin on the crunchy vegetable.
Why Florence Pugh keeps the cucumber skins on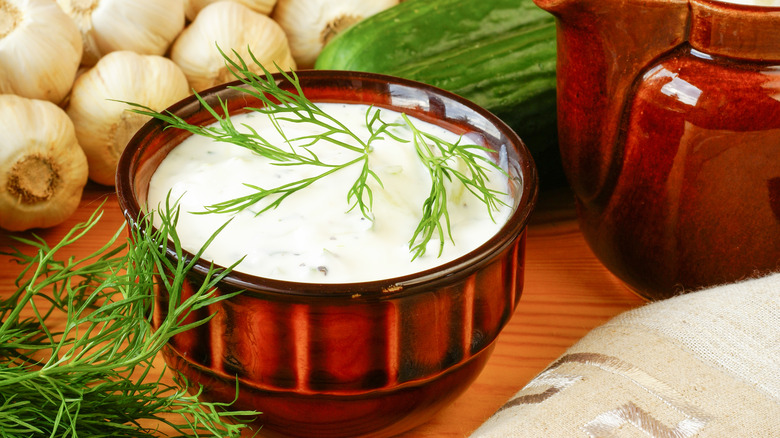 Elzbieta Sekowska/Shutterstock
Wondering why exactly Pugh doesn't peel her cucumbers before adding the ingredient to her tzatziki? In her video, she says that she enjoys cucumbers with the skin on, but there's also a purpose to making the tzatziki better. "I know that some people are a bit iffy about the skin. But I actually quite like it. It also tends to hold the tzatziki together" (via Instagram).
Pernell Quilon tried this recipe for Buzzfeed, and one of the things he enjoyed the most was how this recipe could be easily customized to individual preferences by adding as much or as little of an ingredient as desired. That being said, Quilon said that the "grated cucumber gives [the tzatziki] some much needed texture," so keeping the skins on the cucumbers does add something extra.
If you're one of the people who doesn't like cucumber skin, you can get rid of it entirely before grating cucumber for tzatziki. Some recipes online will have you peel part of the cucumber, the whole cucumber, or keep the skin on. But at the end of the day, it's up to you to create your ideal dip. And if you want to change it up, you can swap out the cucumber and try this zucchini tzatziki instead.