Homemade Tzatziki Sauce Recipe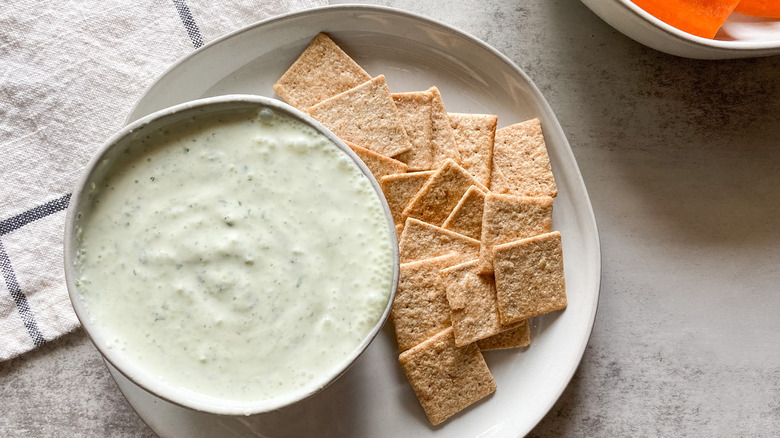 Kristen Carli/Mashed
If you are a fan of Greek food, then you've likely ordered a wrap or something else and added some tzatziki to it. This fantastic Greek sauce is like what ranch is in the United States, and it serves as a great addition or dip to pretty much every Greek food (aside from dessert, of course). Recipe developer and private practice registered dietician Kristen Carli is known for whipping up some of the tastiest dips on the planet, and this one is definitely a keeper. "I love this as a dip for veggies or crackers. It is delicious with pita chips," Carli shares. "I also love this spread on sandwiches. I'd recommend trying this in a falafel pita."
This recipe is great for dipping veggies, and it also goes well on a pita. It's nice because it's so simple to make, and it literally only requires two steps and a few ingredients. It's easily one of the tastiest recipes you will ever make, and you'll want to bookmark this page because this is sure to be a new favorite. Keep reading to find out how to make this delightful tzatziki recipe that will bring a taste of Greece to your very own home.
Gather the ingredients to prepare homemade tzatziki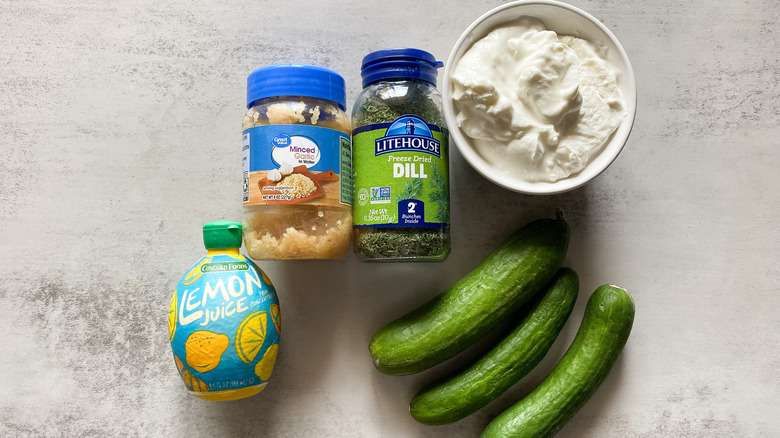 Kristen Carli/Mashed
As with any other recipe, you need to start things off with a trip to the grocery store. If you're savvy, you can also order groceries for delivery with the click of a button. For starters, you will need some full-fat Greek yogurt. You will also need some Persian cucumbers. Be sure to dice these up before you use them because that will help them to blend better. Your next stop should be in the spice aisle for some dried dill.
The remaining items are pretty standard, and you may already have them at home. These include minced garlic, lemon juice, and salt. That's all you need, and then you will be ready to begin!
Benefits of Greek yogurt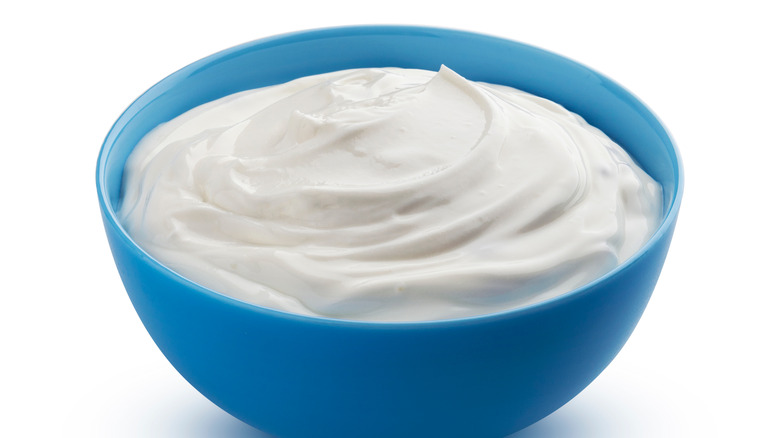 Spalnic/Shutterstock
The great thing about Greek yogurt is that it's not just tasty, but it also happens to have many health benefits. Healthline reported that Greek yogurt is jam-packed with nutrients, and one of the main ones is protein. As we all know, protein has excellent benefits for so many parts of your body, helping with everything from bone-building to hair growth. "Greek yogurt is a great source of protein," Carli says. "If you are a vegetarian or you don't eat a lot of meat, Greek yogurt is a great high protein option for you." 
It also has a fair share of probiotics, which help with gut health. In addition, it has potassium, B-12, and calcium (via Healthline). Yes, that's a whole lot of goodness.
Place the ingredients in the food processor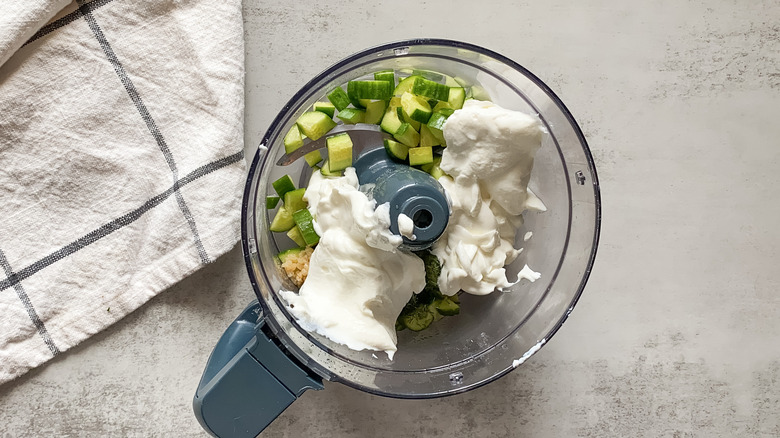 Kristen Carli/Mashed
To begin, take out your trusty food processor. Plug it in, take the lid off, and get ready to add all of your ingredients. Start with Greek yogurt. Then, add the Persian cucumbers. (Remember that you should have diced these ahead of time because they will blend better.) Then, add in the dried dill and the minced garlic. These will add a ton of flavor to the dip.
The remaining two items you need to add in are lemon juice and salt. Once you have everything loaded in, put the lid back on.
Mix the tzatziki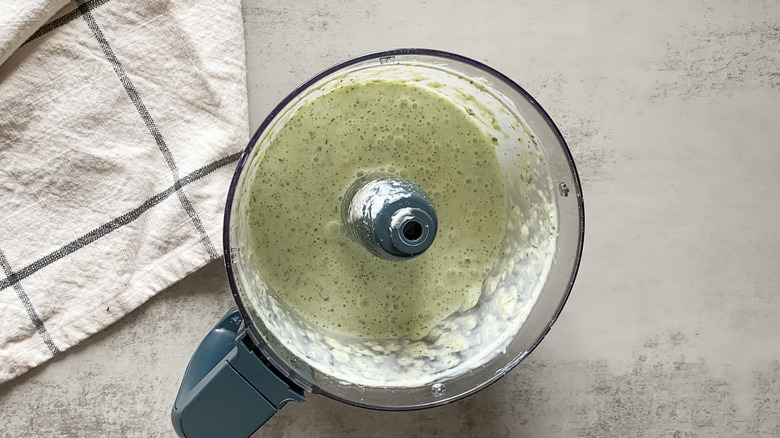 Kristen Carli/Mashed
Make sure the lid is on tight before you turn on the food processor. Then, press the "On" switch, and blend until all of the ingredients are mixed. "The consistency should still be thick enough to spread," Carli says. "The cucumbers have a high water content, so be sure to use the full cup of Greek yogurt here, or it will be too watery." Once you are done blending, remove the tzatziki from the food processor, and serve it in a dish of your choosing. 
Serving suggestions and leftovers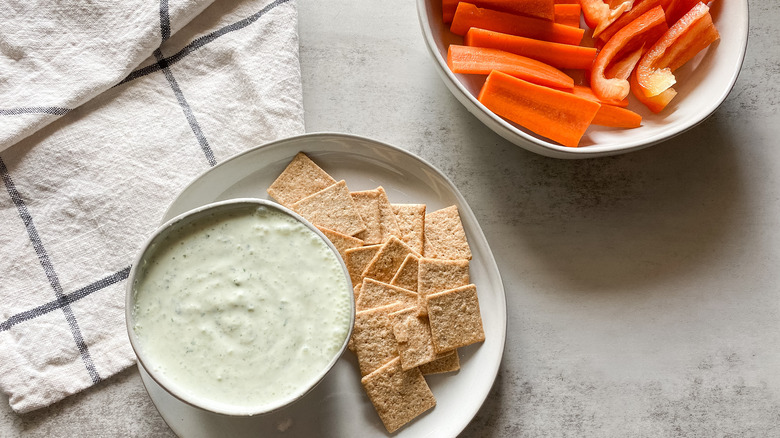 Kristen Carli/Mashed
Tzatziki goes well with so many things — especially Greek food. One of the first things that comes to mind is pita bread and another great option is falafel. Of course, this is also a great dip for veggies like peppers, cucumbers, carrots, and celery. It would also be amazing drizzled over gyro in a pita. Another great option would be to drizzle this over rice and veggies. 
As for leftovers? "I love storing leftovers in a jar with a lid," Carli suggests. We hope you love this tzatziki as much as we do!
Homemade Tzatziki Sauce Recipe
This homemade tzatziki sauce pairs perfectly with sliced veggies, pita chips, or even in a falafel pita.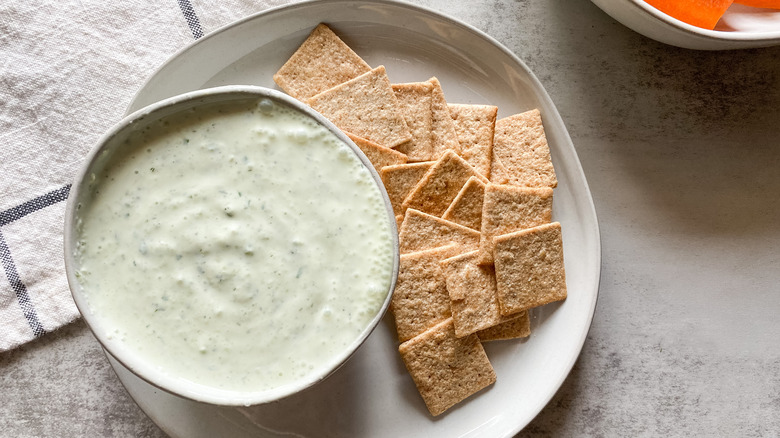 Ingredients
1 cup full-fat Greek yogurt
3 persian cucumbers, diced
1 tablespoon dried dill
1 teaspoon minced garlic
3 tablespoons lemon juice
¼ teaspoon salt
Directions
Place the Greek yogurt, diced cucumbers, dried dill, minced garlic, lemon juice, and salt into a food processor.
Blend until all of the ingredients are combined.
Nutrition
| | |
| --- | --- |
| Calories per Serving | 39 |
| Total Fat | 2.0 g |
| Saturated Fat | 1.2 g |
| Trans Fat | 0.0 g |
| Cholesterol | 4.8 mg |
| | |
| --- | --- |
| Total Carbohydrates | 3.1 g |
| Dietary Fiber | 0.2 g |
| Total Sugars | 1.9 g |
| Sodium | 91.1 mg |
| Protein | 3.0 g |