We Tried The New Jamba And Revive Superfoods Smoothie Kits. Here's How It Went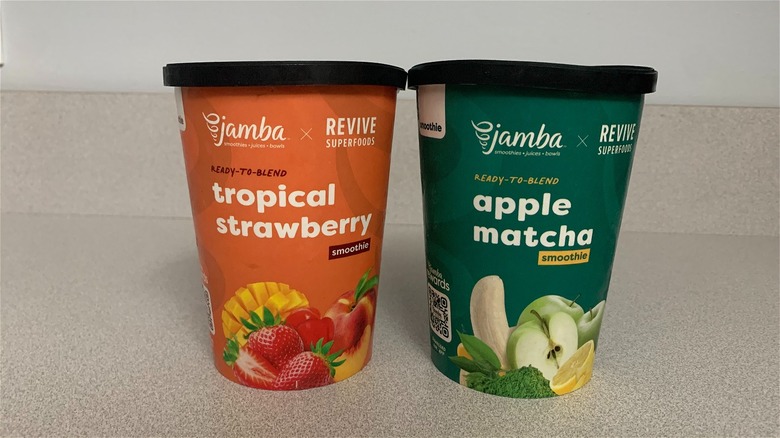 Rachel Kiser/Mashed
Smoothies are arguably one of the best foods. They can be considered a meal or a casual drink to sip alongside three other drinks that will never get finished. It's almost impossible to make a really terrible smoothie since a splash of orange juice and fresh berries can make any smoothie mixture taste better. Alongside other smoothie giants like Smoothie King, Jamba tries to outdo the competition with new flavors and creative menu items like boba tea, power bowls, and pressed juices (via Jamba).
In September 2022, Jamba announced a collaboration with the healthy meal delivery service brand Revive Superfoods. Over the last three years, Revive Superfoods has been dishing up farm-to-freezer meals, soups, oats, and smoothies for busy people looking to eat healthier frozen alternatives to Hot Pockets (via PR Newswire). The two smoothie flavors released in collaboration are not only easy-to-make and cost-effective but also nutritious and zero waste, making for a happier planet and bank account. We set out to determine if the newest food collaboration was worth the hype. 
Jamba x Revive Superfoods flavors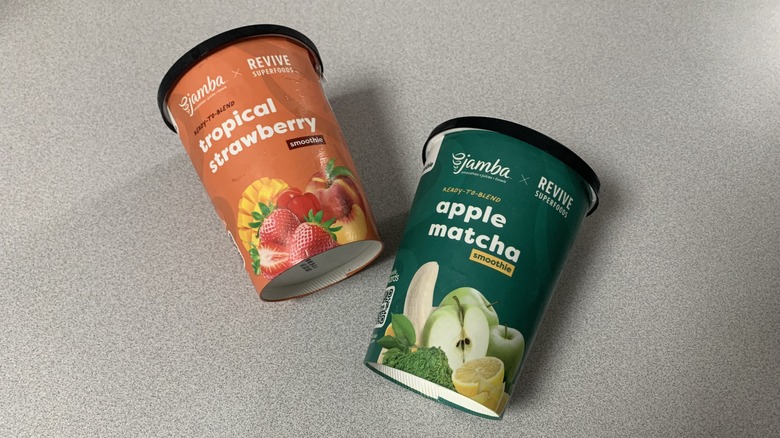 Rachel Kiser/Mashed
Both Jamba and Revive Superfoods have endless smoothie flavors. This flavor collaboration produced two smoothies that were different from anything previously released.
A spokesperson told PR Newswire that this collaboration would not only be a way to bring Jamba-inspired smoothies easily to one's doorstep but to also expand the brand's reach to those who are looking for more convenience through a meal delivery service.
The first flavor, Tropical Strawberry, is something out of a tropical vacation minus the sand in your drink. It's a fruity smoothie flavor made with peaches, mango, strawberries, and other fruits. The other flavor, Apple Matcha, is the more savory option with a mixture of apples, matcha, bananas, and even broccoli for a smoothie that's delicious and nutritious without tasting too healthy. It's hard to go wrong with either of these classic yet exclusive flavors but one Jamba x Revive Superfoods smoothie kit will ultimately be victorious in this taste test.
Jamba x Revive Superfoods ingredients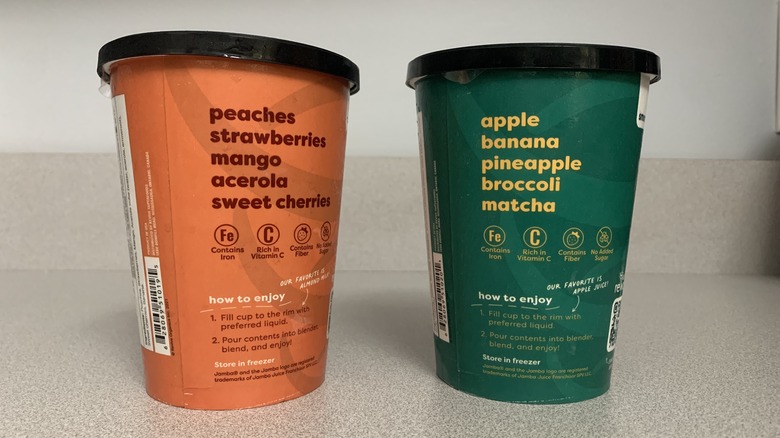 Rachel Kiser/Mashed
Jamba and Revive Superfoods pride themselves on using natural and plant-based ingredients frozen at peak freshness to make delicious smoothies to add to your health food roster. All the ingredients in the two smoothie flavors contain whole foods and ingredients that you can recognize and pronounce.
The Tropical Strawberry smoothie is rich with superfoods like acerola cherries, red cherries, and, of course, strawberries in addition to secondary ingredients like peaches and mangos. On the other hand, the Apple Matcha has a completely contrasting flavor profile with chunks of immune-boosting Granny Smith apples, lemon, and matcha. Some other ingredients include pineapple, banana, and broccoli for a daily dose of vegetables with every sip.
Naturally, you need some sort of liquid to transform your frozen fruit into a sippable drink. Revive Superfoods recommends a range of possible additives based on your sweetness preference from almond milk and water to juice and even sorbet for a smoothie-turned-dessert creation. The possibilities are endless: You can use juices, seltzers, wine, or even liquor for a boozy frozen concoction.
Jamba x Revive Superfoods price and availability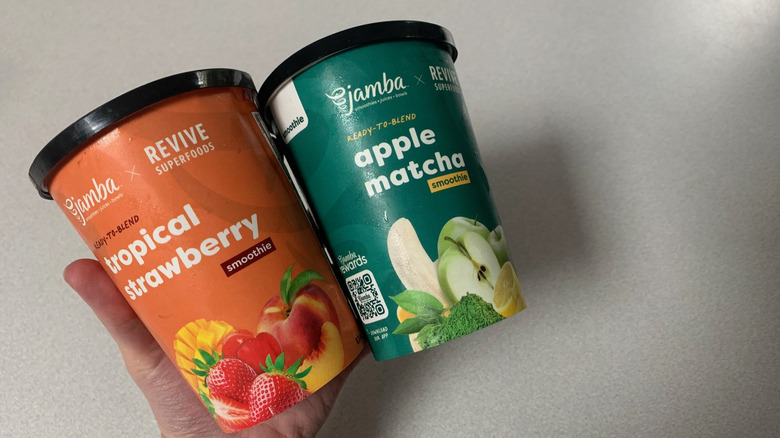 Rachel Kiser/Mashed
With over 850 Jamba locations across the United States and internationally, a good smoothie is always close by (via PR Newswire). Even if you don't live close to your favorite smoothie shop, it's easier than ever to have smoothies on your doorstep. With Revive Superfoods, you can ship smoothies across the United States and Canada. The smoothie kits are available nationwide in the United States.
Buying a daily smoothie can add up. That's why making smoothies at home can be a cost-effective, nutritious, and delicious solution to your smoothie fix. Jamba already offers grocery store smoothie kits but the Jamba x Revive Superfoods kits still pack a punch at a decent price.
According to Fast Food Menu Prices, an average Jamba smoothie ranges from $4 to $7, depending on the size and style. A small single-serve Revive Superfood smoothie is $6.99, which isn't as cost-effective as the grocery option and is more expensive than a small Jamba smoothie. That being said, it is cheaper than another at-home meal delivery service, Daily Harvest, which averages around $8.49 a smoothie. Despite the smoothies being on the pricier side, they make up for their shortcomings with speed and convenience. 
Jamba x Revive Superfoods smoothies nutrition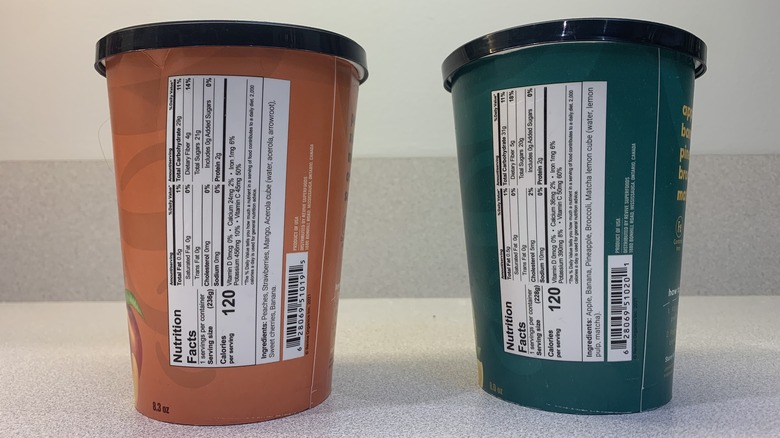 Rachel Kiser/Mashed
Let us preface this by saying that we are by no means health experts or in a place to tell people what's healthy and what's not. This nutrition information is meant solely to be informative and not in a way to dissuade you from eating something you love or enjoy. That being said, smoothies are inherently healthy-ish with a plethora of fruits and vegetables with each serving.
Both the Jamba x Revive Superfoods Tropical Strawberry and the Apple Matcha smoothies are 120 calories without the added liquid. They are pretty much identical in terms of nutritional information with 4 grams of fiber in each serving, no added sugar, and two grams of protein. In addition to fiber, they are both rich sources of Vitamin C and other vitamins, thanks to the nutrient-dense ingredients.
In terms of calories, these flavors are on the lower end of the spectrum with most Revive Superfoods smoothies like Mint & Chocolate or Blueberry & Cacao ranging from 140 to 200 calories. Compared to Jamba's in-store smoothies, they are much lower in calories. Many Jamba smoothies start at around 300 calories. Of course, it's important to take into consideration the size difference and various liquids that can affect caloric information.
How they compare to other Jamba and Revive Superfoods smoothies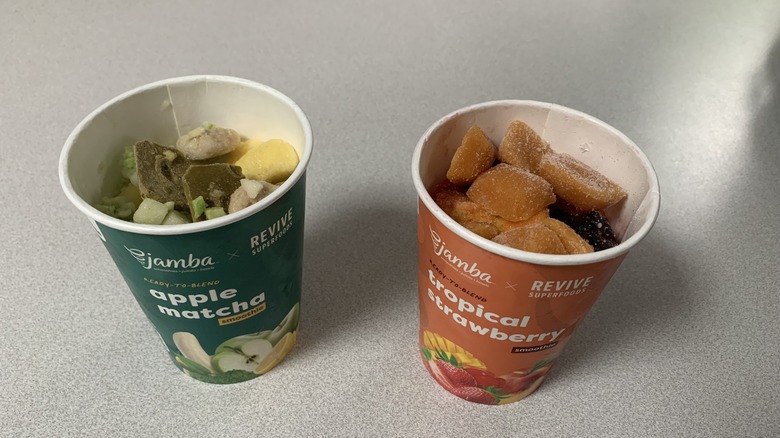 Rachel Kiser/Mashed
We know that these different smoothies vary in terms of nutrition, ingredients, and flavor. But how do they stack up against the other products from these brands? Jamba smoothies are the most like the Tropical Strawberry flavor –– more fruit-forward, sweet-tasting, and creamy. However, Jamba also offers many plant-based smoothies that are packed with veggies and trendy ingredients like the Vanilla Blue Sky.
Revive Superfoods, on the other hand, is more similar to brands like Daily Harvest which focus on trendy superfood ingredients in smaller portions. The Apple Matcha smoothie aligns most with other Revive Superfoods smoothies like Apple & Black Tea and Blueberry & Spirulina. Many of its smoothie blends like the Apple Matcha put an emphasis on having a balance of fruit and veggies by including ingredients like broccoli, cauliflower, kale, and spinach. While each brand has different ideologies and demographics, you can see the similarities between the two align within each smoothie flavor in this collaboration.
How the Apple Matcha smoothie tastes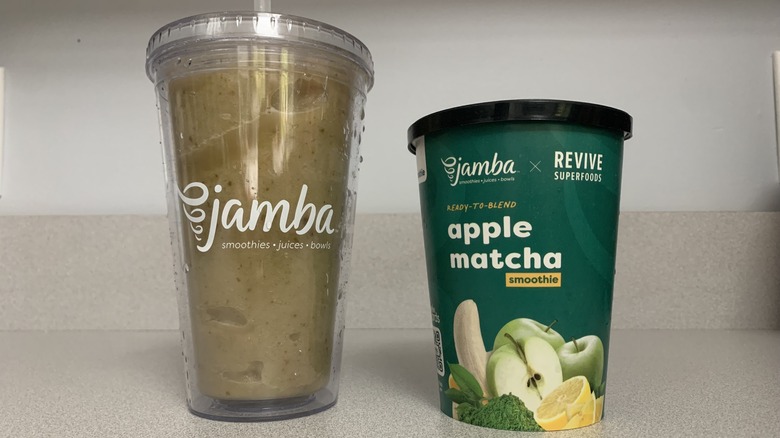 Rachel Kiser/Mashed
It's hard not to love a classic banana smoothie. However, this is not your average kitchen sink smoothie. The color is not the most appealing — a swampy shade that looks like a mix between macerated applesauce and peas. However, this smoothie gains points in terms of texture and flavor. The thought of putting broccoli in a morning smoothie can sound slightly nauseating but there is no bland and flavorless vegetable flavor in sight here, thanks to the subtle yet balanced fruit ingredients.
The apple flavor takes center stage in the smoothie with the pineapple acting as a nice acidic balance without the mouth-tingling feeling you get from eating too much freshly cut pineapple. We took the smoothie cup's suggestion and blended the fruit with a mix of apple juice and water, evoking the warm spiciness you get from a fall apple pie but with more broccoli in it. There weren't many traces of matcha to be detected, at least none that resembled a matcha latte, but we bet that ingredient added to the murky swamp color. Nevertheless, it's a unique and delicious smoothie flavor packed with fruits and vegetables for an easy-sipping experience at any time of day.
How the Tropical Strawberry smoothie tastes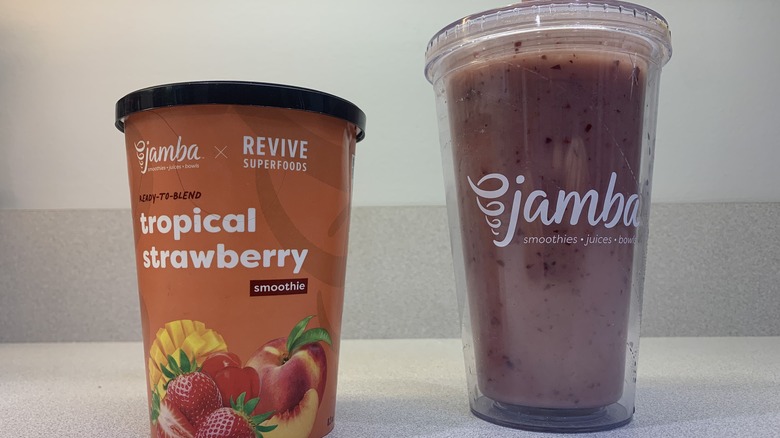 Rachel Kiser/Mashed
A fruity and sweet smoothie is a timeless example that popular smoothie brands try to follow. Like an assorted fruit salad, it feels fresh and light yet filling while satisfying your sweet tooth. This Tropical Strawberry smoothie kit is no exception –– a mixture of classic smoothie flavors with modern twists. When enjoyed with almond or other dairy-free milk, it adds the perfect amount of creaminess without the heavy bloated feeling afterward.
Not-so-shockingly based on the name, you mainly taste the strawberries with the sweet cherries adding a sweet finish and vibrant Starburst color. You get speckles of mango and peach that are more surprising than anything but not overwhelming. And honestly, having never tried an acerola cherry by itself, we have no idea if the flavors of that fruit truly shine through in the smoothie.
This is a classic take on a fruit blend you could get at a beloved smoothie shop but with unconventional superfoods hidden inside to make it stand out from the competition. That being said, the edge goes Apple Matcha smoothie for its depth of flavor and ability to make vegetables taste delicious. It's a wild card option perfect for adventurous smoothie connoisseurs, while the Tropical Strawberry option is perfect for smoothie traditionalists looking for a quick and easy smoothie solution.