The Witchy Shake That's Putting A Spell On Jack In The Box Menus
It may almost be fall and pumpkin spice latte season, but it means something else that's fun is also around the corner: Halloween. It's just about time to start thinking of costumes, decorations, and spooky-themed food. Not only do many of us enjoy making creepy bites for parties, but we get a little excited when we see Halloween-themed foods and drinks on the menus of our favorite restaurants. 
There are plenty of festive drinks that you can make yourself, especially if you're looking for something for the adults on All Hallows Eve. Mashed has some great recipes for Witchy Cocktails or Candy Corn Cocktails that are perfect for Halloween parties. However, if you're after something to celebrate with during the day, especially when you're busy, you might head down to your favorite fast food joint. 
Jack in the Box's mascot has been called one of the creepiest representatives of a brand, per Time, so it seems only fitting that the fast-food chain should create the perfect seasonal drink. The chain is offering a new flavor combination that's sure to thrill both Halloween and fall lovers alike.
But which shake is it?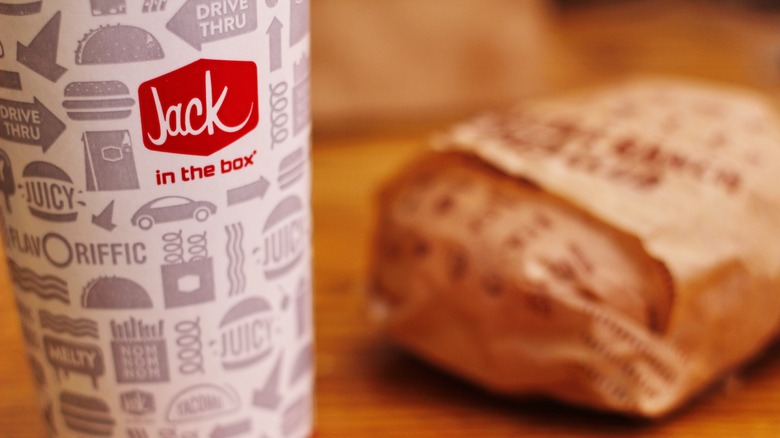 Birch Photographer/Shutterstock
While the words "witch shake" might conjure up images of some green looking concoction in your mind, you'll be pleasantly surprised to find that it's not what you thought. If you love the chain's classic Oreo shake and the flavor of pumpkin spice — and a solid PSL pun, as well — then you may soon find yourself heading down to your local Jack in the Box for its special "Basic Witch Shake." According to the Fast Food Post, the shake is a blend of vanilla soft serve ice cream, Oreo cookie pieces, pumpkin spice flavoring, and served with whipped cream and a cherry on top.
Food Sided reports that the chain's Halloween-inspired shake will be available in regular and large sizes, and if you order via the Jack in the Box app and use the code "ACTUALLYFALL" at checkout, you'll get five mini churros free with any "Basic Witch Shake" purchase. Both the shake and offer are available nationwide from October 3 through November 20.