The Witchy Cocktail That Completes Spooky Season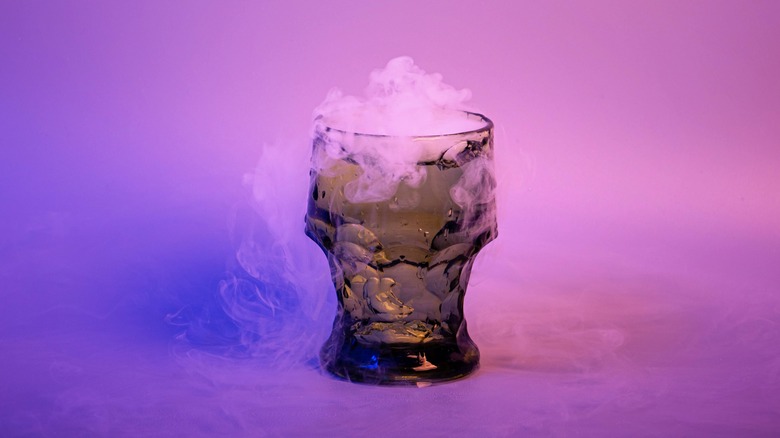 Jason Slesinski/Shutterstock
With Halloween merchandise already hitting stores, the next two months are sure to be filled with spooky delight. But while around 35 million kids are expected to walk the streets in search of candy on October 31 (per Farmer's Almanac), Halloween's fun isn't reserved for K-12. In fact, more than 70% of adults in the U.S. are known to celebrate the holiday (via Big Think). And there is plenty of excitement to be found on Halloween that isn't trick or treating — horror movie watch parties, hay rides, and, of course, throwing a party that puts the monster mash to shame.
But although good company and frightening decorations are an important part of putting together the best-ever Halloween bash, there is one factor that can make or break a fun-filled Halloween party. While many may claim it's the food (after all, everyone loves creepy treats), it all really comes down to the drinks. And there's one cocktail that is an absolute must to complete your Halloween festivities. Prepare your potions and whip out your witch's hat — you're about to learn about the Witch's Brew Cocktail.
The Witch's Brew Cocktail will make for a magical Halloween night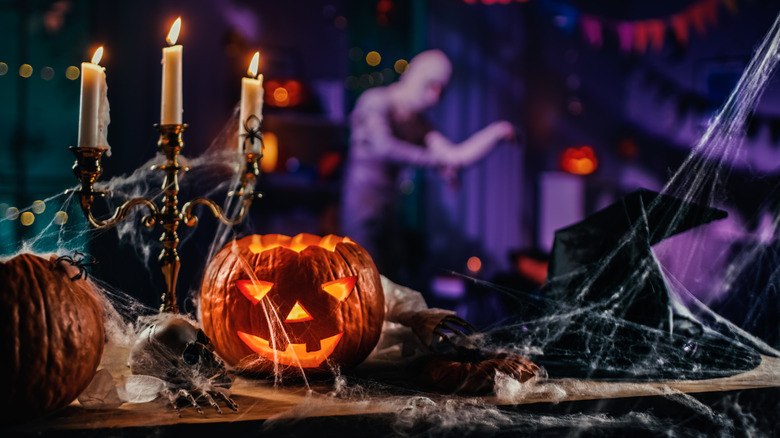 Gorodenkoff/Shutterstock
Those who love a classic vodka and raspberry liqueur shot of purple hooter (per All Recipes) will find themselves enamored by what Sprinkles and Sprouts describe as its more gorgeously haunting relative. A wickedly purple concoction, the Witch's Brew Cocktail is the perfect drink to give a boo-worthy toast with and is relatively straightforward to make.
According to Sprinkles and Sprouts, you'll need a lime, purple food coloring, and a bit of sugar to give the glass rim a magical coating. The drink's ingredient list includes vodka, lime juice, ice, and raspberry liqueur. (My Heavenly Recipes also suggests throwing a teaspoon of silver cake shimmer into the mix for an extra supernatural effect.)
Even if you've not a mixologist, whipping up this cocktail is worth the effort. Your party guests will be super impressed — be sure to serve the shots with a side of Witch's Cauldron Cupcakes to complete the spell.