Moroccan-Inspired Whole-Roasted Branzino Recipe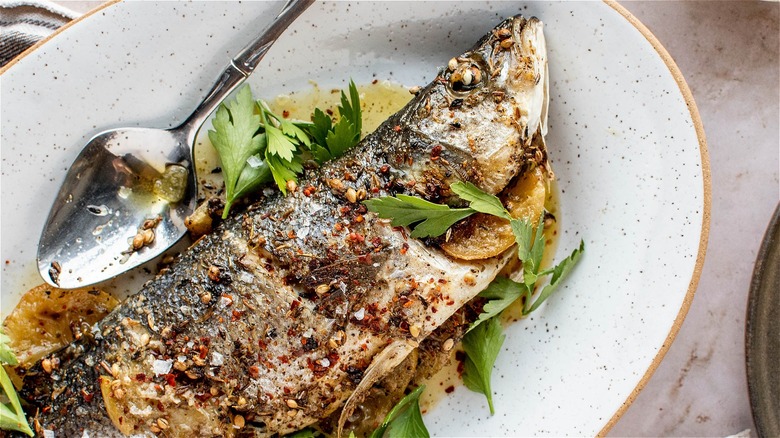 Michelle McGlinn/Mashed
Imagine yourself on the Atlantic coast, glass of crisp white wine in hand, looking out over the deep blue waters of the ocean. The salty waters brush your face as you sit down to enjoy a buffet of spiced tagines, tender lamb, and fluffy couscous. Sounds like a dream, right? If so, we have just the recipe for you.
Branzini, or European sea bass, are typically found and eaten throughout the Mediterranean region, especially in Greece and Italy. Traditionally enjoyed whole, the flaky white fish is known for being lightly sweet and easy to flavor. In this recipe, we move slightly west of the Mediterranean and introduce the flavors of Morocco such as cumin, coriander, and preserved lemon. The fish is savory but sweet, bursting with garlicky flavors, and uniquely lemony.
Whole fish can seem intimidating, but trust us, this recipe is foolproof. Quick and easy, you can have dinner ready in under 30 minutes. Check out the recipe below and let the flavors of this whole-roasted branzino transport you to the waters of the Atlantic coast.
Gather your whole roasted branzino ingredients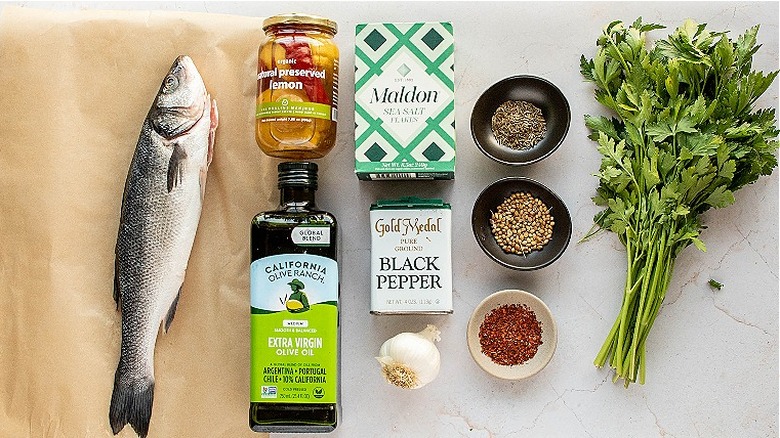 Michelle McGlinn/Mashed
For this recipe, you'll need black pepper, cumin seeds, coriander seeds, sea salt, red chili flakes, parsley, high-quality olive oil, freshly grated garlic, preserved lemons, and a whole branzino (or European sea bass). Branzini are smaller fish, typically weighing between 1-2 pounds. Your fishmonger will take great care to sell you good fish, but always make sure to double check for clear eyes and shiny skin. Once you've bought the branzino, eat within 1-2 days or freeze to enjoy later to ensure freshness.
In this recipe, we swap the typical fresh lemon for preserved lemons, which are tangy, sweet, brined lemons that add a similar brightness as regular lemons but with a salty punch and much less bitterness. Preserved lemons are popular in Moroccan cuisine and work well with intense seasonings like cumin and coriander. If you can't get your hands on this Middle-Eastern delicacy, you can swap for fresh lemons for a similarly delicious flavor.
Prepare your fish for roasting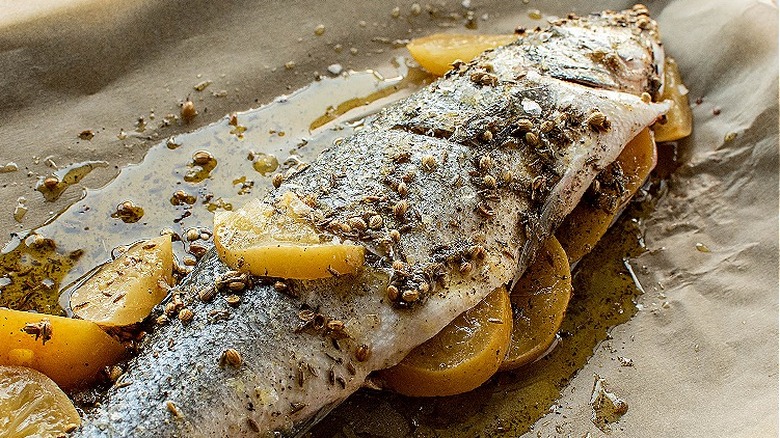 Michelle McGlinn/Mashed
While we can roast the fish whole in this recipe, there are a few steps needed to prep the fish before throwing it in the oven. If you purchased your fish from a fishmonger, it is likely the fish was already cleaned and scaled prior to buying. From there, simply make two small cuts on each side of the fish to add seasonings and lemon slices into after stuffing the underbelly cavity.
Whisk the sauce together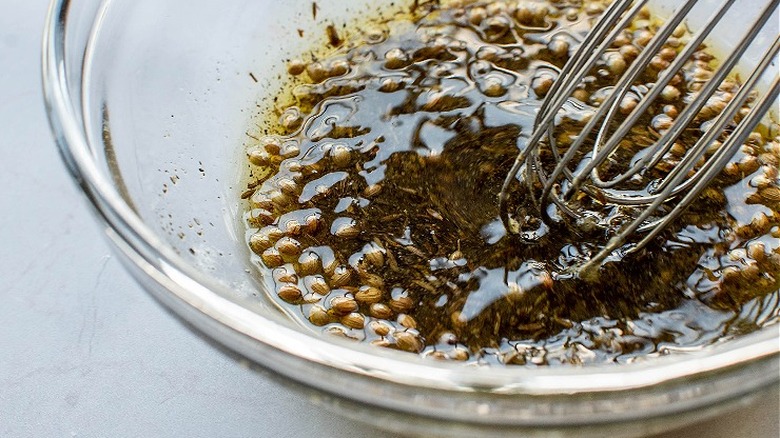 Michelle McGlinn/Mashed
Whisk all the seasonings, grated garlic, and olive oil together in a small bowl to create a sauce. Pour the sauce over the fish and massage into the cavities, making sure the inside is well coated with oil and seasonings. Any sauce pooled around the fish can be spooned over the fish for serving later.
Stuff with preserved lemons and roast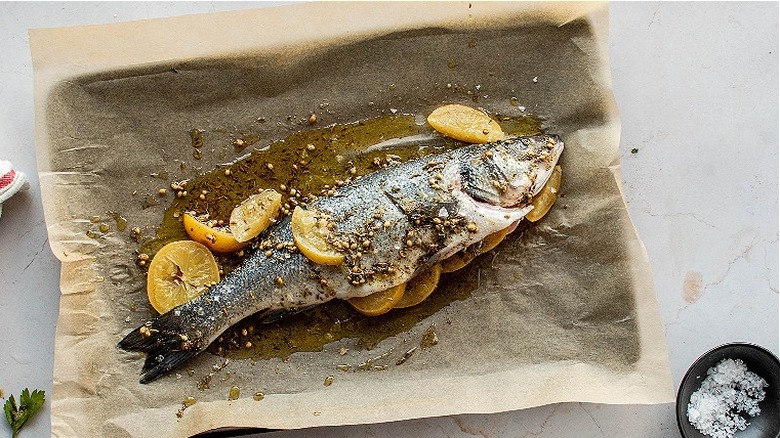 Michelle McGlinn/Mashed
Slice the preserved lemons the same way you'd slice a fresh lemon; then stuff them in the previously cut slits and open underbelly until the fish is filled with lemon. Place the prepared fish in the oven and bake until nearly done, then turn on the broiler to crisp the skin before serving.
Add the finishing touches and serve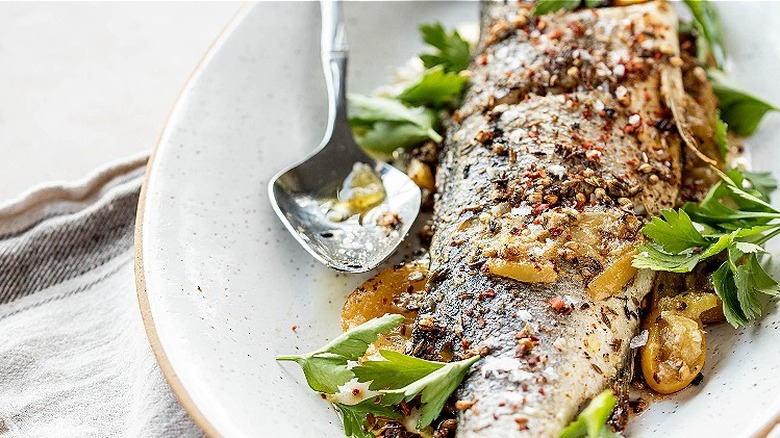 Michelle McGlinn/Mashed
After removing the fish from the oven, transfer to a serving platter and sprinkle with sea salt and red chili flakes. Spoon the pan juices over the fish, then sprinkle with parsley leaves, removing any lemon slices still inside. To serve, enjoy by sharing the fish whole and carefully avoiding small bones while eating. The flaky, soft flesh will pull away easily from the bones, no knives needed. One tip: Avoid the head, tail, and backbone, which contain mostly bone.
One branzino serves two – imagine it as two small fillets. To make it a meal, serve with lemony leafy greens, couscous or farro, and a crisp white wine. If you have leftovers, remove the bones and store the flesh in an airtight container for 3-4 days.
Moroccan-Inspired Whole-Roasted Branzino Recipe
If you've ever wanted to roast a whole fish, you can't go wrong with this surprisingly easy Moroccan-inspired branzino recipe.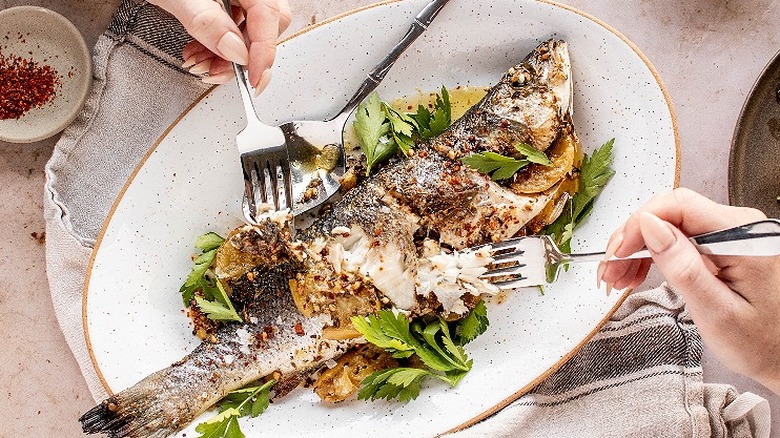 Ingredients
1 whole branzino
2 preserved lemons, thinly sliced
¼ cup extra virgin olive oil
1 teaspoon cracked black pepper
1 teaspoon whole cumin seeds, or powdered
1 teaspoon whole coriander seed, or powdered
2 cloves garlic, grated
1 teaspoon sea salt
½ teaspoon red chili flakes
½ cup parsley, for serving
Directions
Preheat the oven to 400 F. Line a baking sheet with foil.
Ensure the underbelly is sliced so the inside of the fish is accessible. Cut two slits on either side of the fish.
Nestle preserved lemon slices into the slits and inside the fish.
Whisk the olive oil, black pepper, cumin, coriander, and grated garlic together in a small bowl.
Pour the olive oil mixture over the fish and massage into the inside and all cavities.
Roast for 10 minutes on the middle rack, then turn broiler to high and broil for 3 minutes on each side, flipping carefully with a fish spatula.
Remove from the oven and sprinkle with sea salt, chili flakes, and parsley to serve.