What Happened To Chapul After Shark Tank?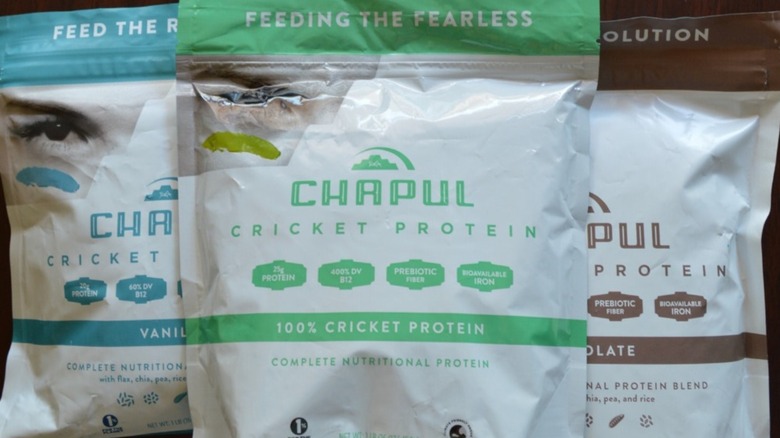 Plenty of entrepreneurs dream of the day when they might be able to pitch their product to a team of investors. And while some of the best foods came from "Shark Tank," there have been a few peculiar ones, too.
Pat Crowley appeared on the show in 2014 to pitch his one-of-a-kind protein bar — made from crickets. The bar essentially takes cricket flour and combines it with other ingredients, such as Medjool dates and chocolate, to create a tasty, high-protein snack. Crowley was seeking $50,000 for a 5% stake.
Kevin O'Leary immediately said he wouldn't eat it, but as Crowley explained the idea, it became more interesting to the sharks. At first, all sharks but Mark Cuban said they were out. But Robert Herjavec's attention was piqued when Crowley explained that he turns the crickets into flour in order to make the bars, and that other companies have asked if they could purchase his flour (per Shark Tank Blog).
Ultimately, Herjavec offered Crowley $50,000 for 20% of his company and Cuban offered $50,000 for a 15% stake, and Crowley made the deal with Cuban. So, where is Chapul today?
Chapul's protein bars are no longer on the market
The cricket bar products, which had "Shark Tank" investors equally disgusted and intrigued at the idea of eating insects, are actually no longer available for purchase. According to Food Navigator, Chapul pulled out of the protein bar business back in 2019, after the company's main packaging provider went out of business.
Pat Crowley had grown flustered with the insect concept not catching on among Americans despite the traction made by plant-based meats and other protein alternatives (per Food Navigator). As a result, when the packaging provider went under, Crowley opted not to secure a new one. Instead, Food Navigator says he's focusing his brand on using insects to help reduce waste around the world.
In 2018, one year prior to shutting down protein bar production, Dallas Business Journal reported that Chapul was pushing $1.5 million in annual sales of its bars. That projected number was double the $750,000 the brand had reached in 2017.
Chapul is focused on developing insect farms
Now that the protein bars that appeared on "Shark Tank" are on hold (it's unclear whether they'll ever make a comeback), Pat Crowley has focused his attention on reducing waste through insects. According to the Chapul Farms website, Crowley builds insect farms that "turn organic waste into high-value food and agricultural products." A diagram on the website reveals that Crowley's farms produce larvae, which are then added to animal feed, plus frass, which is insect excrement that is then used as fertilizer for farming. The new concept for the product is still backed by Mark Cuban, while Daniel Lubetzky and Nexus PMG have also helped raise $2.5 million for a research center, per Shark Tank Blog.
Although Chapul's main product, the protein bars, are no longer in production, Crowley's overall business is still alive and well. Chapul even offers project development services, which in turn help others to start insect farms that have the same impacts as Chapul.