The Untold Truth Of KIND Bars
KIND bars feel like they've sort of always been around, haven't they? Whether you've spotted them in the aisles of your local grocery store or found yourself devouring one after a strenuous workout, the brand has undoubtedly managed to make an impact in the snack food industry. The company website offers a range of snacking options; including many types of bars — such as protein, energy, fruit, breakfast, kids, and nut bars — plus other types of products like granola, cereal, and more.
What you probably don't know is the story behind the KIND brand that's a little unconventional, a little heartwarming, and mostly intriguing. According to the KIND website, the brand introduced its nutritious offerings, beginning with its fruit and nut bars, back in 2004. The goal was to offer customers healthier snacking options, coupled with using the KIND brand as "a vehicle for social change." The company kickstarted the KIND foundation in a bid to encourage kindness and empathy on a larger scale in communities. A description on the site reads, "Our approach is to create and invest in programs that will have scalable, lasting impact." Wondering what inspired this mission?
KIND CEO Daniel Lubetzky believes in the brand name through and through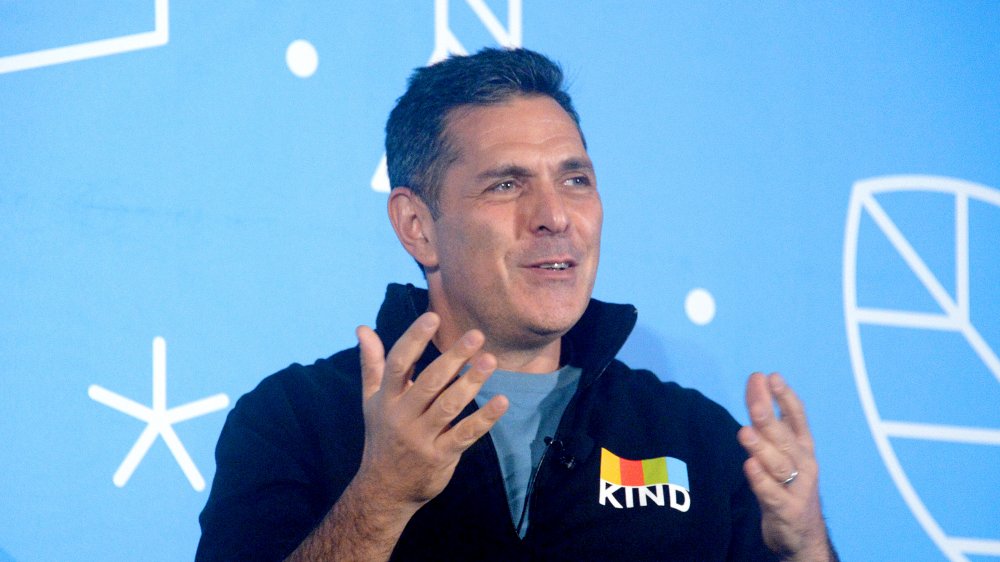 Brad Barket/Getty Images
The KIND brand was kickstarted by its CEO, Daniel Lubetzky. According to USA Today, Lubetzky ran several of KIND's business operations by himself in the beginning, including packing the bars into boxes, delivering them to customers, and more. The team has now evolved and grown by leaps and bounds, but Lubetzky is clear on his brand's core mission to motivate people to embrace kindness and empathy.
Lubetzky is the son of a Holocaust survivor, and has heard plenty of his father's accounts about surviving in a concentration camp, including a surprising act of kindness shown to him by a German soldier during those horrific days. Lubetzky's father remained determined, despite everything he'd been through. "His life taught me that that kindness and empathy are the foundations on which humanity will stand or fall," Lubetzky wrote remembering his father's compassion in his book Do the Kind Thing (via Forbes). Inspired, the entrepreneur wanted to use what he learned from his father to establish a company that would pay it forward by encouraging its customers to be kind. USA Today states that, for the businessman, this also means fostering a positive work environment where employees feel valued and appreciated.
KIND has a robust marketing strategy
According to another article by Forbes, what works rather well for the KIND brand is the fact that Lubetzky is a skilled and talented marketer. While KIND's snacks are relatively healthier than other options, they're not the best for you compared to some of their peers. "On a scale of one to ten, one being Coca-Cola and ten being whole foods, KIND bars are likely a four," says Dr. Robert Lustig, a pediatric endocrinology professor at the University of California, San Francisco. "It's less unhealthy than others. That doesn't necessarily make something healthy."
This is true. In 2016, KIND bars did court controversy when the company was called out by the FDA. As per Eat This, Not That!, the brand was accused of falsely advertising the health perks of some of its snacks. As the article highlighted, many products from KIND are still better than junk food alternatives, and it came down to being mindful while selecting a bar based on its saturated fat and sugar content. In an interview, Lubetzky addressed the controversy and told Inc, "You cannot call a serving of nuts healthy because of the fat content, and yet you can call sugary children's cereal healthy? So we were very introspective and said, 'How did we miss this?'" He added that the company worked on changing its labels, communicating with the FDA and embracing the challenges they were confronted with.