The Hearty Dishes Selena Gomez And Kelis Rogers Made On Selena + Chef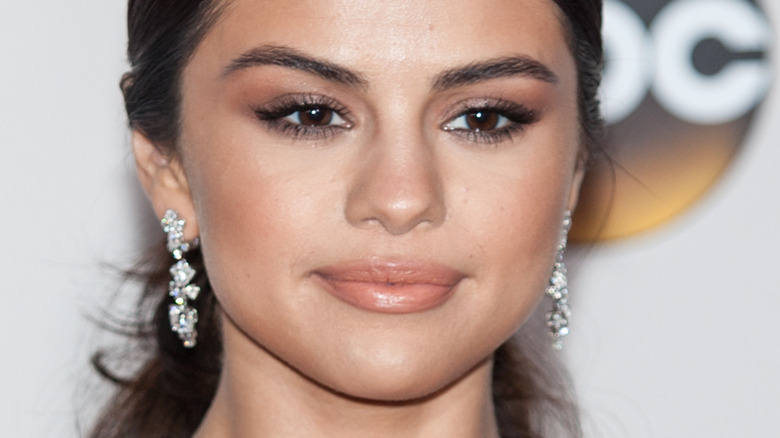 Jamie Lamor Thompson/Shutterstock
When the coronavirus pandemic hit, Selena Gomez teamed up with HBO Max and made a show called "Selena + Chef," in which famous chefs teach her how to make delicious dishes over a TV screen installed in Gomez's absolutely beautiful kitchen (via Thrillist). The first season was off to a rocky start due to Gomez's inexperience in the kitchen, but in Season 2, she was a bit more confident with her cooking skills, so much so that she just dropped her own cookware line. Near the end of each episode, Gomez donates $10,000 to the charity picked by celebrity chefs, which makes the show even more wholesome than it already is. 
In the fifth episode of Season 2, Gomez invited Kelis Rogers (known mononymously as Kelis) to teach her how to make two delicious dishes. You might know Kelis as a singer and songwriter of hits such as "Caught Out There," but you might not know that she's also a trained chef (per Essence). Kelis is now living on a farm in Temecula, CA, and, as we've seen in the episode, she appears to be living her best life while teaching Gomez how to master one savory dish and one tasty dessert (per IMDB).
Kelis Rogers and Selena Gomez made oxtail stew, yucca poutine, and apple and cranberry buckle
The first meal Kelis taught Selena Gomez how to make was a complex dish consisting of oxtail stew and yucca poutine (via HBO Max). The oxtail stew is made with oxtail, bell peppers, onions, garlic, paprika, balsamic vinegar, and a variety of fresh herbs, while the yucca poutine consisted of yucca and three different kinds of cheese — Manchego, Gruyère, and cheddar. 
Sounds delicious, and it absolutely was, but there were some mishaps along the way. Kelis shared a clip on her Twitter account, saying, "This moment was too funny." She was referring to the moment when Selena placed butter in the pan, and fire broke out. The show was literally on fire. Luckily, Kelis quickly suggested that Gomez put a lid on it, and the fire was quickly extinguished. Now moving on to dessert. 
People report that Kelis chose a baked apple and cranberry buckle. She said, "It'll make everyone who's eating it happy, so that's why I chose it for Selena!" Gomez made the fruity buckle without any hiccups, and once baked, she served it with a few scoops of ice cream on the side. And if you haven't seen the show yet, beware, because you'll want to make these meals in your own kitchen after watching a few episodes of the inspiring "Selena + Chef."