How To Score A Free Wendy's Pretzel Bacon Pub Cheeseburger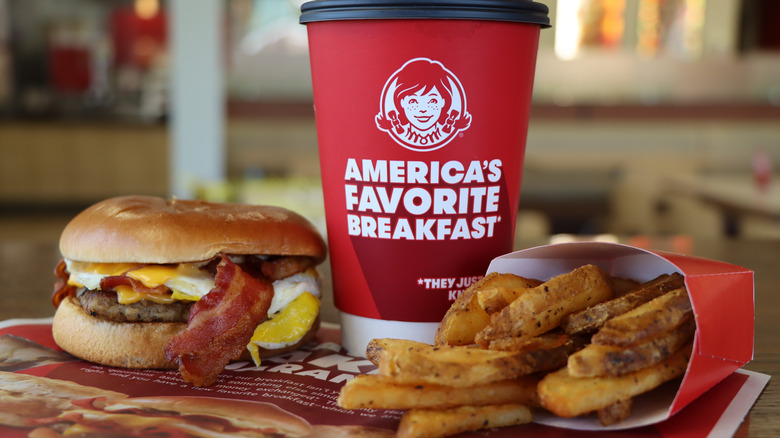 Deutschlandreform/Shutterstock
Wendy's is an instantly recognizable name in the fast food space. Many think the iconic spot is best known for its cartoon mascot of the same name, who was modeled after founder Dave Thomas' daughter. But, what they are most known for are their fresh "never frozen" burgers (via Wendy's). In fact, they were originally called Wendy's Old Fashioned Hamburgers. And, while they may no longer be old-fashioned, burgers are definitely still a large focus of the fast food chain.
Wendy's innovation and upgrades have been top-notch, lately. Just check out their recent news about an upcoming Blazin' Baconator release (via The Fast Food Post) – a double-stacked burger with sweet and spicy bacon and jalapeno cheese, or their fully released Cheesenator that holds a big mozzarella patty atop its burgers (via Brand Eating). With their latest announcement of the Pretzel Bacon Pub Cheeseburger's return, their game has never been stronger, and Wendy's latest promo may have fans clamoring for a visit.
Some sweet and slightly salty deals
The news about the return of the Pretzel Bacon Pub Cheeseburger has caused quite a stir. The cheeseburger comes stacked between a thick pretzel bun and includes their signature 1/4 burger, Muenster cheese, smoked bacon, smoky honey mustard, beer cheese sauce, fried onions, and pickles (via Wendy's). Thrillist has already given this new menu item the title of quite possibly the "best burger on the Wendy's menu," which is high praise indeed. But, Brand Eating did comment on the want for a punchier pretzel bun or a less mild beer cheese sauce.
If you want to score one of these bad boys for free, Grubhub has teamed up with Wendy's to offer the burger to fans who place "orders of $20 or more between October 3 and October 6, 2022," according to Thrillist. And, the best part is, it auto-applies once you hit that $20 mark, so no promo code is needed. There's also the option of getting a "free Dr. Pepper of any size with a Pretzel Bacon Pub Cheeseburger order totaling $15 or more."