Hell's Kitchen Twitter Took A Hilarious Swing At Kim Kardashian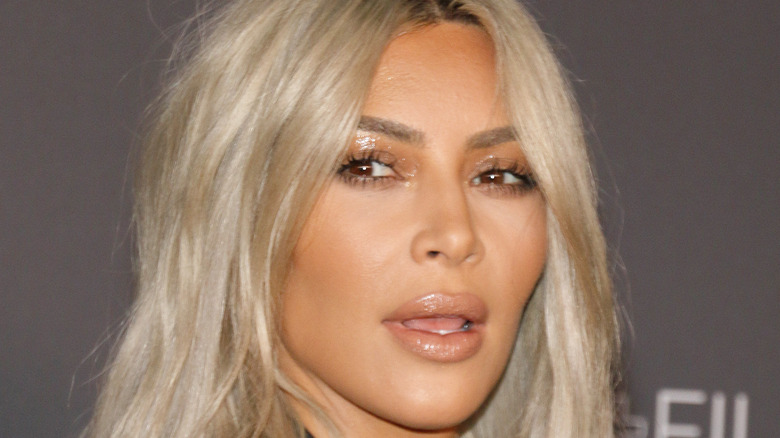 Tinseltown/Shutterstock
We live in strange times, and whether you like it or not, reality TV makes it slightly more bearable by satiating our hunger for mindless entertainment when we need a distraction (Especially when the cameras keep rolling no matter how bizarre a situation gets.). One of the most beloved cooking reality shows of all time, "Hell's Kitchen" has kept us entertained since its inception in 2005, thanks to its iconic and oh-so-hard-to-impress host, chef Gordon Ramsay. If you are a fan, you are certainly aware that the celebrity chef isn't exactly known for being all bubbly and nice on camera. Everyone seems to walk on eggshells around him, but there have been times when some contestants dared to provoke him. 
Taking us all back to the heated yet hilarious moment when a contestant challenged Ramsay to a fight in season 6 of "Hell's Kitchen," Food Club FOX served the Twitterverse a wholesome meme depicting his inevitable boot-off and threw Kim Kardashian in the mix. Now that's a crossover we never thought we needed. 
Hell's Kitchen vs. Kim Kardashian
The Kardashians never cease to entertain, and this year has been pretty rewarding in that sense. Just when the internet thought Kendall Jenner's tragic cucumber-cutting skills would generate enough memes to get us through, Kim Kardashian decided to make things more interesting with her first-ever runway walk for Balenciaga. A muse to the high-fashion brand, Kardashian slipped into a fitted black dress with gloves to make a surprise appearance at the 2022 Balenciaga Couture Show. 
Because she is who she is, the internet had a lot to say about her walk. Memes were made, opinions were shared, and while some praised the reality star, others weren't too impressed. Jumping on the bandwagon, "Hell's Kitchen" posted a clip mocking Kardashian's runway walk with a personalized twist. Remember the aggressive "Hell's Kitchen" contestant we mentioned earlier? They replaced her face with his and captioned the video, "The #HellsKitchen post-elimination walk be like..." We wonder if Gordon Ramsay would find it funny.
Joseph Tinnelly vs. Gordon Ramsay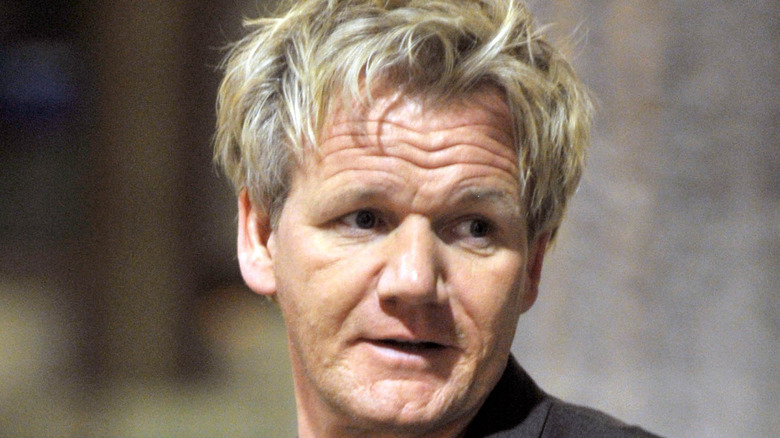 worldswildlifewonders/Shutterstock
The said contestant was Joseph Tinnelly. A former marine, he was one of the 17 contestants in "Hell's Kitchen" season 6. During the third episode, Ramsay asked him to reveal who his team had nominated for elimination. Instead of answering the question like the opposing team, he refused to name anyone. Staying true to reality TV cliché, Tinnelly showed he wasn't there to make friends as he insulted his teammates who told him to get his act together, but winning was obviously not in the cards for him after he insulted the King of Burns himself.
The situation escalated, and his insubordination turned into aggression in no time. Security guards intervened as Tinnelly tried to fight Ramsay, who remained calm and unfazed. Tinnelly was soon escorted out by security and continued to hurl profanity at Ramsay and the rest of the team on his way out. Pure reality TV gold.