Kendall Jenner Had The Best Reaction To That Viral Cucumber-Cutting Video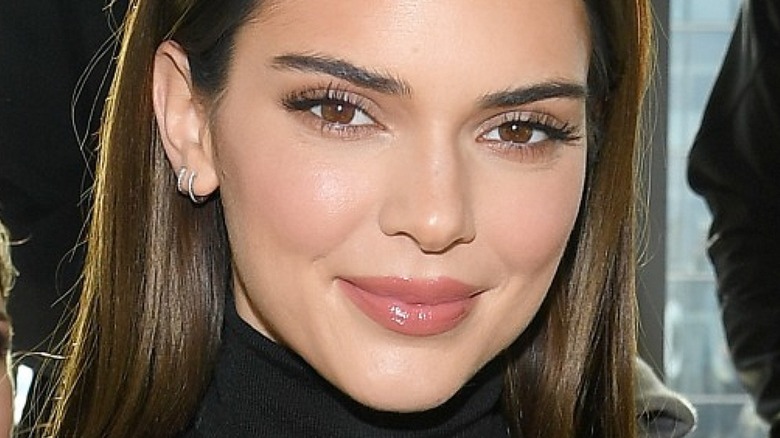 Dimitrios Kambouris/Getty
Since "Keeping up with the Kardashians" first aired in 2006, fans of the show have seemingly had insight into nearly every moment of the Kardashian-Jenner clan's lives (via IMDb). From everyday tasks like the sisters eating together to red carpet events, viewers got to sit in on all of the drama. 
You might think that watching people eat would be boring, but the Kardashians fascinated everyone with their signature giant salads. It has since been revealed that the salads are from Health Nut in the San Fernando Valley, and each of the sisters' favorites only costs about $12 (per People).
Even the richest of the rich can't pass up a good deal. And Kris Jenner can't pass up a business opportunity, so she invested in Health Nut in May (per Vanity Fair). That being said, it seems like the giant salads will be sticking around for the family's new series, "The Kardashians," on Hulu. Considering the family orders their salads and has private chefs to cook for them (per The Sun), it's no surprise that Kendall Jenner attempted to make a snack and struggled with the cucumber prep (via TikTok).
Kendall Jenner said the clip of her cutting a cucumber was 'tragic'
The internet had a field day when Kendall Jenner awkwardly cut a cucumber in an episode of "The Kardashians" (via TikTok). But it's probably no surprise that the 26-year-old doesn't know the best way to slice produce. She's been in the spotlight since she was 11-years-old (per Insider). Even though Khloé Kardashian said that Jenner was "not happy" about the video (via Us Weekly), the 818 Tequila founder appeared to joke about it on Twitter, calling the clip "tragic."
"I think it's hysterical, and I love it, honestly. Because it couldn't be more me," Jenner said at a Television Academy screening for "The Kardashians" (via Us Weekly). "I am, like, a noodle with those weird things." After the cucumber incident, the reality star asked the family's private chef how she could improve. As Jenner recalled, "I was like, 'Can you help me? Can you teach me? What did I do wrong? How can I do better? Let me take it seriously.'" 
She clearly has a sense of humor about such matters — in a clip of her making mac and cheese with Hailey Bieber, Jenner asked if she was going to add butter to the water before boiling the noodles (via TikTok). After realizing her error, she laughed and gave a thumbs-up.